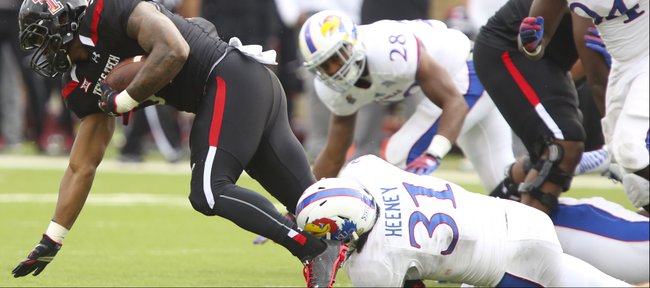 Photo Gallery
KU football v. Texas Tech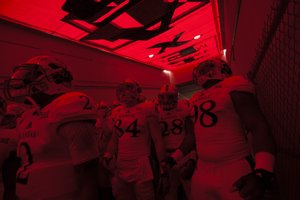 Images from Saturday's game between the Jayhawks and Red Raiders in Lubbock, Texas.
Podcast episode
Clint Bowen on what went wrong in 34-21 loss at Texas Tech
KEEGAN RATINGS
TEXAS TECH 34, KANSAS 21
Lubbock, Texas — Ben Heeney's 21-tackle performance during Saturday's 34-21 loss to Texas Tech at Jones AT&T; Stadium may have shocked some of the folks watching the game from the bleachers.
But it did not catch anyone in a Red Raiders uniform by surprise.
"That's one of the best players in the Big 12," said Tech quarterback Davis Webb of the Kansas University senior linebacker. "All week we talked about how good he is, and, when you actually see him play, how smart he is. He picked a couple of our signals."
Webb did not divulge whether Heeney's second-quarter interception, which he returned 37 yards to the TTU 39, was the result of one of Heeney's episodes of espionage, but he was impressed with the play nonetheless.
"It was fourth down," Webb recalled. "Couldn't take a sack, and he made a good play. Read my eyes and (I threw it) right to him. I didn't see him and he made a good play. He's a good player, so a lot of credit to him."
While Heeney's gaudy statistics and wild-man demeanor made him far and away the KU defense's biggest standout, second-year Texas Tech coach Kliff Kingsbury clearly came away impressed with Heeney's running mates, as well.
"You've got to give them a lot of credit," Kingsbury said. "That's a tough situation there, and their players played really hard, like we've seen all year, and stayed in the football game."
Like their head coach, several Texas Tech players spoke about their respect for Kansas after the game. Many said this was the best defensive performance the Red Raiders have put up this season. And they seemed most proud of the way they responded to Kansas cutting their lead to six on two separate occasions.
"Those two touchdown drives are huge," Webb said.
And they came thanks in large part to the skills possessed by Webb's deep and talented corps of receivers who helped Tech rack up 507 yards of total offense and gave the Jayhawks fits all day.
"I'm not going to run it for 100 yards a game," Webb said. "But those guys can break 100 yards in the receiving game. So give them the ball as quickly as possible and watch them work."