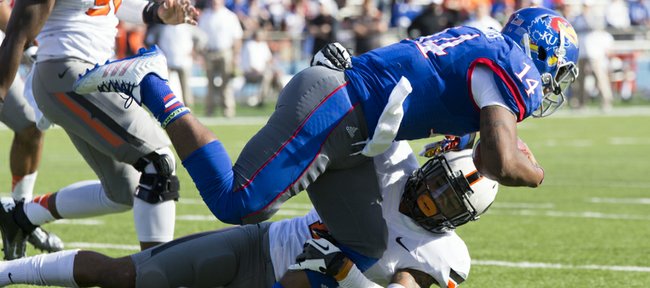 Kansas University junior Michael Cummings was probably the least impressed of all the Jayhawks by his performance Saturday as KU's starting quarterback in a 27-20 football loss to Oklahoma State.
While teammate after teammate showered love upon KU's back-up-turned-starter after he nearly led them to an upset of the No. 16 Cowboys, Cummings sat quietly in the back corner of the interview room and painted a different picture.
"It was an all right day," he said after finishing 20-of-37 passing for 288 yards and a rushing touchdown. "If I had to grade myself, I'd grade it an L. We lost. That's really the only stat that matters to me."
Tossed into the starting lineup in place of ineffective sophomore Montell Cozart, Cummings operated with a combination of a nothing-to-lose attitude and the poise of a four-year veteran. He admitted to having a few nerves before kickoff, but said the overwhelming emotion he felt Saturday was excitement. Excitement over being back on the field. Excitement about getting another chance. Excitement for finally be able to do something to impact an offense he has watched struggle most of the season.
"He brought what we wanted out of that position," interim coach Clint Bowen said. "Some leadership, some toughness, a guy that people could rally around. (Was it) pretty? No, not always pretty. Kind of a junkyard-dog-type quarterback."
More important than any of his stats, throws or decisions was the mentality Cummings brought to the Kansas huddle. Whether he had just placed a pass perfectly into the hands of Nick Harwell, Jimmay Mundine or Nigel King or bounced one into the turf at the feet of Tony Pierson, Cummings' demeanor did not change.
"Mike's a tough kid. We need to be a tough team," Bowen said. "I think he showed a lot of physical and mental toughness out there. He played hard, made some plays. Probably missed a few. But Mike's a competitive guy. He has that attitude that he can forget things."
Despite taking three sacks and getting hit numerous other times both on the run and in the pocket, Cummings never appeared to get rattled. His teammates saw and appreciated that and fed off of his get-back-up-and-keep-fighting approach.
"Mike's been in the hole so long that he just comes out and tries to let it all go," senior Tony Pierson said.
Added Mundine, who finished with five catches and a career-best 88 yards: "(Cummings is) the one that gets it all going. He makes every read on every play to decide what we need to do, and he made a lot of good reads and threw some beautiful balls. That's all we can ask out of him, and we gotta do more as a unit to help him because it was definitely not the quarterback at fault."
Bowen was asked if Cummings had done enough to be named KU's starter for the rest of the season. His answer was probably exactly what Cummings expected to hear.
"We don't ever give jobs away," Bowen said. "Every week, every position, they will earn them."