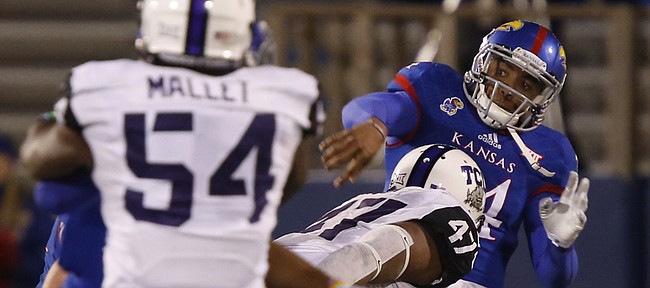 When interim head coach Clint Bowen handed the keys to the Kansas University offense to Eric Kiesau hoping for a boost in production, the veteran assistant coach's mind quickly cut to quarterback Michael Cummings.
"It's all gotta come from the quarterback's eyes, how he sees it," Kiesau said. "So if there's any gray area, we take the gray area out. It's gotta be black and white. It's gotta be very, very defined. Because when you're the quarterback and you're making decisions in three seconds with guys that want to take your head off, there's no room for gray area."
That, in a nutshell is Kiesau's general offensive philosophy, and it already has made a difference at KU. His debut at Baylor was not great in terms of the big picture, but Cummings played well. After that came a win over Iowa State and a near-upset of No. 5 TCU, and, before the Jayhawks knew it, things were rolling.
Both Bowen and Kiesau credit the entire offense for KU's recent improvement — the line has played better, the receivers have made tough catches, and the flow looks more natural than ever — but without the steady hand of Cummings under center, envisioning putting up 32 points and 466 yards (KU's averages from the past two games) would have been little more than a dream.
"The first thing I always find out is how much can the quarterback handle," Kiesau said of preparing each week's game plan. "I don't want to overload him because if you overload him, it won't work."
This fact is not left to chance. Cummings knows it. And Kiesau demonstrated exactly how he communicated it to him.
"It's whatever you can handle," he said, mimicking a conversation with Cummings. "This engine, this offense, is gonna run based on what you know and you can do. Don't candy-coat it and tell me what I want to hear, be brutally honest."
Therein lies the lone problem. Cummings is honest. And he truly believes he can handle anything.
"During the week, I give him a call sheet and I say, 'Hey, Mike, highlight the plays you like,'" Kiesau recalled. "He highlights every one of them. I said, 'Timeout, timeout. Tell me the plays you love.' And he goes back and highlights these plays, and then (we identified) the ones he knew like the back of his hand, then we whittled that down to a very focused number of plays, and that's kind of your magic number."
While this approach has led to better production, the numbers have led to stronger resolve.
"When you flip that switch, and you're playing with some confidence, there's a lot of good things you can do out there," Kiesau said.
Added Bowen: "What we're telling them, if they carry it out, (produces) results on the field. And I think there is also confidence that they lined up against a team that, quite frankly, everyone thought that was going to steamroll them and our guys held their own, made plays against that type of competition, so I think it does validate a lot of things that we've been telling them."
With the team's conviction and performance on the rise and seeming second nature, the challenge shifts to making sure the Jayhawks are not punch drunk over their recent success. Because of the leadership in place and veterans on the roster and the coaching staff, Bowen is not worried that will become a problem. Still, Kiesau said it did not hurt to remind them from time to time, just in case.
"In our Sunday meeting, similar to the one after Iowa State, it was, 'Hey, be proud of what you did, but we left some yards, we left some points out there, it can be even better,'" Kiesau said.
Cummings OK
KU's quarterback, for the second week in a row, played through pain in his right arm, but Bowen said Tuesday that Cummings was not dealing with anything serious.
"He's good," Bowen said of Cummings. "We're a lot farther ahead this week than we were last week, so I feel a lot better this time, this week, than I did a week ago."
Asked about Cummings' overall toughness — both mental and physical — Bowen continue his glowing review of his junior quarterback.
"I would say it's underrated," he said. "This time of year in college football, if you're playing, there's parts of your body that don't feel right, and that's every player, everyone that's had a substantial role on their team throughout the year. If you're one of those guys that can't handle that, then college football is a rough business for you, and Michael is obviously proving, week after week, that he's a pretty tough guy, and you know you can count on him to go out there and battle through some of the discomforts that come with football."
Ngalu done
Senior left guard Ngalu Fusimalohi, who last week missed the first game of his two-year KU career, is finished for the season.
Bowen said the right leg injury that knocked Fusimalohi out of the Iowa State game and kept him from dressing for last week's showdown with TCU was significant enough for the training staff to shut him down. True freshman Junior Visinia filled in for Fusimalohi in both games, and Bowen has been encouraged by what he has seen.
"I think the thing that's most pleasing is that he's handled it mentally," Bowen said of the Grandview, Missouri, native. "He hasn't let the game get too big for him, and he competes and fights."
Circus catch
Junior receiver Nigel King's juggling, 78-yard touchdown reception against TCU continues to be a hot topic, and Tuesday Kiesau shared what may be the most entertaining aspect of the wild reception.
"Everybody keeps laughing about that play," Kiesau said. "The name of that play is actually circus. So when it happened, everybody was like, 'Look, it was a circus catch on circus.' It was kind of a funny deal. Just great concentration, great effort, finishing the play. He's doing a nice job."