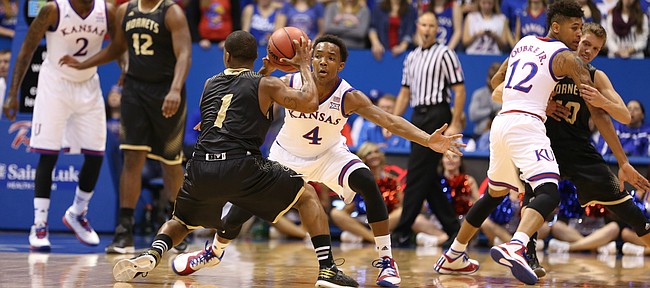 Photo Gallery
Kansas baskeball v. Emporia State (exhibition)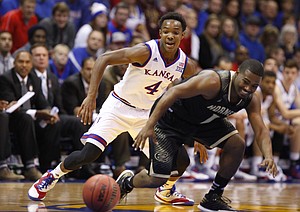 View a gallery of images from Tuesday night's exhibition between the Jayhawks and Hornets at Allen Fieldhouse.
Podcast episode
Jamari Traylor, Brannen Greene & Landen Lucas talk about KU's 109-56 win over Emporia State
Podcast episode
Bill Self says KU was better vs. Emporia State but still has work to do to be ready for Friday night's season opener.
Judging the play of Kansas University point guards in exhibition games has some things in common with judging quarterbacks during spring football practices, when the QB is protected by a red jersey, which makes it tough to know how he'll do when he's not protected by his offensive line.
Naadir Tharpe left the team and was selected in the NBA Development League draft. Leading the team was his job a year ago but I sometimes wondered if he took leading to mean keeping the guy challenging for your position behind you.
In a Halloween surprise, Conner Frankamp announced his intentions to transfer because he wanted to play point guard, when in reality he would better serve the team as a zone-buster off the bench.
So now it's down to Frank Mason III, a sophomore, and freshman Devonte Graham. They both seem more concerned with how they play than how they are used, which always is a good thing for a basketball team's chemistry.
For what it's worth, they both played well at both ends of the court in a 109-56 rout of Emporia State, a game in which the Hornets had six assists and 20 turnovers.
Mason and Graham combined for 21 points, seven assists, one turnover and three steals in 35 minutes.
UC Santa Barbara, picked to finish second in the Big West, represents a truer test of how well manned Kansas is at point guard because the UCSB guards do a nice job of finding their superstar.
Senior center Alan Williams, reigning Big West Conference Player of the Year as a junior, averaged 21.3 points and 11.5 rebounds to merit the honor. The best way to stop him lies in keeping him from getting the ball because once he gets it, he knows what to do with it, including draw fouls.
"I thought it was pretty good," Self said of the defensive pressure applied on the perimeter. "I did. ... I thought we got out and defended them and created a little havoc and I thought our ball-screen defense was a little better. It's nothing to be too excited about, but it's a lot better than it was last week (against Washburn)."
Self said he thought Graham, who had a subpar game vs. Washburn, "played very well," against Emporia State.
"I thought he got to the paint," Self said. "He made a couple of bad passes, but for the most part, he created pace for us when he checked in. He didn't have a great week of practice either so that was good to see him come out tonight and play with energy and play confidently."
Self praised Mason for "taking care of the ball," and said he is a much improved player from a year ago.
Wayne Selden also played some at the point, a good luxury to have in limited duty, but for Kansas to play to its normal standard, Mason and Graham will have to combine to upgrade the position from a year ago.