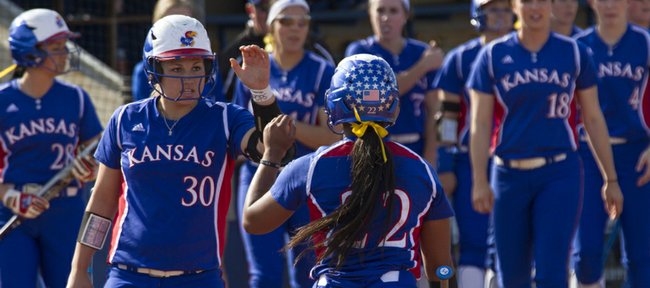 Shots might have been fired out of Columbia, Missouri, in the direction of Lawrence, but Kansas University's softball players weren't about to retaliate and inflame a Border War of words.
The Jayhawks definitely heard about and read the remarks made by Missouri softball junior Corrin Genovese, who went off about the defunct rivalry between KU and Mizzou in an interview with Gabe DeArmond of PowerMizzou.com.
"The whole rivalry with KU, it's just exciting to keep it going," she said Sunday night after learning Kansas would travel across the state line for the NCAA Tournament regional at Missouri this weekend. "I know they're kind of scared to play us in football and basketball, so it's good that we can keep tradition going and hopefully let them know who's boss and who will always be better in the rivalry."
Kansas (33-21) opens its first postseason since 2006 against Nebraska (40-15) at Missouri's University Field at 12:30 p.m. Friday. If the Big 12's Jayhawks and the SEC's Tigers renew the rivalry, it wouldn't come until Saturday in the double-elimination regional — and it might not happen at all. So when reporters brought up Genovese's comments Tuesday, KU's players knew the company line: The focus is Nebraska. But they didn't totally dodge the subject.
Junior KU pitcher Alicia Pille said the Jayhawks tried to ignore the comments and figured the Tiger was trying to get a rise out of people.
"You can't not be mad when someone says something like that," Pille said, "but there's no reason to say anything back to it. It doesn't help the situation. It's not really the most mature thing they could've done. We're better than that."
The Jayhawks' other starting pitcher, sophomore Kelsey Kessler, used to be teammates with Mizzou senior Mackenzie Sykes and sophomore Ashtin Stephens at Blue Springs High (Mo.), so she has always wanted to play MU since arriving at KU, after the Tigers left the Big 12. Kessler said this weekend will be special for her, and facing Mizzou (41-16) would make it memorable.
"The opportunity would be good," she said of a KU team going up against Missouri again. "I think it brings more public interest to softball that we don't always get."
Senior second baseman Ashley Newman admitted she didn't know the softball team could be the first program from Kansas to battle Missouri since it fled for the SEC.
"I hadn't looked into it that much," Newman said, laughing.
But the senior acknowledged the pro-Mizzou crowd will be fully anti-KU this weekend.
"A rivalry never dies," Newman said. "We've been there before, and we know what it is."
Fifth-year KU coach Megan Smith, leading the program to the NCAAs for the first time, said the Jayhawks shouldn't feel pressure about playing in hostile territory.
"We're just excited to be in the tournament, and feel really lucky to be one of the 64 teams in it," Smith said. "We would go wherever they sent us and play whoever is on the schedule."
Asked if another chapter in the Border War would have more meaning for some, Kessler, playing it cool, said it wouldn't for her.
"If people want to interpret it that way, sure," the pitcher said, tongue in cheek. "But we just want to win."
Big 12 accolades for Jayhawks
KU sophomore shortstop Chaley Brickey picked up her second straight All-Big 12 Second Team honor Tuesday, and her teammate, junior first baseman Maddie Stein, earned a spot on the Big 12 All-Defensive Team.