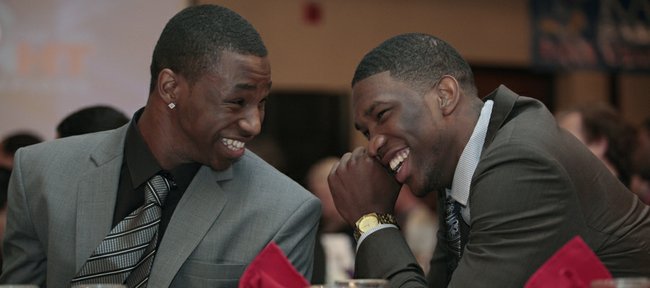 Former Kansas University basketball players Andrew Wiggins and Joel Embiid, as well as Duke's Jabari Parker, have decided to not attend the NBA combine Thursday and Friday in Chicago, Yahoo Sports reports.
Normally, lottery picks agree to attend the combine for physicals and other measurements and testing.
Embiid, a 7-footer from Cameroon, might not yet want teams fully to test the stress fracture in his back that kept him from playing in the 2014 NCAA Tournament. Teams interested in drafting Embiid will want their own doctors to examine Embiid's back in weeks prior to the draft.
Embiid, Wiggins and Parker are expected to be the top three picks in the draft, though the order is far from determined.
"To be honest, I'm surprised more guys don't do this. It's the only thing they (draftees) can really control," one NBA official told Yahoo Sports.
Wiggins is represented by agent Bill Duffy and Embiid by Arn Tellum of Wasserman Media Group. KU senior Tarik Black reportedly was not invited to the combine.
Little, Selby, Robinson in tournament: Former KU players Russell Robinson, Mario Little and Josh Selby will be playing in the 32-team "The Basketball Tournament" on June 6-8 in Philadelphia, with the title game set for June 28 at a yet-to-be determined location.
It's a 5-on-5, single-elimination, winner-take-all contest offering a $500,000 prize for the one team that survives the 32-team bracket.
In an interesting twist, after the final two teams are determined, fans will vote on which team hosts the title game. Also, the four teams with the most fan followers by May 20 will be able to select their first-round opponents.
KU fans can vote for Robinson's Big Apple Basketball team or Selby and Little's Team FOE at thetournament.com.
Joining Little and Selby on Team FOE: Jahmar Young, Maalik Wayns, Terrance Whiters, Mike Dunigan, Travis Hyman and Christian Jackson. Joining Robinson on Big Apple Basketball: Luke Bonner, Rashad McCants, Darius Washington, Jr., Lance Goulbourne, Justin Gray, Corsley Edwards, Smush Parker, Eric Buckner, Ater Majok.
Some other notable teams: the 2010 Cornell Sweet 16 team, the 2009 Villanova Final Four team, and Hakim Warrick and the Syracuse 2003 NCAA title team.
The tourney will not be televised this season, but there's a chance the title game will be streamed live. The $500,000 prize money was raised from private investors with the hope this tournament will take off in popularity in the future.
"I don't know anything about anything. I got a call, and once I heard the names, I said, 'Why not?'" former KU point guard Robinson said. "McCants, Darius Washington ... when I heard they were in it, I'm going to be playing basketball anyway, so why not try it? I think it will be interesting.
"I think we have enough talent to win it. It's kind of like the NCAA Tournament, you've probably got to have some luck," added Robinson, who played in Poland last season. "There are a lot of former NBA guys in it. It'll be some good competition and a lot at stake."