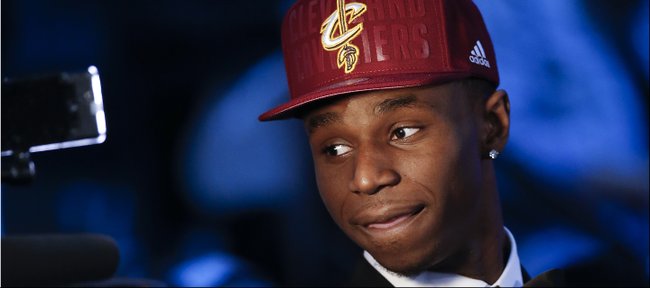 New York — With his million-dollar smile and versatile game already in place, Andrew Wiggins needed just one more thing to look the part of the undisputed No. 1 pick in this year's NBA draft.
Thursday night, at the Barclays Center in Brooklyn, Wiggins delivered. Wearing a silver-and-black sparkling suit and black bow tie that were custom-made for the occasion, Wiggins was selected No. 1 by the Cleveland Cavaliers.
He became the second Jayhawk to be picked in the top spot (Danny Manning, 1988), the 11th international player taken No. 1 overall, the second Canadian in a row taken with the top pick, and, perhaps most importantly, the talk of the night in every way imaginable.
"You know what his agent told him," said KU coach Bill Self, who sat at Wiggins' table in the green room. "'If you're gonna be the first pick, you gotta carry something with ya.' Twenty years from now, they'll go back and he'll still be here. So from a marketing standpoint, I think it was a pretty good move."
Self didn't stop there.
"It tells you a little bit about him, how confident he is, because he didn't care," he added. "He wanted to stand out. A lot of guys shy away from that, but he didn't."
Making a splash was precisely the plan, according to Wiggins, who still had the bright smile but added a look you might expect from someone who said the whole experience "doesn't even feel real right now."
"We just wanted to do something different so we could stand out with the style points and going No. 1," he said.
As far back as last year's draft in the same arena, Wiggins was regarded by many as the obvious choice to be No. 1 in 2014. But a season in which he did not dominate at Kansas, and the emergence of KU big man Joel Embiid — who went third to Philadelphia but was not in New York — and Duke's Jabari Parker (2nd to Milwaukee) left some uncertainty around what turned out to be Wiggins' destiny.
It was that last-man-standing sentiment that had Self as proud as anything on Thursday night in the Big Apple.
"There was nowhere for Andrew to go but down," Self said. "And for him to come in with all the hype and leave as the No. 1 pick, certainly no one can paint any negative around it."
Wiggins was still in the arena when Embiid's name was announced by first-year NBA commissioner Adam Silver as the Sixers' pick at No. 3, and he said that made the whole event even more special.
"I was just proud," Wiggins said. "Me and Jo-Jo, we became so close this year at Kansas. It was so good that I had the chance to really share the journey with somebody that's close to me. So I'm just proud. It's a proud moment for Kansas."
Now the two close friends head onto the biggest stage in the world looking to become the first KU players in a while to make some serious noise.
"We've been really fortunate to put a lot of guys in the league," Self said. "But we haven't put NBA all-stars in the league. But I'm not sure (those other guys') ceilings were All-Stars. Jo and Andrew might not be the best players we've had right now, but they're certainly the best prospects."
So now, in the same arena where former KU great Paul Pierce is playing out the end of his Hall-of-Fame-worthy career, Wiggins took the first step in his.
During his lone year in Lawrence, Wiggins embraced KU's history, showed great appreciation for the support from the fans and what past players mean to the school long after they're gone. It's his turn now. Pierce is on the last legs of his career, and no Jayhawk since Manning has been expected to do as much with his career as Wiggins.
Time will tell if the pressure of living up to his status as the draft's No. 1 pick and carrying the torch for tradition-rich Kansas will be too much. But it certainly didn't look like it was on Thursday night.
"I think I'm ready," Wiggins said.
Cha-ching
According to Real GM, Wiggins will receive $14,393,600 during the first three years of his pro career, with years 3-5 being option years. That includes a whopping $4.59 million for the 2014-15 season.
As for Embiid, he'll receive $11,567,300 during that same time frame, with his rookie year netting him $3.6 million.
Hello, LeBron?
Wiggins was asked after being selected No. 1 about the possibility of playing with NBA superstar LeBron James in Cleveland, should James, who recently opted out of his contract in Miami elect to return to Cleveland, where he began his NBA career.
Demonstrating a clear understanding of King James' place in the NBA, Wiggins offered James the simplest sales pitch he could think of.
"I want to win," he said. "If he wants to win, we'd be good together."
A little history
Thursday marked the first time in the last 50 years that the same school had two players taken first and third in the NBA Draft. Kentucky had Anthony Davis and Michael Kidd-Gilchrist taken first and second in 2012, but KU's 1-3 combo goes down as the next best dynamic duo after that.
"If Jo hadn't got hurt, he wouldn't have fallen to three," Self said. "So it's obviously a great night for KU. This is one of the best nights of guys (in the draft) that a university has had in history."
Wiggins and Embiid became the 17th and 18th KU players drafted into the NBA since Self arrived at Kansas prior to the 2003-04 season.
Canada, eh?
In Cleveland, Wiggins will join a roster that already features fellow Canadians Tristan Thompson and last year's No. 1 overall pick, Anthony Bennett. The maple leaf reunion was not lost on Wiggins.
"I'm just excited," said Wiggins who played with both Cavs on the AAU and international circuit. "The chemistry is already there with those guys, so I think big things are to come."
Wiggins' No. 1-pick status also is the latest big thing for Canada on the world basketball scene.
"I think it's huge," Wiggins said. "It opens doors for all the youth and everyone in Canada. It gives them hope."
'Wherever coach wants'
The 6-foot-8, 200-pound Wiggins was asked if he preferred to be known as a guard or a small forward.
"I think I can play both," he said. "I think I'm tall enough and skilled enough to play the two or three. Whatever coach wants me to play, I'll play."