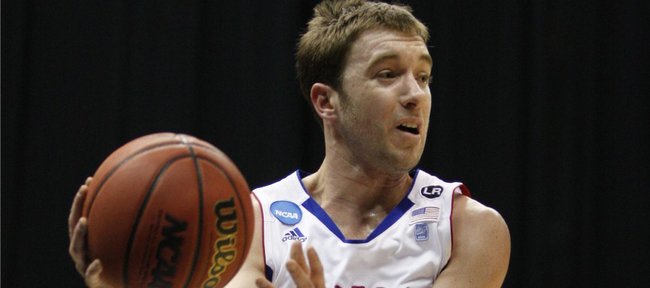 Former Kansas University basketball guard Brady Morningstar had what he called "a great experience" playing in Finland's top professional league this past season.
"It was good competition, nice people, nice culture," said the 6-foot-3, 28-year-old Morningstar.
He averaged 14.1 points off 57 percent shooting (49 of 127 threes for 38.6 percent), with 4.1 assists and 3.9 rebounds for Tapiolan Honka in Helsinki.
Morningstar, who has also played in Greece and for Tulsa and Canton of the NBA Developmental League, might choose a different locale for 2014-15.
"I don't know yet. I'm working on some things with some teams. I've still got a couple months to figure out what I'm going to do," Morningstar said after scoring 16 points in Thursday's Rock Chalk Roundball Classic at Lawrence High.
"Right now I'm training some kids, working out, trying to stay in shape, stay healthy."
Morningstar and a batch of former KU players competed in Thursday's sixth-annual fundraiser at sold-out Lawrence High. Proceeds go to local families battling cancer.
"It's awesome. This is such a good community. A lot of people do things that mean a lot to a lot of people," said Morningstar, who attended Free State High. "This community always gives back. This game has gotten bigger and bigger. More players keep coming. It's a fun experience every year."
Aldrich likes Apple: Former KU center Cole Aldrich, who had 20 points Thursday, is an NBA free agent after completing a one-year deal with the New York Knicks, who went 37-45.
"I loved it. It was fun. We had an up-and-down year. We made a late push at the playoffs. Unfortunately we didn't make it. It was another year to get better," said Aldrich, who averaged 2.0 points and 2.8 boards while logging 7.2 minutes a game in 46 games.
Aldrich and wife, Britt, enjoyed living in the Big Apple.
"It was a lot like Lawrence, Kansas — quiet, about 30,000 people," Aldrich said with a laugh. "Our practice gym is a little north of the city. We were kind of in the suburbs. It was so much fun. To be able to take the train into the city, hang out, go to dinner, it was fun. There's always something to do. To be around those guys on the team was a blast."
Aldrich's annual camp for boys and girls kindergarten through high school sophomore is set for July 7-10 at Robinson Gymnasium. For information go to colealdrich.com.
Embiid exam: There are lots of rumors circulating about former KU center Joel Embiid's physical exam last week in Cleveland. The Cavaliers pick No. 1 in the June 26 NBA Draft.
The Cleveland Plain Dealer wrote: "There have been conflicting reports about how Embiid's much-discussed back checked out. Some reports indicate there were problems, others that it checked out fine. Neither could be confirmed. The Cavs have not commented."
Cleveland will work out Andrew Wiggins on Wednesday and Jabari Parker on Friday.
Tatum coming to camp: Jayson Tatum, a 6-7 junior-to-be from Chaminade High in St. Louis, will be in town for next weekend's KU team camp. He's ranked No. 4 nationally in the Class of 2016 according to Rivals.com.
"I'm going to get a chance to see them practice, I'm going to get a chance to see how they do things, and to see how the coaches interact with the players," Tatum told zagsblog.com. "I'm a very tall and versatile guard that can play multiple positions on the court. I've learned to play faster now, learning to attack more," he added.