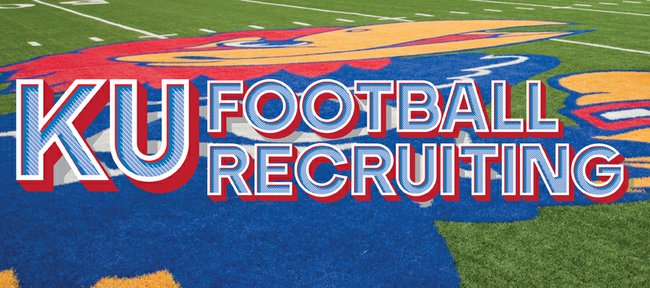 Aaron Garza, a three-star offensive lineman in Rivals.com's Class of 2015, orally committed to the Kansas University football program Thursday night.
Garza, whom Rivals ranked 98th in its Texas 100 list, made his announcement on a live TV broadcast in Sherman, Texas.
The 6-foot-3, 287-pound lineman initially had committed to Texas but backed out in January following the departure of former UT coach Mack Brown. Garza held offers from Arizona State, Auburn, USC, Baylor, Oklahoma State and several others.
"I feel the same way about Kansas as I felt about Texas until the situation changed on me," Garza told Jon Kirby of JayhawkSlant.com, noting his relationship with KU assistant Dave Campo played a role in his decision. "I think Kansas is a sure-footed program and can be turned around in the next five years."
Garza becomes the 12th member of the Class of 2015.
Jenkins-Moore picks UND
Just a week after announcing his departure from the KU football program, linebacker Marcus Jenkins-Moore has landed at the University of North Dakota.
"I figured it would be the best place for me," Jenkins-Moore confirmed to the Journal-World on Thursday.
Jenkins-Moore, a former junior-college transfer who came to KU from Pierce College in Los Angeles, never played an official down as a Jayhawk because of a knee injury he suffered on the first day of 2013 summer workouts.
Jenkins-Moore rehabbed and was moved to KU's hybrid Buck position this spring, but he still appeared to be a ways off from challenging for playing time. An issue with paperwork left Jenkins-Moore requesting his release, which KU granted without hesitation.
Jenkins-Moore said he planned to head to North Dakota, a member of the Big Sky Conference, sometime next week and added that he's "ready to play right now."
The former Jayhawk said he received a full scholarship and was eligible to play immediately because of UND's status as a Football Championship Division (FCS) program.
Corinth Square kickoff
The annual KU kickoff at Corinth Square in Prairie Village is set for 6 p.m. on Aug. 22.
The event, which will feature appearances by KU football coach Charlie Weis and women's basketball coach Bonnie Henrickson, has been the initial pep rally of the season for the past nine years.
This year's event will feature inflatable games and fun for children, food, drinks and KU giveaways. In addition, the band Coversmith will perform live music from 8-10 p.m.
Dates to remember
After reporting to campus Thursday, the Jayhawks will open fall camp on Aug. 8, with their first official practice of the 2014 season. Per NCAA rules, the Jayhawks will run through drills without pads for the first few days. KU's first full-pads practice will take place Aug. 12.
Aug. 16 will be fan-appreciation day, when the 1:30 p.m. practice will be open to the public, who will be welcomed free of charge and are encouraged to stay for autographs following the practice. While most of the rest of the college football world will open its season on Aug. 30, KU will have an opening-week bye for the second consecutive season. The Jayhawks will kick off the season against Southeast Missouri State, Sept. 6 at Memorial Stadium.