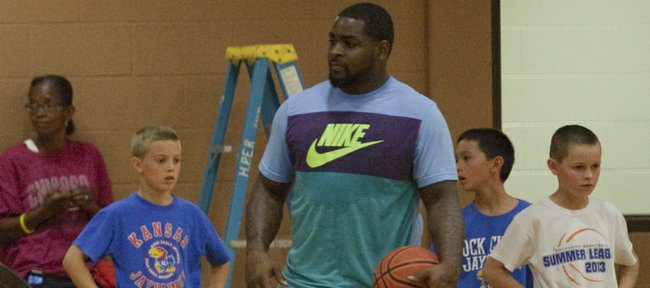 Former Kansas University point guard Sherron Collins says his basketball career is far from over at the still-young age of 27.
"I'll be playing somewhere this year. I have a couple offers. I'm going to try to see what's out there. I might try the (NBA) D-League. If it doesn't work out, I might go overseas. I've got some good things in front of me. I have a couple offers, so ...," Collins said, his voice trailing off in a recent interview from Cole Aldrich's basketball camp in Robinson Gym.
The 5-foot-11 Collins — who graduated from KU in 2010 as the fifth-leading scorer and eighth overall in assists in school history — played for a short time with the NBA's Charlotte Bobcats in 2010-11.
He's also competed in the D-League and in Turkey. His current comeback plans have faced some obstacles courtesy of hamstring and knee problems. Collins, in fact, reported on Instagram last week that he had a "minor" surgical procedure on his knee.
"I feel for him. It's frustrating," said Aldrich, who has played in the NBA four years since teaming with Collins for quite an inside/outside punch on a 33-3 Jayhawk team in 2009-10.
"It's something his mind is so strong on doing it, but his body is not enabling him to," Aldrich added of his buddy playing pro ball. "He hurts an ankle or a knee or whatever it is. He has to get himself right, take the time needed because that's what really is important. Once he gets his body right he's going to be good.
"I look forward to seeing that time 'cause playing with him, he's a bad boy when he's good. When he's injured, he's another guy. He has to get his health right. I think he can still do a lot of good things."
Aldrich says Collins is a natural in terms of lending his expertise to young athletes.
"He's great. He was out there dribbling, doing all that stuff with the kids," Aldrich said. "He's one of the best dribblers with one of the best handles and has a lot to teach kids."
Collins in fact has decided that coaching is in his future.
"Yeah, I mean whenever I decide to hang it up, I'll definitely go into coaching," Collins said. "I've just been around coach (Bill Self), seeing him work with guys. There are a lot of players who left here who decided to try to coach. I think that's what I'll do."
A native of Chicago, Collins says he's been splitting his time between Lawrence and the Windy City.
"When I need to get away and stuff gets frustrating or if I need to just concentrate on basketball I come here and can concentrate no problem," said Collins, whose last playing weight was listed at 215. He appeared to be at least 20 pounds over that.
"It's bittersweet," he added, asked if he misses his college days. "You don't miss the classes, but you miss playing. You miss the fans. You miss coaches, past players. You miss those moments, sharing with those guys, but you only get four years. That's the bad. We all know that."
Collins, who played on KU's 2008 NCAA title team, figures to be immortalized at some point, his jersey hung in the Allen Fieldhouse rafters.
"I have not even thought about it actually," Collins said. "I think there's a five-year (waiting) period, which I know is coming up for me. Honestly I don't know. I think coach is waiting for me to start back playing somewhere. I definitely think I'm worthy to get my jersey hung with the greats. I think it's coming. I'll be waiting on it," he added, smiling.
Diallo likes KU, ISU: Cheick Diallo, a 6-9, 220-pound senior forward from Our Savior American in Centereach, New York, who is ranked No. 5 nationally in the recruiting Class of 2015 by Rivals.com, is currently focusing on five schools — KU, Iowa State, Kentucky, St. John's and Pittsburgh, Jeff Borzello of CBSsports.com reports. KU and ISU are believed to be the leaders.