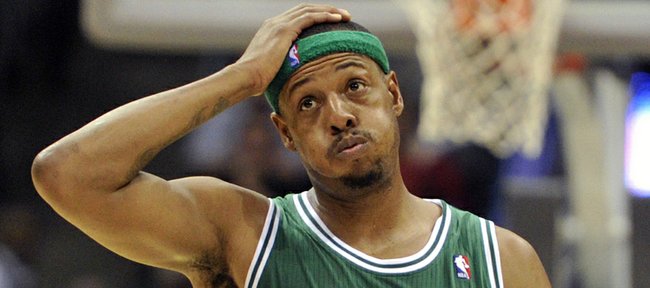 Former Kansas players in the NBA since 1999 (Paul Pierce's rookie season)
KU player | Debut year
Raef LaFrentz | 1999
Paul Pierce | 1999
Ryan Robertson | 2000
Drew Gooden | 2002
Kirk Hinrich | 2003
Nick Collison | 2004
Aaron Miles | 2005
Wayne Simien | 2005
Billy Thomas | 2005
Keith Langford | 2007
Julian Wright | 2007
Darrell Arthur | 2008
Mario Chalmers | 2008
Darnell Jackson | 2008
Brandon Rush | 2008
Cole Aldrich | 2010
Sherron Collins | 2010
Xavier Henry | 2010
Marcus Morris | 2011
Markieff Morris | 2011
Josh Selby | 2011
Thomas Robinson | 2012
Tyshawn Taylor | 2012
Ben McLemore | 2013
Jeff Withey | 2013
Waiting in the wings (2014 draft)
Andrew Wiggins, Joel Embiid
Ever since his rookie year in 1999, Paul Pierce has firmly held the unofficial title of Most Prominent Kansas University Player in the NBA.
A lottery pick of the Boston Celtics in 1998, Pierce averaged between 16.5 and 26.8 points per game each of his first 15 seasons before scoring 13.5 this past year, for Brooklyn.
KU's standard-bearer in the league, Pierce is a 10-time All-Star, the 2008 NBA Finals MVP, 2001-02 league leader in total points (2,144), and a four-time All-NBA selection (once on second team, three times on third team).
Now in the closing stage of his career, Pierce just signed a free-agent contract with Washington, a relatively inexperienced team that figures to lean on the former KU All-American for leadership, but turn to its young guns, John Wall and Bradley Beal, for production.
Since Pierce's NBA debut, 24 other Jayhawks have entered the league. None have been able to match, let alone eclipse, his success. KU coach Bill Self admitted as much in June at the NBA Draft.
"We've been really fortunate to put a lot of guys in the league," Self said. "But we haven't put NBA All-Stars in the league."
If searching for a Kansas product capable of one day reaching elite status like "The Truth," look no further than NBA rookies Andrew Wiggins and Joel Embiid. But why have so many KU first-round picks from Pierce's era — Raef LaFrentz, Drew Gooden, Nick Collison, Kirk Hinrich, Wayne Simien, Julian Wright, Brandon Rush, Darrell Arthur, Xavier Henry, Cole Aldrich, Marcus Morris, Markieff Morris, Thomas Robinson and Ben McLemore — fallen short of All-Star status?
According to Simien, picked 29th overall by Miami in 2005, every player's situation differs.
"Some will peak in college, and I think that was the case for me," said Simien, an All-America power forward in 2005. "Some guys maybe won't excel as much in college but still have pro potential, and they continue to get better in the professional ranks. I don't think it's anything that's just associated with KU, because we haven't had (another) All-Star over the years. I think it's just the natural ebb and flow of the talent pool in the NBA."
Off the top of his head, Simien couldn't come up with one college program that had produced multiple current stars.
"It's not any different (for KU) than (North) Carolina or UCLA or Kentucky," he added. "Not every school, just because you're an All-American that goes there, is afforded the opportunity to be a superstar in the NBA."
At the 2014 NBA All-Star Game, only two programs could boast multiple participants: Texas (Kevin Durant and LaMarcus Aldridge) and Kentucky (John Wall and Anthony Davis).
Former KU standout Mark Randall played in the NBA from 1991-95. After officially retiring in 1999, he spent two and a half years as a scout for Denver and one season as a Nuggets assistant coach. Randall remains with the organization as a community ambassador, keeps up with all the Jayhawks who join the league's ranks and said the key to success is finding a role.
"One mistake I made going into the NBA is I went in thinking I had to go to a different level and I had to be more offensive," Randall admitted. "And, in fact, I didn't. I just needed to be who I was and play the way I played here (at Kansas)."
Though Randall no longer works on the personnel side with Denver, he has spent enough time around the NBA to know how incoming KU players are perceived.
"Obviously they've got the credentials and they've got the work ethic, because Bill pushes 'em," Randall said. "A lot of those NBA players are coming in with a lack of fundamentals, which is kind of scary at that level. I know that first-hand, just from coaching. But I do know the players that come in from Kansas have a better knowledge of the game, let's put it that way. So they're hitting the ground running already."
Aldrich, the 11th overall pick in the 2010 draft, has spent most of his NBA career in mop-up duty. After signing a new contract with New York, the 25-year-old center figures to be one of at least 16 former Jayhawks playing in the league next season (assuming Embiid's foot injury doesn't keep him out).
"I think we have a lot of good names," Aldrich said. "A lot of big names that have come out and have played."
The Knicks big man said each KU product is capable of making an impact.
"It doesn't matter when you got drafted. You could be a lottery pick like me, or you could be a guy like, I think Manu (Ginobili, of San Antonio) was picked (57th). It's just a number," he said. "It doesn't matter after game one. It's just about going out and carrying our tradition that we have (at KU)."
Forecasting the fortunes of lottery picks Wiggins and Embiid, Simien said, is difficult. But he thinks they could take over for Pierce as KU's marquee names.
"We've had guys in the past that had that expectation going out, and now they've just settled in to being great role players, which is completely fine," Simien said. "We've had guys that have had long careers, like Kirk Hinrich or Drew Gooden. They haven't been an All-Star, but they've still had incredible careers, so it's not a knock on them. But hopefully we'll see those guys (KU's newest batch of rookies) be able to excel in that."
Adidas signing
Like Andrew Wiggins, former KU center Joel Embiid has signed a shoe contract with adidas, SLAM Magazine reports. No terms have been disclosed.
Summer league update
Former KU forward Thomas Robinson had eight points, seven rebounds, five assists and five steals in 25 minutes for the Portland Trail Blazers in a 91-76 victory against the Atlanta Hawks, Tuesday in summer-league action in Las Vegas.
Former KU center Tarik Black scored two points and grabbed one rebound while playing 14 minutes in the Houston Rockets' 83-60 win over the Los Angeles Clippers.
Former KU guard Elijah Johnson did not play (coach's decision) yet again for the Philadelphia 76ers.