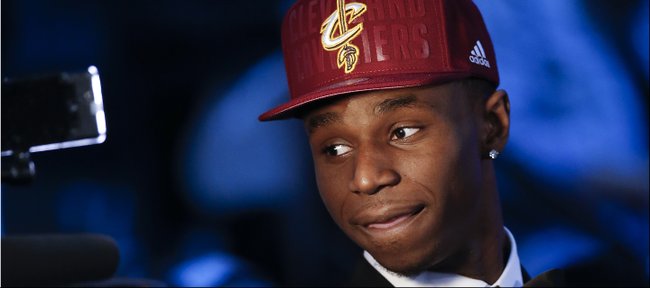 Two weeks ago, it looked like former Kansas University basketball standout Andrew Wiggins was well on his way to becoming the torch bearer for Jayhawks in the NBA.
Today, that path seems a little less likely after Cleveland, the team which drafted Wiggins No. 1 in the June 26 draft, lured best player on the planet LeBron James back home, therein creating some uncertainty regarding Wiggins' future in Cleveland.
One of the other big headlines Friday came minutes after James' announcement, and it revolved around Minnesota all-star Kevin Love saying he would commit to the Cavs long-term if Cleveland found a way to trade for him.
While that's hardly a shock — who wouldn't want to play with LeBron? — it did bring Wiggins smack dab into the middle of this thing because, in order to get Love today, the Cavs likely will have to part with Wiggins.
Reports indicated that Wiggins was not included in Cleveland's initial trade offer to the Timberwolves, which came less than an hour after James' announcement. But there has been no indication that Minnesota was even considering that deal.
Whatever happens with Wiggins, this has nothing to do with the Cavs not liking or wanting him. They do. A lot. But the chance to land LeBron and potentially pair him with an already-proven all-star at a position of need trumps everything in the basketball-is-a-business world of the NBA.
And that could turn out to be a bummer for Wiggins and the Jayhawks. It's possible the Cavs could be patient and wait for Love to become a free agent next summer before scooping him up. But given the speed with which they've made most of their moves this week, that seems unlikely. Beyond that, doing so would bring into the picture the risk of Minnesota trading Love to another team — they surely would rather get something for him than let him walk — and Love getting comfortable enough with that situation to say thanks but no thanks to the Cavs next summer.
The reason this is a bummer for Wiggins is because I don't think his game and personality are best suited as the face of a franchise. He's marketable, and he's going to be a very good pro. But I think he would be best playing for a team like Cleveland that already had $90-million-man Kyrie Irving at point guard instead of having to be the main attraction and top scoring option night in and night out on a losing team. He's not ready for that. And I don't think anyone knows if he ever will be.
Wiggins in Minnesota is no better, for Kansas, than Ben McLemore in Sacramento, Thomas Robinson in Portland or the Morris twins in Phoenix. All are nice players with a chance to have solid careers, but Paul Pierce they are not. And KU needs another Paul Pierce in the NBA.
If Wiggins stays in Cleveland and gets the opportunity to work with, play next to and learn from King James, his already high potential to be the next great KU pro climbs off the charts.
If not, I'm afraid the focus for KU fans hoping for one of their own to follow in Pierce's footsteps shifts even more toward hoping Joel Embiid's recent injuries aren't a sign of things to come.