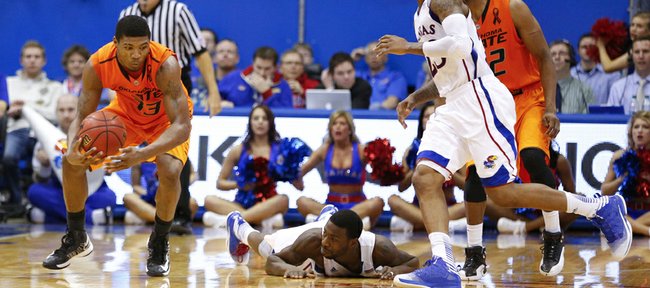 Marcus Smart — basketball player deluxe — scored 25 points and grabbed nine rebounds in Oklahoma State's 85-80 victory over Kansas University last Feb. 2 in Allen Fieldhouse.
Smart — gymnast extraordinaire — put an exclamation mark on his and his team's performance by performing a celebratory backflip once the final horn sounded.
The 6-foot-4, 220-pound sophomore, who certainly will hear a lot about the flip from the fans in pre-game warmups prior to Saturday's 3 p.m. return game at KU, discussed his actions with the Journal-World at this year's preseason Big 12 Media Day event in Sprint Center in Kansas City, Mo.
"We accomplished what most teams dream of accomplishing. We beat Kansas at Kansas. Not many people can say they've done it," Smart said. "It was a feeling of accomplishment. In high school, I did it (flip) after my two state championship games (at Marcus High in Flower Mound, Texas)."
The two-time state champ learned the move many years before that.
"I used to (back)flip when I was a little kid," Smart said.
Smart, who took a 17.8 points per game average into Wednesday's home victory over TCU, also rankled some KU fans during the preseason when he spoke to USA Today about KU freshman Andrew Wiggins.
"They are saying he is the best college player there is and he has not even played a game yet," Smart said. "Of course that hypes me up. It is all talk. He still has to put his shorts on one leg at a time like I do. It is all potential. I am not saying he can't do it. But he has not done it yet."
He told USA Today he'd welcome the challenge of guarding Wiggins.
"I am not going to back down from any challenge," Smart said. "Like I said, you are going to have to prove to me. I am a fighter; I will keep fighting and will never give up ... All the power and credit to him. Congratulations for the Sports Illustrated, all the hype, congratulations to him. But that's definitely a lot of pressure on him."
When the Journal-World asked Smart about Wiggins at Media Day, Smart said: "I anticipate he'll come out and give Oklahoma State his best shot, especially with the comments people have blown out of proportion. I can't control what people think. I definitely think he'll come out and give us his best game.
"Everybody makes it into a big rivalry especially with us beating them at Allen Fieldhouse," Smart added of the matchup. "That intensifies the rivalry. We have a lot of great players. They have a lot of great players."
KU, of course, actually has already avenged the loss at Allen of a year ago. Stinging from that defeat, the Jayhawks 18 days later prevailed, 68-67, in double overtime in Gallagher-Iba Arena in Stillwater. Smart had 16 points off 2-of-14 shooting (11 of 14 from line) in that game.
Smart, who shocked the college basketball world by returning to OSU for his sophomore season, has sparked OSU to a 15-2 overall record, 3-1 in Big 12 play, entering Saturday's game. KU is 12-4, 3-0.
"I couldn't live with myself. As one of the leaders on the team, I felt I let my team down," Smart told the J-W, referring to his OSU squad suffering a second-round loss to Oregon in the 2013 NCAA Tournament. "I owe it to my team to do better than that. To walk out on them like that ... what kind of a leader is that? A lot of people were skeptical. They wouldn't believe me. How could you turn down that much money? I'm not turning it down," he added, as the money figures to be there again after his soph season.
KU coach Bill Self, who graduated from Oklahoma State, said Smart is "a top five draft pick. He is strong, a great competitor. It's probably as athletic a team as we have in America. It'll be a fun game. It'll be hotly contested. They celebrated in our building. We went down there and celebrated in theirs. Our fans and players remember the disappointment we had (in Allen). That was a long (home) winning streak snapped (33 games). We were able to go down there and get one on the last possession when 'Naa' (Tharpe) made a great shot (7-footer in lane with :16 left in double OT). It should be fun."
Vote pleases KU official: KU associate AD Jim Marchiony after the Board of Regents voted 8-to-1 with one abstention to endorse the proposed $17.5 million apartment building for 32 KU men's and women's basketball players and 34 other students who will not be athletes: "We appreciate the support of the Regents and eagerly look forward to getting started on this exciting project," Marchiony said.
Self has said the project is needed. "Housing, where our student-athletes reside now, is way, way, way, way behind what the competitors would be housing their student-athletes in, in a big way," he said recently. "They deserve to have a situation to live in which they can be monitored, in which they can obviously have more security. If you recruit some guys into your program, and hopefully we'll continue to do so, where there's very little security and people can come and go as they please and basically take away all privacy these youngsters have, I don't think that's the intent of being a student athlete. I think we should provide our student-athletes a little protection, so therefore they can at least have a better experience. And of course we want them to be comfortable and have the same type of living conditions as the other people we're recruiting against."
He added he sees no negatives in the plan, which would be paid for by private donors and bonds.
Embiid, Wiggins 1-2: ESPN's Chad Ford updated his draft projections on Wednesday. KU's Joel Embiid is projected as No. 1 pick overall, KU's Andrew Wiggins No. 2 and Wayne Selden No. 20.