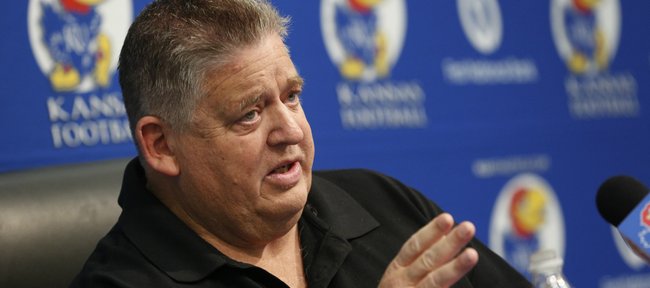 During his first two seasons as the head coach at Notre Dame, current Kansas University football coach Charlie Weis led the Irish to back-to-back BCS bowl berths in 2005 and 2006.
As college football's BCS era came to a close Monday night with Florida State's thrilling victory over Auburn, Weis was a part of the BCS fun one last time. Weis joined ESPN analyst Keith Olbermann in studio to break down the game and usher in the NCAA's new College Football Playoff days, which will feature two semifinal games with the winners playing for the national championship.
Weis, who wore a tie with tiny Jayhawks all over it, discussed various aspects of FSU's comeback, including halftime adjustments, key plays and the elements of Auburn's defense that helped the Tigers hold FSU's high-powered offensive attack to just 10 points in the first half.
The segment lasted a little under eight minutes and concluded with Weis agreeing with the move to a four-team football playoff, which will begin at the end of the 2014 season.
"I'm a big fan of playoffs," Weis said. "I've been a big fan of playoffs the whole time. Now the big argument will be who's (No.) 4 and who's 5. It won't be who's 2 anymore."
KU-Illinois scheduled
The meetings are still 10 seasons away, but KU officials on Tuesday announced a home-and-home series with the University of Illinois set for the 2023 and 2024 seasons.
KU will play host to the Illini on Sept. 9, 2023, and travel to Champaign, Ill., on Sept. 7, 2024, to complete the series.
Provided the two do not meet in postseason play before then, the 2023 game will mark the first matchup between these two programs since 1968. Illinois leads the all-time series, 3-2.
"I am really pleased to add Illinois to our schedule," said Weis in a press release. "This series gives us another opportunity to play a game in an important area to our recruiting efforts. Additionally, it's a chance to accommodate our large alumni base in the Chicago area."