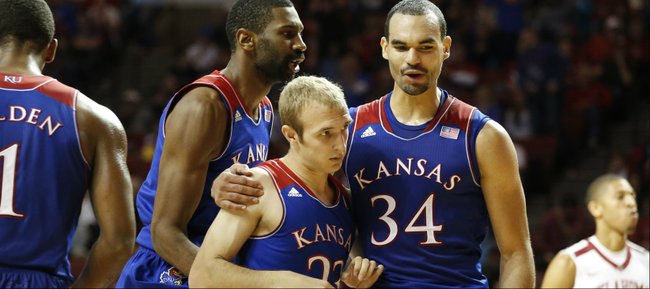 Photo Gallery
Kansas basketball v. Oklahoma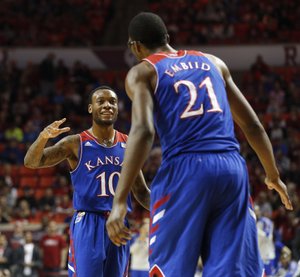 Images from Wednesday night's game against Oklahoma in Norman.
Podcast episode
Bill Self talks Wayne Selden and his technical foul after 90-83 win over Oklahoma.
KANSAS 90, OKLAHOMA 83
Norman, Okla. — It never pays to give up on a player talented enough to warrant a scholarship offer from Bill Self, Kansas University's 11th-year basketball coach, because he never gives up on a player who tries to practice what he preaches. The smart ones figure that out. The immature ones play their way to the end of the bench, even out of the program.
Put Conner Frankamp in the first group.
Accustomed to dominating games in high school, Frankamp came into Wednesday night's Big 12 opener in Noble Center riding a streak during which he had not scored in KU's past eight games, three of which he never was called off the bench. He totaled 17 minutes in the other five and misfired on all seven shots, five of them three-pointers.
At 6-0, 165 pounds, the freshman from Wichita didn't look in his first Big 12 game like a player wondering if he were in over his head, didn't show the body language of a bench-warmer convinced his coach had it in for him. In his 13 minutes on the floor, he looked like a comfortable point guard, running the team with poise and shooting with confidence.
First half, teams trading the lead in a fast-paced game. Naadir Tharpe picked up his third foul and Frank Booker made one of two free throws to put the Sooners up by a point with 2:06 left. Exit Tharpe. Enter Frankamp for his second appearance of the night.
With him at the controls, Kansas outscored OU, 7-0, the rest of the half. Frankamp had five of the seven points.
After deflecting a ball that Perry Ellis ended up stealing, Frankamp was in the right frame of mind to make something happen at the other end.
"Getting stops on defense always helps your offense, I feel like," Frankamp said. "If you focus on defense, your offense will come naturally."
He sprinted down the right side of the court and stopped a couple of feet outside the three-point line. Brannen Greene whipped him a pass and Frankamp, with the feathery touch that enabled him to break Ellis' Wichita high school scoring record, swished it.
Frankamp added a pull-up, free-throw-line jumper in traffic with five seconds left to send the Jayhawks into the locker room feeling as if they had found more than a six-point lead. They had found a potential rotation player, a lethal three-point threat.
It never hurts to have options. Fellow freshman Frank Mason's a fearless jet, Frankamp a terrific shooter and slick ballhandler. Tharpe blends bits of all those qualities.
Still, it hasn't been KU's most consistent position on a young team that needs someone steadying the ship.
Tharpe happened to have one of his better nights in a Kansas uniform on the same night Frankamp entered the picture. Tharpe penetrated to the lane with more effectiveness than usual and played steady closing the game when not the same could be said for some of his teammates, most obviously freshman Andrew Wiggins.
"When's the last time a team has had a great year, I mean a great one, unless you have a point guard who's a good closer?" Self asked. "Kind of a like a quarterback in the two-minute drill who makes something out of nothing."
The Jayhawks had a first-half closer in Frankamp and a second-half one in Tharpe (17 points, three assists). In a combined 39 minutes, Tharpe and Frankamp totaled 22 points and just one turnover.
With Perry Ellis dominating inside and Wayne Selden having quite the night, those efforts would have been wasted had the point guards not held it all together.
Frankamp was thrilled to be a part of it, but contained his excitement until his job was done. He entered the night having made just 3 of 14 threes (.214). He didn't let his head sink to the level of his shooting percentage.
"I'm at the best program in the country, I feel like," Frankamp said out loud what he must tell himself constantly when he is forced to watch games instead of participate in them. "It's an honor be here, so my head's always high. I always have to be ready."
Self told Frankamp before the game that because of the way the matchups looked, he should expect to play.
"He hadn't had a chance, I hadn't given him a chance," Self said, explaining the size of opponents made some games tough fits for the freshman. "He delivered."
Tharpe said he suggested to Self after the half ended that it would be a good idea to keep riding Frankamp to keep his confidence heading up.
"I thought he played so well to end the half," Self said of Frankamp. "Somebody asked me if we were
going to start Frank (in the second half). I said, 'No, we'll go with Frankamp, because he played so
well the first half.' I knew we'd need Naa down the stretch. We didn't want him to get his fourth (foul)."
In reserve of Tharpe, Mason's a better defender, a better finisher at the hoop, but if the quicker Frankamp develops, the more options Self will have to choose from based on the opponents.
Frankamp explained his ticket to Wednesday's opportunity: "I'm trying to not make any turnovers and focus on the defensive end, as well. I've improved quite a bit (defensively in practice) from when I first started."
One big night can make a big difference in a young player's confidence. The fact it came in the conference opener gives Frankamp a chance to purge his non-conference numbers and reset the calculator in his brain to Big 12 only, just a week after New Year's Day.
"I've kind of been in a slump, but hopefully tonight got me out of it and I can improve from here," he said.
Lon Kruger's Sooners play faster, with more drives and fewer patterns involving multiple passes than in past years. The Sooners play man-to-man defense as well. It was a style against which Kansas prefers to play. Still, winning on the road in such a tough conference and seeing a freshman grow more comfortable can only help the confidence of a young bunch that was in need of a boost in that area.