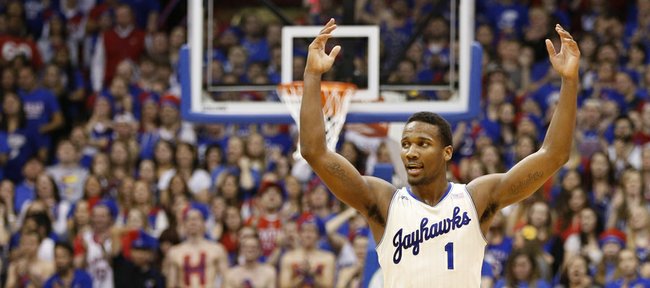 Kansas University freshmen Andrew Wiggins and Joel Embiid, who are projected to be selected 1-2 in the 2014 NBA Draft by various websites, figure to be unanimous selections for the Big 12 All-Rookie team, which will be announced prior to the Big 12 tournament.
Almost certain to be included on the squad, which last season featured six players because of ties, is another Jayhawk — the somewhat unheralded Wayne Selden, who averages 10.3 points, 2.7 rebounds and 2.7 assists in 29.1 minutes per contest.
"Jo and Andrew deserve the majority of the attention. I get that," KU coach Bill Self said Thursday at his weekly news conference. "But it shouldn't be lost, if we didn't have those two, then obviously Wayne Selden would be used in a way where he could be strongly considered for Freshman of the Year in our league. There's been a lot of years that there's been a Freshman of the Year in our league that from a talent standpoint probably wasn't superior to what we feel Wayne Selden is," Self added.
A starter from his first day at KU, the 6-5 freshman from Roxbury, Mass., doesn't feel slighted.
"In high school, I played with Nerlens Noel and Georges Niang, so I'm fine with the position I'm in," said Selden, who at Tilton School was also used to being a complementary player.
Of course, he's not exactly a forgotten man.
Selden, the No. 12th-ranked prospect in the recruiting Class of 2013 by Rivals.com, was one of 24 athletes to compete in the 2013 McDonald's All-America game. He adorned a regional cover of Sports Illustrated during the 2013-14 college preseason.
"Whether he's making shots or not (46.4 percent), he's figuring out a way to impact the game and he's figuring out his role and the impact he can have and certainly taking a lot of pride on the defensive end," Self said.
Of his own role, Selden said: "Play the game with intensity. Be able to defend the ball on the perimeter. Be strong help."
Shocker talk: Self reiterated the Jayhawks would likely not be scheduling Wichita State anytime soon.
"I don't want to say never, but we're pretty locked in on what we're trying to do from a scheduling standpoint and that's not a knock to anybody, but without getting into it, I would say that's probably not on the immediate horizon," Self said.
"The scheduling deals come up way too much. There may be an opportunity for us to play them very soon, sooner than what even a regular season scheduled game would be played," he added, referring to the 2014 NCAA Tournament. "But who knows if that's the case, and I'm certainly not going to spend any time worrying about that."
He was asked if KU-WSU would be a huge game for TV.
"Yes, it could be a huge TV game, and it could help us recruiting in that area. Could it help as much as if we played in L.A. or New York or Philly? There's a lot of things that go into scheduling other than what is the immediate thought among fans," Self said. "I'm going to do what's best for Kansas, I'm not concerned with what's best for anybody else or doing something because it would be nice."
Self said undefeated Wichita State is worthy of a very high seed.
"I personally think they deserve the 1-line if they're able to go ahead and take care of business. You hear the so-called pundits say, well, their schedule this or that. Well, it's hard to win on the road, especially when you're everybody's Super Bowl game, and they've been able to do that, so you have to respect that," Self said.
Finalists: KU's Wiggins is one of 15 finalists for the Oscar Robertson Trophy, the USBWA's National Player of the Year award. Additionally, he and Embiid are among six finalists for the Wayman Tisdale Award recognizing the organization's National Freshman of the Year. For a list of finalists, click here.
Thanking staff: Self credited assistants Kurtis Townsend, Norm Roberts and Jerrance Howard as well as director of basketball Fred Quartlebaum for the squad attaining at least a tie for a 10th straight Big 12 title heading into Saturday's 8 p.m. game at Oklahoma State.
"We've kind of got a really nice blend (on staff) and we have for a while," Self said.
He credited Quartlebaum for being "the most positive guy ever. He never has a bad day." Of first-year assistant Howard he said; "He brings something totally different from an energy standpoint, from a fun standpoint, that I think is real important because none of us are getting any younger. Norm, although Norm is young, but Kurtis and I we are on the downside of everything," Self kidded.