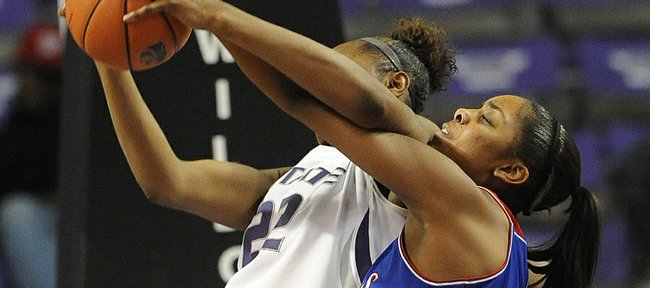 The Kansas University women's basketball team has reached the point of the year when every remaining game magically transforms into the Jayhawks' biggest game of the season.
Tonight's 7 p.m. matchup with Kansas State at Allen Fieldhouse might have been that anyway.
"There's plenty on the line in this one," KU coach Bonnie Henrickson said. "You think about how much pride we have in the department, where we keep score and teams get to get points if you beat K-State (toward) the championship at the end of the year. There's a lot of pride there and a lot of talk among coaches and athletes in the department, so we want to do our part in that."
Of course, in addition to in-state bragging rights and a sweep of the season series, the Jayhawks (12-15 overall, 5-10 Big 12) will look to pick up a much-needed victory when they face the Wildcats (10-16, 4-11).
"Clearly we know what's staring us in the face right now, with three (regular-season games) left and needing to win some in the (Big 12) tournament to be NIT eligible right now," Henrickson said. "And we look in the mirror on that one. That's us. We did that."
Rather than allow her players to become overwhelmed by the tall task they're facing, Henrickson is narrowing the focus.
"I think the most important thing for us is just to try to beat K-State," she said. "Two weeks ago we talked about big picture, but then we really just started to talk about where we are and what we have to do in the next one."
Kansas has won the last three games against Kansas State, including a 71-64 victory in Manhattan earlier this season. A win tonight would complete the sweep for second-consecutive season. The Jayhawks are 25-26 against the Wildcats when playing in Lawrence and 45-62 all-time against K-State.
Junior forward Chelsea Gardner's Big 12-leading 11 double-doubles are the most by a Jayhawk in a single season since Vickie Adkins had 12 in 1983-84. In addition, Gardner is shooting 57.1 percent from the field, which is the second-best mark in the Big 12 this year and the fourth-best career field goal percentage in Kansas women's basketball history.
Gardner's inability to stay out of foul trouble has been one of the common denominators in KU's losses this season. Other shortcomings for the Jayhawks include giving up too many offensive rebounds and not coming up with critical plays in the final minutes of close games.
While Henrickson and her staff have emphasized those areas throughout the season, the KU coach said tonight's Sunflower Showdown might come down to which team brings the best energy.
"I know they're excited about the matchup," said Henrickson of her squad. "Biggest game of the year for us. It's our last Wednesday night here. There'll probably be some purple that comes over, so we need some help from a crowd standpoint, and we've gotta find a way to win one at home."