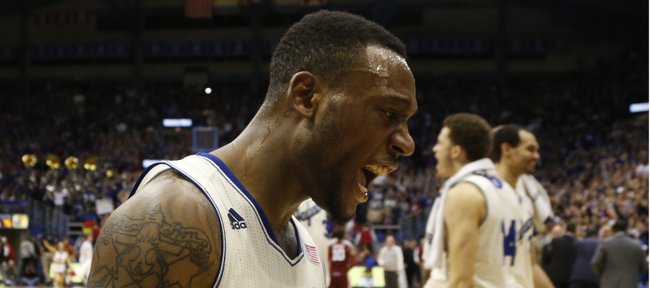 Photo Gallery
Kansas basketball v. Oklahoma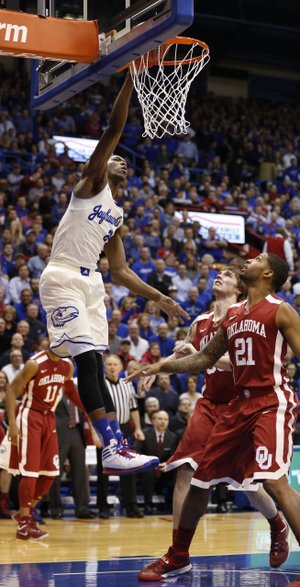 Images from Monday night's game between the Jayhawks and Sooners at Allen Fieldhouse.
Podcast episode
Kansas basketball coach Bill Self discusses how Kansas beat Oklahoma to win a 10th straight Big 12 title on Monday, Feb. 24, 2014.
Podcast episode
Kansas basketball players Naadir Tharpe, Andrew Wiggins and Wayne Selden react to KU's Big 12-clinching win against Oklahoma on Monday, Feb. 24, 2014.
KEEGAN RATINGS
KANSAS 83, OKLAHOMA 75
With the outcome of Monday's game hanging in the balance and Oklahoma within striking distance of gutting out its first victory at Allen Fieldhouse since 1993, the littlest guy on the floor slew the Sooners.
Kansas University point guard Naadir Tharpe, one of the few upperclassmen on this Kansas team, scored 10 of his game-high 19 points in the final 3:15, and the fifth-ranked Jayhawks held off a second serious scare from the Sooners in the past six weeks, 83-75.
"You're playing against one of the best teams in the country and they've got a lot of weapons," said OU coach Lon Kruger when asked about Tharpe's impact. "Tharpe's such a good player that if you get too spaced out he's got the ability to hurt ya."
Had it not been for Tharpe getting into the teeth of the Oklahoma defense — an act made easier by the threat of Andrew Wiggins (15 points) and Wayne Selden (15) on the wings — the Sooners (20-8 overall, 9-6 Big 12) might have made the Jayhawks sweat until the final horn. Instead, OU's strong second half, which started with a 25-12 run and finished with a narrow 42-41 advantage, turned into another instance of Kansas (22-6, 13-2) finding enough in the tank to deliver one of its signature knockout blows.
While most of those hay-makers come packed with double-digit-point spreads and highlight-reel dunks, this one was slow, methodical and clutch.
"I thought our guys battled like crazy," Kruger said. "And Kansas made big plays when they needed to make 'em."
As for KU's crucial mini-runs, one of which turned a four-point Sooners lead into a four-point deficit in three-and-a-half minutes midway through the second half, Kruger credited everything about Kansas basketball for Monday's outcome.
"It's so tough here for a lot of reasons," he said. "(KU coach) Bill (Self) does a great job. They're so talented. The atmosphere's great. Those two or three stretches where we just gave them those (runs) are what you have to try to avoid."
Added OU senior Cameron Clark, who scored a team-high 18 points and chose to point to a more specific shortcoming on Monday: "I think the main thing is we didn't take care of the ball in critical times."
Both teams finished with 11 turnovers, nearly half of Oklahoma's came in the final five minutes. Monday's victory clinched at least a share of the Big 12 title for the Jayhawks for the 10th consecutive season. Asked about that streak, Kruger tried to put it into perspective.
"That's just a phenomenal accomplishment," he said. "It's not like you're doing that in a bad league. They've done it in a very good league with a lot of other good teams through the 10 years, and it's certainly a tribute to Bill, the job that he does and the program in every way.
"There have only been a few longer streaks in the history (of college basketball) so I think that kind of says how phenomenal that streak is."
KU will look to clinch consecutive title No. 10 outright at 8 p.m. Saturday in Stillwater, Okla., against Oklahoma State, a team picked by many as the preseason favorite to win the Big 12.