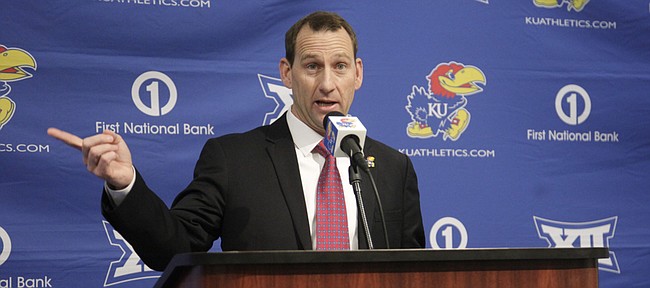 In the three weeks since David Beaty was named Kansas University's head football coach, there have been a dozen or so examples of his past and current relationships paying off in the recruiting game.
But few of them are as eye-opening and indicative of how strong these bonds are as the events that led to the mid-year signing of Brandon Stewart.
Stewart, a 5-foot-11, 175-pound cornerback from Trinity Valley Community College who appeared bound for California, first began exploring the idea of signing with Kansas when his high school coach, Cedar Hill (Texas) High's Joey McGuire, told him about Beaty.
"I mean, you're talking about the corner who's at Cal when we're talking to him, and he's hearing from his coach that he shouldn't make a decision without at least coming and talking to us," Beaty recalled. "You don't get a kid to do that without his head coach calling him up and saying, 'Hey, listen, you need to call up and talk to this guy. I know him. I know what he stands for. And it might be a fit. Why don't you give him a few minutes?'"
The reason McGuire was so confident — not to mention comfortable — that Beaty would make a good impression on Stewart was because of the longstanding friendship between the two. But there's much more to the story than this just being a case of one pal helping out another.
"Joey McGuire's one of my best friends in the world," Beaty said. "I mean, we talk on my phone every night like little girls until we fall asleep. It's that type of deal."
During the week of Stewart's signing, Beaty reached out to McGuire on the Monday before Cedar Hill played Katy for the third year in a row in the Texas Class 6A Division II state title game.
"He's fixing to play for a state championship; it's the third year in a row he's playing Katy High School for the title, so it's the rubber match," Beaty explained. "Katy won one, Joey won one, and this (was) the third one. You know what he's doing on Monday? He's talking to me about Brandon Stewart and telling me everything I need to know to make sure I know that he's the right guy."
McGuire's input on Stewart gave Beaty and KU defensive coordinator Clint Bowen the confidence to pursue the player, and his glowing review of Beaty helped Stewart believe KU was the right fit.
"Those are relationships that, if it was me, and I didn't know the guy, there's no damn way I'm gonna answer that phone call on Monday," Beaty said.
Five days after that phone call, Cedar Hill topped Katy, 23-20 in come-from-behind fashion, giving McGuire back-to-back state titles and Beaty another reason to smile. These connections with his former Lone Star State colleagues and counterparts are not one-way streets. And because Beaty has given as much to those guys as he has asked from them throughout his career, the rewards are coming in fast and furious now that Beaty is running his own program again.
"I'll be honest with you, I didn't have to do anything," said Beaty, asked how quickly he reached out to several of his closest friends who coach football in Texas. "As soon as I got the (KU) job, there were texts on my phone that said, 'Listen, I got a couple for you. Come check 'em out. They're ready to go.' So that was good. And that speaks to the relationships, and it speaks to the trust that we have with one another."