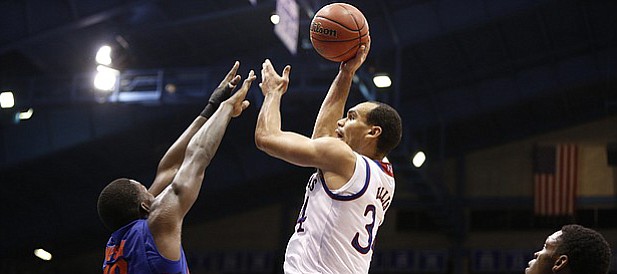 Bill Self knows which player to call on when Kansas University's basketball team desperately needs a basket.
"I'd turn to Perry. I'd put the ball in Perry's hands in some way, shape or form and say, 'Hey go do it,''' Self said, asked on this week's ESPN/Andy Katz podcast which Jayhawk he'd most likely rely on if a bucket is needed during crunch time.
"Perry can make a face-up jumper and he can also drive the ball. That's a pretty good combination to have late-game," Self added.
Perry, of course, is junior forward Perry Ellis, KU's leading scorer (14.3 ppg) and rebounder (7.0 rpg), who hit a floater to bust a 55-55 tie in Saturday's 63-60 win over Utah in Sprint Center.
The 6-foot-8 Ellis scored 11 points in 14 minutes the first half as KU built a 39-21 lead. He had three points in 16 minutes the final half, his only bucket in three tries the one that gave KU the lead down the stretch for good.
"He (Ellis) is very capable of making easy baskets, especially in pressure situations," junior forward Jamari Traylor said. "Coach drew up the play for everybody to drive it. He (Ellis) was the one who made the play, so props to him."
Ellis for the season is hitting 44.4 percent of his shots, including four of 15 from three. He's a 76.3 percent free-throw shooter.
"Sometimes it's fools gold when you make shots early. The way he scored early (4-for-4 from field, including one three first half vs. Utah) ... he drove it one time," Self said. "Basically he's a face-up guy playing from the perimeter. We've got to have him playing everywhere.
"I thought he was by far the best player in the game the first 10 minutes or so but after that he was a total non-factor like our other big guys were. We've got to find a way to keep plugging in Perry when they are taking away what he can do. If he's a pick-and-pop guy and they switch ball screens, that negates part of it. Now you've got to be able to take advantage of the switch. Those are things we are not doing yet and don't understand yet, but we'll gain on at practice."
The soft-spoken Ellis says he's trying to "be aggressive" all the time.
"If I'm aggressive and keep competing, things will happen. I try to be aggressive as coach tells me to be. Coach is always telling me to attack. I try to do that," Ellis said.
Of his solid start to the season, the first-team preseason all-Big 12 pick said: "I feel a lot more confident. I trust in myself and trust the system."
Defending drafts: KU's Self has been taken to task by ESPN's Jeff Goodman and Draftexpress.com's Jonathan Givony following Self's comment about mock NBA drafts after KU's win over Utah on Saturday.
Self said: "The mock drafts don't mean anything. I'd tell the guys if he was here doing the mock drafts ... they are ridiculous. You can follow the mock drafts. They will have 120 players go in the first round this year in mock drafts. That is true. You can count them. Obviously they don't know and are guessing.
"With some kids it takes more time in a system. Kelly (Oubre Jr., ninth in draftexpress.com's 2015 draft) never played guard. We're asking him to do some things he's never really done. The thing we've done that has turned out to be OK but could have gone the other way is you play a schedule that can't bring freshmen along, because they can't play through mistakes because you've got to win the game. I'm proud of Kelly. He's hung in there and kept a really good attitude. He's going to be really good. You can see it. He hasn't quite got there yet. I think the last two games have done wonders for his confidence."
Givony tweeted: "Bill Self is getting tired of being asked why he's not playing Kelly Oubre. So he is lashing out against mock drafts."
Another Givony tweet: "Self says 'some kids take more time in the system' which is why mock drafts are 'ridiculous' and 'don't mean anything.' Got that, Kelly?"
And another Givony tweet: "I second the challenge made to Self: 'Show us whose lives were made worse in 2014 by the existence of mock drafts or drop this tired crusade.'''
One more from Givony: "College coaches often get confused about the difference between being a great college player (like Perry Ellis) and a great NBA prospect."
Goodman tweeted: "Yeah, mock drafts kill these kids. It's not the fact most people (including coaches) kiss their you-know-what's thru the recruiting process."
Semi update: Former Ottawa High forward Semi Ojeleye, who has announced plans to transfer from Duke, so far has heard from KU, Kansas State, Wichita State, Wisconsin, SMU, Oregon, Iowa, Illinois, Creighton, Cal and Washington, according to ESPN's Goodman.