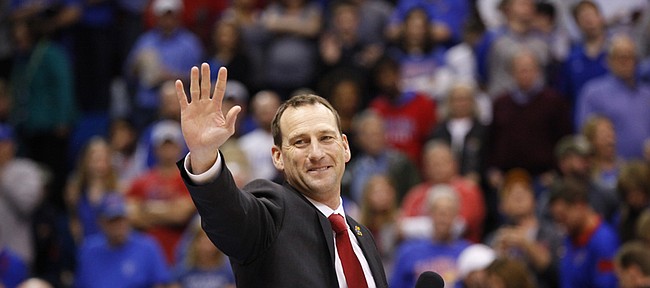 When David Beaty steps to the podium at 9:30 this morning to be introduced formally as Kansas University's 38th head football coach, it will mark the sixth December day in the past 27 years the program has rolled out a new leader.
Of course, the rate at which KU has gone through football coaches in recent years has increased dramatically. Beaty will be the third head coach to take over at KU in the past five years, joining Turner Gill, who was introduced Dec. 14, 2009, and Charlie Weis, who first greeted the KU media on Dec. 9, 2011.
The previous three coaches lasted a combined 22 years. Glen Mason was introduced Dec. 31, 1987. Terry Allen followed Mason on Dec. 28, 1996, and Mark Mangino succeeded Allen on Dec. 4, 2001.
All three of those guys won more games during specific three-year stints of their KU careers than the program has won during the past five years (12-48 from 2009-14), and improving the win total was primary among the reasons Beaty was brought in to take the baton from interim coach Clint Bowen in replacing Weis.
Details about just how Beaty plans to do that — from current and future recruiting plans to how he'll build his coaching staff and spark interest in the program — will be revealed today and in the coming months, but those who have experience with Beaty in the past believe he's the right guy to prevent KU from continuing to trend in the wrong direction.
"There's no doubt in my mind that he's very capable of doing very well there at Kansas," said former Rice All-American receiver Jarett Dillard, who played for Beaty from 2006-07.
The reason? Dillard said Beaty's pride and passion were second to none and added his former coach paid close attention to how programs were run around him.
"Every great coach has to start somewhere," Dillard said. "And David Beaty has been around and learned from some great coaches at other programs. He should get his opportunity, and the one there at Kansas is a great one."
Mathis stays solid
Kilgore Junior College cornerback Michael Mathis, a 6-foot-2, 205-pound three-star prospect, told Jon Kirby of JayhawkSlant.com that his commitment to KU was solid despite the Jayhawks' change in leadership. Mathis said he received a phone call from Beaty shortly after the announcement, and that was enough to keep him committed.
Mathis is expected to sign his letter of intent Dec. 17, during the mid-year signing period, and plans to report to Kansas in time for spring practices.
Mathis is one of 13 oral commitments in KU's 2015 recruiting class, and Bowen and recruiting coordinator Reggie Mitchell said during the final few weeks of the season that the previous KU coaching staff had done a solid job of keeping those players committed to Kansas.
Mitchell said the fact that many of the commitments made their decisions because of their fondness for KU and not just a coach helped the staff keep the class together.
Bishop Miege quarterback Ryan Willis, who recently led the Stags to a 13-0 season and a state championship, was one of the first in the class to commit to KU. Kirby reported that Willis met with Beaty on Friday night and came away impressed.
"I enjoyed talking to him last night after he was hired," Willis told Kirby. "He told me that I was a top priority, and he was looking forward to me slinging the ball around the field.
"He was extremely energetic. He seemed like he was on a mission to take this program in the right direction."