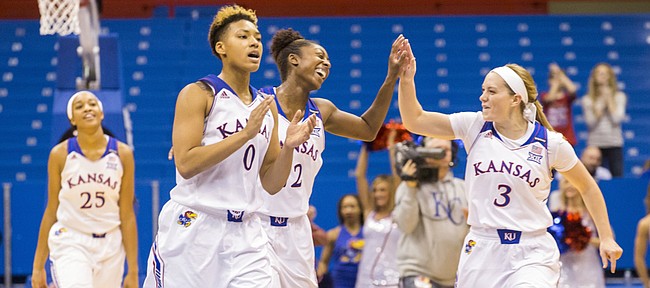 Photo Gallery
Kansas womens basketball vs. No. 10 Cal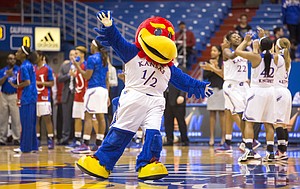 Images from the Kansas women's basketball game against No. 10 Cal, played Sunday, Dec. 7, 2014 at Allen Fieldhouse. The Jayhawks upset the Golden Bears, 62-39.
Document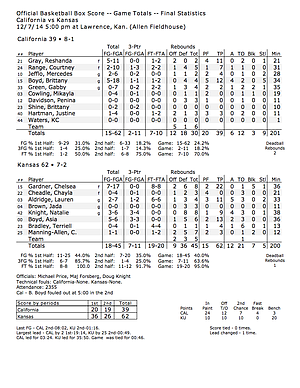 The past few days at Kansas University women's basketball practices, coach Bonnie Henrickson might have used the words Reshanda and Gray as much as she did the words half-court and defense.
Her Jayhawks — particularly Chelsea Gardner — must have been sick of hearing about Reshanda Gray, Cal's All-America candidate, because they neutralized the senior forward Sunday evening at Allen Fieldhouse, launching them to a 62-39 upset victory over the No. 10 Golden Bears.
Henrickson painted Gray, who came to Lawrence averaging 22.6 points, as a monstrous force in the paint. However, the Jayhawks (7-2) found a way to tame her: foul trouble. The 6-foot-3 senior played just nine minutes in the first half as Kansas established a 36-20 lead at the break.
Before KU returned to the floor, Henrickson looked at her own star senior, Gardner, and said: "You can play with that kid."
Gray finished with just 11 points and two rebounds in 21 minutes, and Gardner went for 22 points.
Even the promise of a fresh start in the second half didn't last for Gray and previously unbeaten Cal (7-1). Gardner drew Gray's third foul on a drive a little more than three minutes in. Less than a minute later, KU senior guard Asia Boyd boxed Gray out on the defensive glass to draw her fourth with 16:10 to go and KU leading by 16.
"We knew we had to get Reshanda in foul trouble," Boyd said, with a smile, "so I flopped a couple times."
Declawing Gray had been a part of the game plan, for sure, but so was slowing the pace against the Golden Bears, who had averaged 90.3 points a game before losing to Kansas. Cal coach Lindsay Gottlieb, whose team only scored four fast-break points and made just six of its 33 second-half shots, called the game an "old-fashioned tail-whooping."
"Everything they wanted to do," Gottlieb said of the Jayhawks, "they did."
Gardner, whose eight rebounds tied senior guard Natalie Knight for the team high, said all of Henrickson's talk about Gray didn't bother her. Actually, the whole coaching staff had been hard on the Jayhawks following a blowout loss to Notre Dame and an unimpressive showing against Incarnate Word in the previous seven days.
"We had to come here and bring our anger out on them," Gardner said of the Bears, "and hit them from the start. That's what we did."
Kansas even did it in spite of a slow start from its star forward, who missed her first six shots before connecting on seven of her final 11. Immediately after drawing a charge and a second foul on Gray midway through the first half, Gardner knocked down a jumper that put her team up 15-10, and the Jayhawks never looked back.
Gardner (12 second-half points) and freshman guard Lauren Aldridge (eight of her 11 points came in the second) led the KU offense late, but the shooting of senior guards Knight (3-for-4 on three-pointers, nine points) and Boyd (3-for-3 from deep, 13 points) proved crucial on a night Cal outscored Kansas 24-10 in the paint.
"Chelsea demands a lot of attention down low," said Boyd, who drilled a late-clock three while standing on the blue feathers of the mid-court Jayhawk logo in the second half, "and they're gonna double, and they're gonna bring help-side (defense)."
In a perfect storm of disaster for Cal, the team's other standout, senior guard Brittany Boyd, missed 13 of her 18 shot attempts against Kansas and fouled out with just 12 points, with 4:33 left.
It all added up to a 24-percent shooting night for Cal, an upset win for the Jayhawks and the removal of a couple words from Henrickson's vocabulary.
Not that the coach's praises for Gray had made her own star forward jealous.
"Chelsea knows we all think she's one of the best bigs in the country," Henrickson said. "I don't need to remind her of that today."