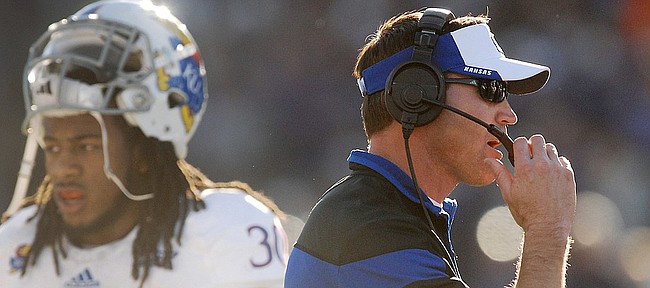 They don't know who will lead them as their head coach in 2015, but the handful of Kansas University football players who spoke with the media after Saturday's season-ending 51-13 loss at Kansas State seemed to have a pretty good idea of the direction they believe the program is headed.
"It goes up," said junior quarterback Michael Cummings, who likely will have a healthy lead in the race to become KU's quarterback next season. "We've gotta come together in the offseason. It's tough to talk about right now because we just lost a game, and our season's over, but we've gotta be better than we were this year and put some games together and put some wins together."
Cummings, like many of his teammates, has made it clear during recent weeks he would like to play his senior season for Clint Bowen, KU's interim head coach for the past nine weeks and one of a handful of options for KU athletic director Sheahon Zenger as he searches for a full-time replacement for Charlie Weis. Cummings reiterated his stance after Saturday's loss but also discussed the importance of personal accountability and the role that plays in helping the program get back on track.
"The urgency is different," he said when asked about the offseason heading into his senior year. "But it's about building up the people around you. It's not just about one person. If everybody can be in that leadership role, then that's a better team."
That was a staple of the Bowen philosophy during the nine weeks he was in charge, and he emphasized that again Saturday night in the locker room and at his postgame meeting with the media.
"The message in there was to thank those seniors," Bowen said after the loss to K-State, which made him 1-7 as KU's interim head coach. "Regardless of how their careers went here, there's nothing to be ashamed of. The message to the underclassmen was to remember the feeling we have right now, to remember where we're at and keep that feeling for everything we do from this time forward."
At least a couple of Jayhawks said that was exactly what they would remember about Saturday's loss and the disappointing finish to another 3-9 season.
"It hurts," junior running back De'Andre Mann said. "I'm gonna soak this feeling in and gonna dedicate myself and work even harder so I don't have to feel this again next year. ... Whatever coach wants, that's what I'm gonna do."
Sunday afternoon, Bowen and the Jayhawks honored the 21 seniors leaving the program with a banquet that celebrated their careers. That banquet, which included several individual awards and recognitions, marked the final act of the 2014 season, and it'll be business as usual for Bowen from here on out, even if everything around him is on the brink of changing.
"We'll be out on the road recruiting next week," Bowen said. "We'll be visiting those young men who are committed to us, so we'll get out and about early next week at some point in time and continue to sell all the things that are positive about Kansas regardless of the head-coaching situation. There's still a tremendous amount of positives and reasons that those young men chose to come to Kansas in the first place, and we'll just continue to build on those and work hard to keep those commitments solid."