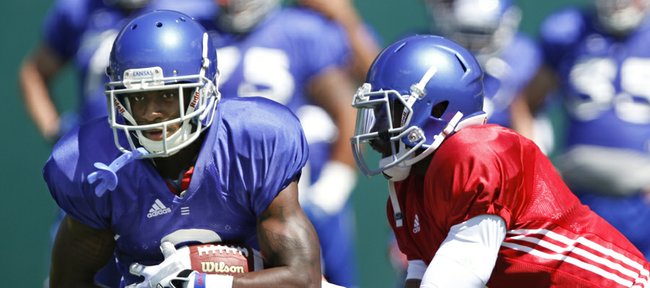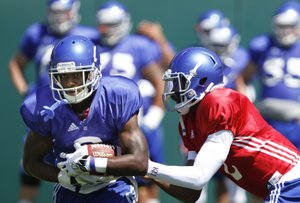 Kansas University senior Tony Pierson now can admit that last year was a pain. Whether the literal pain that came with a head injury that never quite went away or the emotional pain of missing five games of a 12-game season, it hurt.
It doesn't any longer.
Pierson, the 5-foot-10 wide receiver who led the Jayhawks with 333 receiving yards on 24 receptions last season and is up to a career-best 177 pounds, said earlier this week that the lingering affects of the injury are a thing of the past.
"I feel good," he said. "It's real nice."
Pierson said he started to feel like himself again at the beginning of the summer and added that the return to normal came just in time for him to put his full focus on his final season as a Jayhawk.
KU coach Charlie Weis used caution with Pierson during spring practices. But Weis said last week that, with the season nearing, it was time to see what one of his top weapons could do.
"We'll make sure that he doesn't get pounded on, and we'll be fairly conservative with Tony," Weis said. "But he also has to get hit some so that he knows (he) can get hit and get up and go play the next play. You have to make sure that there's at least enough contact in there where he's game-ready come September 6th."
With just one year remaining in his KU career, Pierson said he and his senior teammates were not planning to hold anything back in 2014.
"It's all-out now," Pierson said. "It's senior year. We know we have the talent to do what we came to do, and we're gonna try to go out there and make it happen this year."
Mundine out 2 weeks
Senior tight end Jimmay Mundine, a 6-foot-2, 240-pound starter, will miss two weeks of practice while recovering from a "minor procedure" he had performed on his knee Monday, Weis announced Tuesday. The injury is not believed to be serious.
Senior Trent Smiley (6-4, 240), red-shirt freshman Ben Johnson (6-5, 235) and sophomore Jordan Shelley-Smith (6-5, 245) figure to get more reps with the first-team offense in Mundine's absence. And Florida transfer Kent Taylor, who is expected to sit out the 2014 season in accordance with NCAA transfer rules, also may get into the mix early in camp.
Allen all business
Sophomore nickelback Greg Allen had one of the best springs of anyone on the roster. Rather than resting on that accomplishment, Allen turned it up a notch this summer.
"I sacrificed going home," said Allen, a New Orleans native who went to high school in Houston. "I just wanted to really focus on me as a person and my career here at KU and not worry about friends and family."
The reason?
"I just really want have a breakout season," Allen said. "I've got older guys telling me they're relying on me, and that really hits the heart. I'm here. It's my time."
Mortensen on TV
Always one with a flare for the dramatic, former KU linebacker Joe Mortensen, a member of the 2007 Orange Bowl championship squad, on Tuesday night appeared in the premier episode of AMC show "Fourth and Loud," a behind-the-scenes look at the work that went into making the LA KISS arena football team a winning program.
The team, for which Mortensen plays fullback, is owned by legendary KISS rockers Gene Simmons and Paul Stanley.
Fan-appreciation day
Saturday marks fan-appreciation day at KU, where fans will be allowed into a KU practice and welcomed to stick around afterward for autographs and photos with players and coaches. The practice will run 1:30-4:15 p.m. at Memorial Stadium.
Hall of Famer
Former Kansas football standout Kyle Moore-Brown was one of four players recently selected to the Arena Football League Hall of Fame Class of 2014 by AFL Commissioner Jerry B. Kurz.
Moore-Brown, who played defensive tackle at KU from 1990-92, was a three-time All-Ironman selection, a two-time ArenaBowl champion and the AFL record-holder for most consecutive starts at 236 games.
"It is a true honor to be chosen," said Moore-Brown in a news release. "I could not even sleep after hearing the news."