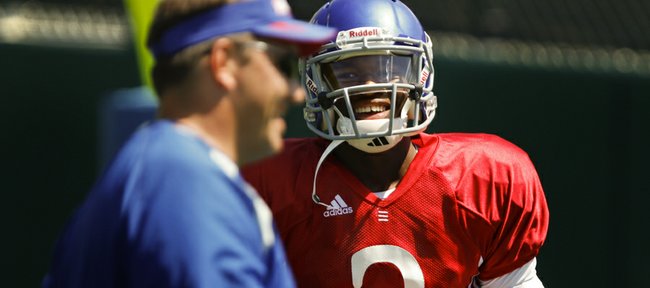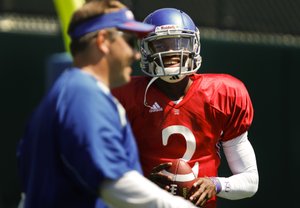 If Montell Cozart had been born just a couple of weeks later, someone else probably would be starting at quarterback for Kansas University's football team this fall.
Monday was Cozart's 19th birthday, and instead of preparing to enter college as an incoming freshman, the sophomore from Bishop Miege High was out at preseason camp prepping for his first full season as the Jayhawks' starter.
Young in the face but wise where it counts, Cozart spent the past few months fine-tuning his game so he would be ready for showtime. He worked on his accuracy by widening his base. He developed his relationships with KU quarterbacks coach Ron Powlus and first-year offensive coordinator John Reagan. And he pushed himself out of his comfort zone to force himself to become a better leader.
The area of the Montell makeover that registered the highest marks was confidence. Maybe that came because he was named the starter after a strong spring. Maybe it developed throughout the summer when the title of Big 12 starting quarterback first began to feel real. Or maybe it began to take shape the day after the spring game, when he read comments from senior Keon Stowers, a co-captain last season, who said a quarterback like Cozart was exactly what this team needed.
"That just showed me that these guys have confidence in me," Cozart said of Stowers' words. "For him to say that, even though he's not supposed to, just showed me that these guys believe in me. I thank him for that. Every day I go out there I just lean on my teammates and their confidence in me and go from there."
Cozart has been through something like this before. After playing defensive back as a sophomore at Miege, he jumped into the quarterback competition as a junior, won the job, started the next two seasons in a spread offense and had wild success. Different levels, different worlds, of course, but that experience is aiding Cozart today.
"I feel like it's the same situation," he said. "There, I competed with other QBs, and I kind of did the same thing. And now I feel I'm going to be tested early, and hopefully it works out the same way. I've been here before. I'm ready for it."
Up 10 pounds from the end of last season, Cozart looks bigger and more sure of himself on the field. To this point, that has shown only in practice. But his teammates say Cozart is ready for the bright lights.

"Just his natural charisma and leadership, to have a guy like that leading your team is just exciting," senior running back Taylor Cox said. "He's a tremendous athlete, and he brings a lot of different dynamics that you can throw at a defense, so that's also exciting."
Added senior tight end Jimmay Mundine: "Despite how young he is, he's determined not to let us older guys down."
That's a big part of the equation for Cozart, who said he occasionally watches tape of the way Todd Reesing played at Kansas. Last season, he sat back and said little, even while starting the final three games of the season.
"Just jitters," he said. "Not comfortable. Not confident in the offense and not having confidence in myself. But I feel a lot more confident this year."
Cozart's confidence has reached such a high level that he had no problem laying out his goals. He didn't talk numbers, touchdowns or even wins, though.
"I wanted to stay (close to home) and be one of those hometown heroes that you hear about and put Kansas back on the map," he said. "Hopefully we're going to do that this year. ... Those guys are counting on me, and I'm ready for it and looking forward to it."