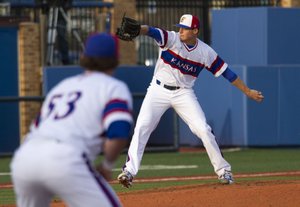 Kansas University's No. 1 starting pitcher, Wes Benjamin, recently underwent Tommy John surgery, KU baseball head coach Ritch Price announced Friday.
Benjamin, a junior, exited his start against Oklahoma on March 28 in the third inning with tightness in his left elbow after a 60-pitch effort. After a thorough examination by the KU medical staff, he sought an opinion from Dr. James Andrews, a leading specialist in the repair of damaged ligaments and the doctor of major league baseball players such as Albert Pujols, John Smoltz and Roger Clemens. Andrews suggested surgery as the best option and performed the procedure Thursday, April 10.
"He had a torn ulnar collateral ligament which was reconstructed with the Tommy John procedure," Andrews said. "The procedure went great and we expect a full recovery in nine to 12 months. He will be allowed to start some interval throwing probably around four months post-op. His prognosis is good for a full recovery and he should be an excellent candidate in the next professional baseball draft."
Benjamin started all seven contests in which he appeared this season, averaging six and one-third innings per start for a perfect 4-0 record.
"I am 100 percent confident that Wes will make a complete and full recovery from his Tommy John surgery," Price said. "His commitment to fitness, conditioning and hard work in the weight room during his time at KU has always been outstanding. I know that Wes will do everything required with his rehab program to make his dream of pitching in the big leagues a reality."
In 42 and two-thirds innings pitched this season, the lefty recorded 31 strikeouts, including a season-high eight against Houston Baptist (Feb. 28). Against perennial power Stanford (March 7), he allowed just four hits in seven innings, striking out five Cardinal in the process.
His best performance came against then-No. 10 Texas (March 14) to open Big 12 play. Benjamin held the Longhorns to two runs, six hits and two walks in eight and two-thirds innings, striking out four in the 3-2 Kansas win.