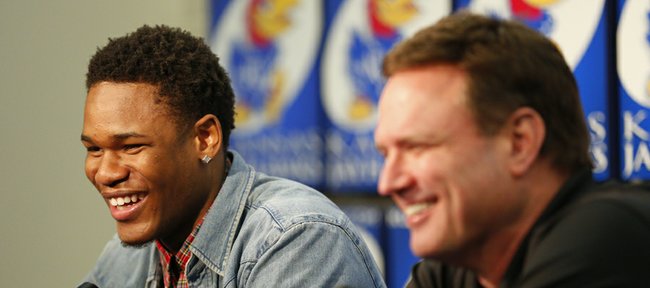 Kansas University basketball coach Bill Self has been faring awfully well in ESPN.com surveys this past summer into fall.
Self, who in the past several weeks was ranked the No. 2 recruiter of all college coaches (behind John Calipari) and No. 4 X's and O's coach (behind Tom Izzo, John Beilein and Rick Pitino), on Monday was named the college coach most qualified to run an NBA franchise successfully.
ESPN's Jeff Goodman polled 50 NBA coaches and front-office personnel, who ranked Self No. 1 coach with NBA potential, followed by Duke's Mike Krzyzewski, Iowa State's Fred Hoiberg, Florida's Billy Donovan and Michigan State's Izzo. Others who received votes: former KU player and current Tulsa coach Danny Manning, Pitino (Louisville), Tommy Amaker (Harvard), Tony Bennett (Virginia), Jim Boeheim (Syracuse), Anthony Grant (Alabama) and Greg Lansing (Indiana State).
"(Self) does everything well — player relations, game plan, booster/press/corporate and has a big-time presence," one NBA source told Goodman. "I also think he is smart enough to know that he can't be as hard on guys as he is in practice in the NBA."
"He has a great demeanor, holds the kids accountable, it's not all about him — like a lot of college guys," another source told Goodman.
A third source said: "He's an outstanding teacher, but not too much of a dictator that would turn guys off. He is strong enough and has the right kind of personality to get guys to buy in. He's coached a ton of NBA picks and has played pick and roll in his system."
Of Self, Goodman wrote: "At one point not too long ago, the 50-year-old was considered primarily a recruiter. However, that changed a couple of seasons ago when he took the Jayhawks to the national title game with a relatively ho-hum roster. Self has led KU to nine straight Big 12 titles and won a national title in 2008."
Self has never discounted a move to the NBA, however has also said, "I don't know what job would be better than the one I have right now."
He garnered headlines last summer when he told the Oklahoman at his induction ceremony for the Oklahoma Sports Hall of Fame: "It (NBA) hasn't really tempted me because I haven't had that many people talk to me about it. But at some point and time, sure, I think it would (tempt me). It would be great to be able to match wits with the best athletes in the world, but I'm certainly happy where I'm at."
Later he clarified, "Nobody has flirted with me. It's not like I'm on everybody's wish list or anything like that. I really don't know what it would take. But it would have to be awfully good though. Even a so-called better job — I don't know what job would be better than the one I have right now."
Goodman's survey story is available at http://es.pn/1gToIYy
Alexander lists top six: Cliff Alexander, a 6-8 senior forward from Chicago Curie High who is ranked No. 4 in the recruiting Class of 2014 by Rivals.com, on Monday tweeted his top six schools.
"NO ORDER ... Michigan State, Illinois, Memphis, DePaul, Kansas, Arizona," Alexander wrote.
On Sunday, he told ESPN Chicago that he also was considering Baylor, Indiana and Louisville. Alexander, who has visited Arizona and DePaul, will visit KU for the Oct. 4 Late Night in the Phog, Memphis on Oct. 18 and Illinois on Oct. 26. He told ESPN he expects to commit to a college in December and sign a letter-of-intent in April.
Alexander will compete in the FIBA Under 18 3 x 3 world championships Thursday through Sunday in Jakarta, Indonesia.