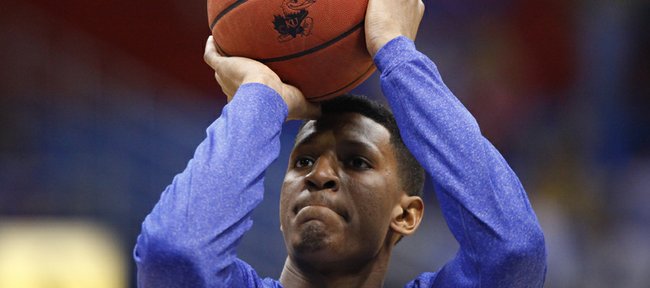 Kansas University's basketball players didn't act as if they'd just rolled out of bed during Monday's 6-7 a.m. Bill Self Basketball Boot Camp session in the Jayhawks' practice facility next to Allen Fieldhouse.
"There was so much communication going on today in Boot Camp — just to make sure everybody was getting through it, at the pace we needed to have it done," KU sophomore Andrew White III said.
He indicated the Jayhawk players were barking out encouraging words to each other, not talking in their sleep on the first day of the 2013-14 preseason weeklong conditioning program.
"The first day of Boot Camp went well all the way around," added White, a 6-6, 210-pound shooting guard from Richmond, Va. "Everybody on the team worked hard, everybody finished, and nobody threw up, so it was a real good experience. Me individually? I felt good and felt like my wind was pretty good (during sprints, defensive slides and backboard touches) and got the running knocked out. I'm looking forward to Day Two. It's just one week, so anything is better than two weeks."
Boot Camp has been shortened from two weeks to one this preseason because Self doesn't want to wear out his troops in the NCAA's new, marathon season that starts on Sept. 27 rather than the Friday closest to Oct. 15.
"I like the idea of it (Boot Camp) because, a lot of times when we're in tough games, I just think about those sprints and things we had to do in Boot Camp. Coach does it for a reason," White said. "I think when everybody finishes, everybody takes pride in having so much adversity, you know, together as a team. I think that's what really brings a lot of guys together."
White said KU's six freshmen "did well. Like I said, everybody finished, and everybody was up to pace, so I think they did really well today. We didn't have to do much extra, so that's always good for the first day, especially with the young guys."
KU coach Self was satisfied with the first session of the preseason.
"It went very well," Self said. "It was a hard day. Everybody finished. Andrew White stood out to me today."
Tough rookie year: White was asked by a reporter if it was difficult playing sparingly his freshman season.
"It was very difficult. I applied myself every day and tried to progress as fast as I could. Even though I was frustrated, I just tried to stick with the team concept, and having that experience is something I'll look to use as a major advantage this year," said White, who averaged 2.2 points and 5.0 minutes in 25 games.
He said he never considered transferring.
"I felt like, even last year, this is a place I could have contributed, and this is a place I can contribute this year, so I didn't ever have any transfer talk just because I have a lot of confidence in my game, and I think, eventually, I'll be where I need to be so that I can play. This year, hopefully, will be a big year for me," he said.
Tweets: KU freshman center Joel Embiid's take on Twitter: "Boot Camp first day down!!! So tired, Need a ride to class but at least I didn't throw up."
KU senior Niko Roberts on Twitter: "#BootCamp can get real ... Bleeding through two pairs of socks #WeWorking."
Tulsa's Boot Camp underway: Former KU player and assistant coach Danny Manning obviously is a believer in Boot Camp. "First day of 6 a.m. Boot Camp is in the books. Two weeks to go #GoTU," Manning, Tulsa's second-year coach, wrote on Twitter after the Hurricane's first Boot Camp session Monday.
Recruiting: KU has not made the final cut for Stanley Johnson, a 6-6 senior from Mater Dei High in Santa Ana, Calif. Rivals.com's No. 3-rated player nationally has cut his list to Kentucky, Arizona, Southern California, Florida and Oregon. He reported cutting KU and UCLA from his list on Twitter.
Lyle update: No. 22-rated JaQuan Lyle, a 6-5 guard from Huntington (W.Va.) Prep, who decommitted from Louisville Saturday, said Monday he will make recruiting trips to KU for the Oct. 4 Late Night in the Phog, plus UConn, Arizona and Memphis.