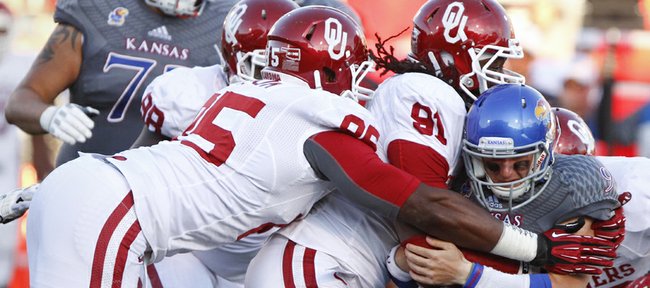 Photo Gallery
KU football v. Oklahoma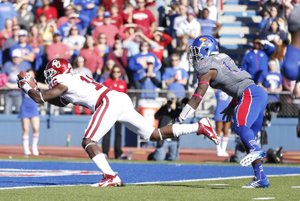 Images from Saturday's game against Oklahoma at Memorial Stadium.
Podcast episode
Kansas coach Charlie Weis talks to reporters following the Jayhawks' 34-19 loss to Oklahoma on Oct. 19, 2013.
On a day when Kansas University coach Charlie Weis took the first step toward looking to the future at quarterback, the present bit him in the rear as the Jayhawks managed just 16 yards passing in a 34-19 loss to 18th-ranked Oklahoma in front of 41,113 at Memorial Stadium.
Junior starter Jake Heaps handled most of the quarterbacking duties for Kansas, which jumped out to a 13-0 lead but followed it up by surrendering 25 straight points to the Sooners. So it was Heaps who deserved much of the blame for KU's paltry passing numbers — 5-of-13 for 16 yards and three sacks. Of course, as has been the case for five consecutive games, the offensive line's blocking and wide receivers' issues catching the ball also contributed to KU's poor passing.
"I don't care if you're playing the '85 Bears, that's just not acceptable," Weis said following KU's third consecutive loss and 24th in a row against Big 12 foes. "And it's something we will continue to work on because it's just not good enough right now."
During the two drives in which Heaps was not in the game, true freshman Montell Cozart took KU's snaps at quarterback. The move to use Cozart was something the Jayhawks game-planned for throughout the week and one that everyone on offense knew was coming. It hardly mattered, though, as Cozart ran three times for 11 yards and did not attempt a pass.
Weis said the idea behind inserting the 6-foot-2, 189-pound Cozart was to use him when the Jayhawks were going against a stiff south wind. As determined by the results of the coin toss, that meant going to him during the second and third quarters. So despite Heaps having the offense moving well and the Jayhawks (2-4 overall, 0-3 Big 12) leading 13-6 early in the second quarter, Weis called Cozart's number and never reaped the benefits many thought he might. Yes, a holding penalty on the freshman's first play from scrimmage was partly responsible for that, but that merely made the situation more precarious and gave the young man less of a chance to succeed.
Eventually, during the third quarter on his second series of plays, Cozart showed some of the mobility and play-making prowess that have people in Lawrence excited about his potential, as he ran for nine yards on first down and brought a little life back to the Kansas huddle. But that was short-lived, and KU's offense never again got going. Regardless of his limited usage Saturday, Weis said putting Cozart out there was a positive step.
"What he did," Weis said, "was get his feet wet, which is good because, obviously, we're going to need him more as we move forward."
For the better part of two-and-a-half quarters, this one had the same feel as KU's 54-16 loss to Texas Tech a couple of weeks ago — both the good and the bad. Behind a dominant start in which KU ran for 129 yards and scored twice in the game's first 15:11, Kansas jumped out to a 13-0 lead and had the support of the home crowd, the confidence of its ever-improving defense and the Sooners out of sync. But then the offense hit the dreaded wall, and, before it could regroup, Kansas trailed 25-13 at the 10:47 mark of the third quarter.
"I was concerned (at that point) that the game was heading in that direction," said Weis of following the same pattern as the blowout loss to Texas Tech. "But it didn't get away."
It came close. At one point, OU (6-1, 3-1) scored nine points in 18 seconds to turn a 13-6 KU lead into a 15-13 edge for the road team. The first points came via safety following a blocked punt, and the next seven on a 49-yard touchdown pass to Sterling Shepard on a perfect pass from wide receiver Lacoltan Bester, who got the ball on a reverse. Think about that: Oklahoma's third option at wide receiver had three times as many passing yards as KU's entire offense on one play.
What's worse, when the Jayhawks finally did score again — via a six-yard Sims touchdown run at the 10:15 mark of the fourth quarter that followed a Josh Ford blocked punt — the Jayhawks only were able to net four points out of the score because the Sooners blocked the extra-point attempt and returned it for two points of their own.
Even with that, KU still trailed by just eight and was sending its best unit back onto the field. But OU responded with an 11-play, 75-yard touchdown drive that zapped six minutes off the clock and put the game out of reach.
"We definitely slipped up on a couple opportunities when we should've cashed in for three or seven or something (earlier in the game) and we came up with nothing," said KU tight end Jimmay Mundine, who scored a TD for the fourth straight game in the first quarter. "And that's disappointing."
Believe it or not, KU's 16 yards passing did not even represent a program worst. Heck, Saturday was not even KU's worst output of the 2000s. That came back in November of 2010, when Quinn Mecham finished 3-of-13 passing for 15 yards in a 20-3 loss at Nebraska. Not that such a statistic made anybody feel better on Saturday.
"We had some plays we left in the passing game because the others weren't working and so couldn't even get to those," Weis said.
Added Heaps, who said Saturday's effort was the worst he could remember from his entire playing career: "We found a sense of identity (a running game that tallied 185 yards and two touchdowns on 39 attempts) and I think that's a big positive from this game. The thing we have to do now is make sure that we're complementing our running game with our passing game."
That may be easier said than done and, for the second year in a row, the Jayhawks may be forced to consider drastic measures to stay competitive. The question? Are the Jayhawks actually at the point — again — where they're staring down the barrel of abandoning the passing game altogether and focusing on finding ways to run the ball even though every team they play will know it's coming? Judging by their rushing performance Saturday and Weis' comments afterwards, the answer may very well be yes.
"I can't rule that completely out," Weis said.