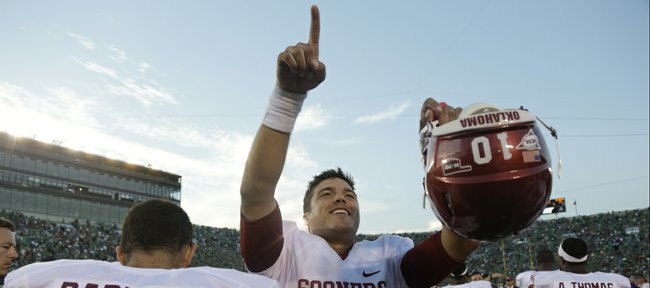 Earlier this week, on his "Hawk Talk" radio show, Kansas University football coach Charlie Weis joked that he just might insert walk-on linebacker Beau Bell into the KU lineup this week so the first-year Jayhawk can blitz his older cousin, Blake Bell, the starting quarterback at Oklahoma.
Beau's all for it.
"Oh, for sure," Beau said earlier this week during a break in preparation for KU's meeting with the Sooners at Memorial Stadium. "Any day I would. I've been dreaming about that since I got here. Since high school ended, I've been dreaming about that moment."
Although the cousin-on-cousin crime would make for a great story line, it's not likely to happen. Beau, a 5-foot-11, 215-pound linebacker from Wichita by way of Hutchinson Community College, does not appear on the depth chart and has played in just three games for the Jayhawks this season, with his appearances coming on special teams.
Still, the mere thought of standing on the opposite sideline as Blake during a Div. I college football game had Beau's blood flowing extra fast this week and the fond memories of a lifetime of playing together as teammates and growing up a few houses apart were momentarily displaced so Bell could help his new teammates come up with the best game plan to slow down Blake and the 18th-ranked Sooners.
"We were basically like brothers growing up," said Beau, who graduated from Wichita powerhouse Bishop Carroll in 2011, one year after Blake left in 2010. "He lived about seven or eight houses down from me, and we would always be outside messing around in the yard playing football or whatever we were doing."
Most often, that meant playing on the same team, so this whole trying-to-stop-Blake thing is new territory for Beau. There were times, annually on Thanksgiving and occasionally in high school, when Beau would get an opportunity to see how the other half lived and line up against his older cousin. Each opportunity brought a spark to Beau's eye and sent his pulse racing, but there always seemed to be rules that prevented him from delivering a blow to the man OU fans affectionately call The Belldozer.
In the Thanksgiving Day games, Blake was all-time quarterback and pretty much just stood in the shotgun and directed scoring drives.
"He would be the quarterback for both sides," Beau said. "Because it wouldn't really be fair if he was on one team or the other."
In high school, although the two played on opposite sides of the ball — Beau a Ben Heeney-type defensive end and Blake a highly touted quarterback — Blake donned the jersey that made him off-limits to hits from the defense. Not that Beau always paid attention to that unwritten rule.
"There wasn't much of a battle," Beau said. "You don't really hit quarterbacks in practice. I mean, there were some times when I gave him a couple hits. Coach didn't like it, but it was funny. He knew I was messing around. Just a little love, you know."
The love this week has been kept to a minimum. Although the Bell cousins — sons of twin brothers Mike and Mark, who played at Colorado State and then in the NFL — talk often and root for each other, Beau said there had been very little communication this week. It didn't bother him. And, frankly, he knew he had bigger things to focus on than how Blake was doing or if he was ready to make his first start in his home state. See, Beau realizes that his performance does not do much to alter the Jayhawks' game plan. But he kind of likes being an anonymous face on a struggling team 160 miles north of where he won a bunch games and dominated opponents in high school. And he really likes making his current teammates better.
"It's all the same to me because the impact I can make on the team to make them better is just as good as me playing good on the field on Saturdays," Beau said.
That role has taken on greater importance this week, with Blake coming to town. The Sooners' QB, who has started the past four games and ranks eighth in the Big 12 in total offense (968 passing yards and 148 rushing yards), is as tough of a physical match-up as there is in the conference. At 6-6, 252 pounds and equipped with the athleticism of a tailback and power of an offensive lineman, Blake figures to be the focal point of KU's defensive game plan this week. Weis said he was very impressed by what he'd seen of Blake on tape and added that OU uses him the way Kansas State used Heisman Trophy finalist Collin Klein last year.
"He's a power runner," Weis said. "And because he's such a bull as a runner, it causes more people to load up the box. He's good at play-action, and he's completing 65 percent of his passes. They're doing a nice job with him (and), he's doing a very nice job for them."
Because of that, Beau's teammates have turned to him, little by little, to see if he had any insider information on how to slow The Belldozer down.
"I'm looking for the weaknesses," said senior safety Dexter Linton, asked what kinds of things he hoped to learn from Beau. "I can tell on film he's a hard runner, and I'm just hoping to find a way. I'm just gonna try to get into him."
Providing any advice more helpful than that has been tough, according to Beau.
"There's not really anything you can say," he said. "Knowing how big he is and everything, it's just you gotta use a lot of force, and you gotta be prepared to hit. Bring it hard."
Asked what part of Blake's game he likes most, the gritty linebacker shocked no one with his answer.
"I like how hard he runs, man," Beau said. "He's just a big guy who can move, and if he's coming in the hole, he's coming hard. He's not like every other quarterback."