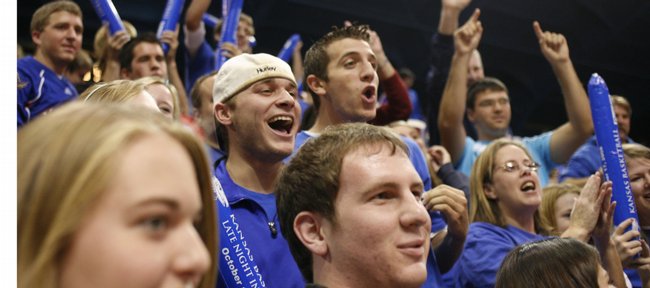 Kansas University's basketball players don't compete in a formal dunk contest during Late Night in the Phog festivities in Allen Fieldhouse. Sometimes they do, however, rattle the rims in the layup lines prior to a short scrimmage that concludes the three-hour proceedings.
"I try to tell the dudes on the team I think the best dunker is Wayne Selden," said KU junior point guard Naadir Tharpe, assessing skywalking talent on the 2013-14 squad entering Friday's 2013 Late Night, to run from 6:30 p.m. to 9:30 p.m. in Allen.
"Wiggs (Andrew Wiggins) jumps real high. His athleticism is out of the question. He's had a couple dunks already that made me want to call a timeout, stop play in the gym. When it comes down to tricks, though, I think my man Wayne has got it."
Those aren't the only two Jayhawks who likely will dunk with flair at the 29th Late Night.
"'Mari' definitely ... we've got Justin Wesley as well, too," Tharpe said, rattling off a list of KU's athletic slammers that include sophomore Jamari Traylor and senior Wesley. "But I've got to go with my man, Wayne (as best on team). He's got a couple tricks up his sleeve."
Suffice it to say, 16,300 fans will be anxious for the dunking — and shooting — debuts of freshmen Wiggins, Selden, Brannen Greene, Conner Frankamp, Frank Mason and Joel Embiid on Friday. Doors open at 5:30 p.m., with the show starting an hour later.
"I feel like people are definitely sleeping on him, not talking about him as much," Tharpe said of Selden, 6-foot-5 from Roxbury, Mass., and the No. 12 recruit in the Class of 2013 by Rivals.com. "I feel he's just as great a player as Wiggins. Both together will only help us out.
"Andrew hits jumpers, he is ridiculously fast getting up the floor, and a lot of people say he can't shoot the ball very well, but from what I've seen, he can shoot the ball really well," Tharpe added of Wiggins.
Tharpe says Wiggins is definitely worthy of his status as an elite player in college basketball.
"He's really good. I'm not going to give everybody the full scoop. You've got to wait for the season to start," Tharpe said. "He's real athletic, plays really hard. He's going to be able to play a lot of positions for us on the court. I think that's what's going to be most important."
Wiggins, 6-8 from Thornhill, Ontario, and the No. 1 prospect in the Class of 2013, said he's ready to roll in making his KU debut.
"Late Night ... yeah, that'll be fun," Wiggins said with a smile, "everybody dancing, having fun, scrimmaging. I'm ready to step out here in front of everybody for the first time. I'll be nervous — a good nervous, not bad."
Asked whom the fans should look forward to seeing dunk the basketball, besides himself on Friday, he said: "Eh, Wayne, J. Wes (Wesley), Mari, Perry (Ellis)."
Will he outdo his new teammates? "I don't know. We're going to have to see. I don't know," Wiggins said.
Vaughn update: Rashad Vaughn, a 6-5 senior shooting guard from Findlay Prep in Henderson, Nev., will visit UNLV on Nov. 25, Rivals.com reports. The No. 7-ranked player in the Class of 2014 will reschedule a trip to North Carolina, originally set for last weekend. KU coach Bill Self on Sunday was in Vaughn's hometown of Minneapolis to visit with Vaughn's family members. KU and Arizona hope to secure official visits for the player who also has Minnesota, Kentucky, UCLA and Iowa State on his list.