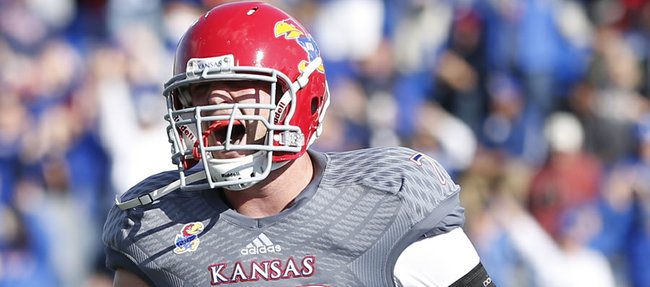 If you have the misfortune of needing assistance because of a fire, an automobile accident, or a cat stuck in a tree and the firefighter who helps you out of your jam stands 6-foot-6 and weighs 305 pounds, thank him for his service.
And then thank him for his service to the Kansas University football program.
Riley Spencer, a fifth-year senior left tackle from Hesston, has doubled as a volunteer firefighter for the Wakarusa Township Fire Department, housed at 300 W. 31st Street.
A two-time Academic All-Big 12 selection, Spencer wants to make a career of it and is enrolled in an Emergency Medical Technician certification class second semester at Johnson County Community College. He studied pre-exercise science at KU, graduated in August and is taking a full class-load this semester.
Before pursuing a career dream that burned inside most of us as children but faded because of one factor or another — mine is an intense fear of heights, replete with recurring nightmares — he has two very big goals he first will chase. He wants to win two more football games.
It makes sense that an offensive lineman would be well-suited for the risky and rewarding challenge of fighting fires. Firemen run into buildings when everybody else is running out of them. O-linemen run into massive defenders when the guy with the football is running away from them.
Firemen don't perform their jobs for glory, they open holes for others, sometimes with axes, and they are in it to protect others. Blockers protect quarterbacks and open holes for running backs.
Firefighters run the risk of serious bodily harm in the line of duty.
Spencer, according to teammate Gavin Howard, suffered a torn ACL during 2012 training camp, played the season-opener with it and then shut it down to have surgery.
That was knee surgery number ... ?
"Several," was all Spencer would say. Football players are told not to discuss injuries. He wasn't sure if that meant past injuries, so he played it safe.
I worked every quadrant of the strike zone, trying to get him to bite at one out of his comfort zone. He kept the bat on his shoulder, saying only, "It's more than two and it's less than 10."
His career survived every one of them, the last one just in time to make an impact on the team.
Kansas started the season with Aslam Sterling at left tackle, then turned to Pat Lewandowski, before calling upon Spencer, who makes his third start at the position Saturday in Ames against Iowa State.
Spencer's knees are saying hello when it's almost time to say goodbye. Until "about a month ago," Spencer said he was undergoing one to two rehabilitation sessions per day, five days per week, with each session lasting 60 to 90 minutes. He made an early-season start at right tackle and has upgraded the left tackle spot in a big way.
"I think everybody here would say they wish that their clock for the amount of time that they could play would have a couple of more minutes on it," Spencer said. "But I guess I'm as much as possible trying not to think about that, and trying to enjoy the time that I have left to really not let these last two weeks of football get away from me."
Howard feels for what Spencer has gone through with injuries.
"He was playing really, really, really well during (2012) camp before he tore his ACL," Howard said. "Now I think he's finally getting back to where he was at the beginning of camp last year. Beginning of camp this year he was kind of hobbling around. Now I really feel like he's playing like he was last year. Kid's been injured every single year and I feel bad for him. He's got the body. He's a huge kid. It's really good to see he's playing at a high level now."
He also has a body that fits his next career, Spencer said.
"Naturally, the people above me are going to want to specialize me in certain areas," he said. "There are certain situations where you don't want to send someone my size in, but when it comes down to it and you have, God forbid, another firefighter in an entrapment situation, it's good to have someone my size.
"So it's good to not just have small people and it's good to not just have large people in your department. You do want to have some diversity in size as well as diversity in experience, so you have different available resources."
And it never hurts to have someone who had every reason to give up on football "several" surgeries ago, but didn't. Why did he stick it out?
"I think we have a whole lot of really good characters on this team," Spencer said. "People who are really smart, people who are really caring and people who really like football. Being able to be around these guys has driven me through the entire time I've been here, through the tougher times and through the good times."
People who are smart, caring and really like football. Sounds like every guy I've ever met in a fire station.