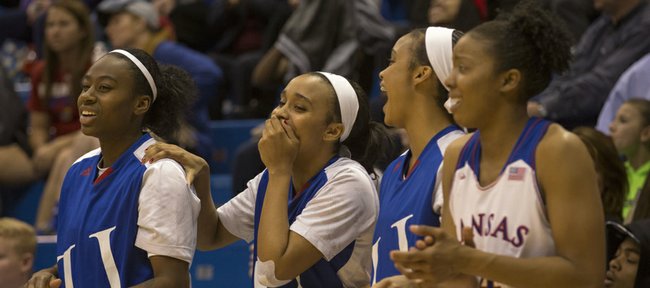 Document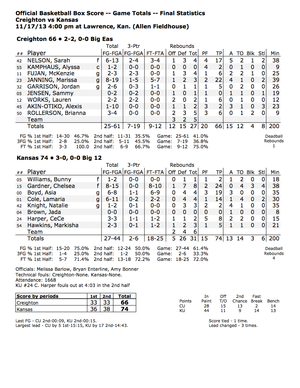 No one could accuse Kansas University's women's basketball team of failing to fight back.
Creighton challenged the Jayhawks at every turn Sunday afternoon at Allen Fieldhouse, but KU always had an answer — usually in the form of power or speed — in a 74-66 victory.
Each time the talented and pesky Bluejays showed their intentions to knock off Kansas, one or more of the Jayhawks responded immediately. Sometimes it came in the paint from forward Chelsea Gardner. At other moments, the solution appeared — in a blur — in transition as Lamaria Cole sped past defenders. But no matter how many times Creighton pulled within striking distance, coach Bonnie Henrickson's players proved to have a counter-punch.
A junior, Gardner took over in the first half after the Bluejays jumped to an early 10-5 lead. She put an end to that quickly by hitting the defensive glass hard, blocking shots, posting up strong and even hitting back-to-back jumpers.
At 6-foot-3, Gardner also ran down the middle of the floor in transition and demanded the ball on one possession, once she had Creighton's Alyssa Kamphaus on her back, so she could throw in another easy bucket. Next, when KU freshman Jada Brown drew a double-team on the right block, Gardner slipped directly to the rim and turned Brown's feed into another hoop and a 25-14 Kansas advantage.
Henrickson said Gardner, who finished with 24 points, eight rebounds, four steals and three blocks, earned her stat line by working in the paint.
"I thought she fought," the coach said, "because those kids (Creighton posts) are physical, and they used their lower body to try to fight her."
Cole said the Jayhawks (3-0) knew they had to feed their go-to post player, because she played with the kind of intensity that translated to baskets or free throws.
"She got a little live and excited," Cole said. "She was scoring on everything."
Gardner felt she had good energy from the start, but it reached another level once her jumper from the right elbow gave KU its first lead, at 11-10, and she followed that up on the next possession by burying an 18-foot shot from the left side.
"It's not something that I usually do," Gardner said, smiling. "When I knock down jump shots, it gives me momentum, and I want to finish around the rim, too."
Creighton (2-2) didn't allow the Jayhawks to take over, however. With Jordan Garrison and Marissa Janning leading the push, the Bluejays closed the first half with a 13-4 spurt to cut the KU lead to 36-33 at the break.
Once the second half began, it was time for the Kansas backcourt to step up. Sophomore point guard Cole and junior guard Asia Boyd pushed the tempo for KU to score layups and get to the foul line in the opening five minutes and stretched the Jayhawks' lead to 52-38. Cole scored 10 of her 14 points after halftime, and Boyd added 13 of her 19 (a career high) in that same span.
Kansas scored 44 points in the paint, but when Gardner wasn't as readily available to carry the load, Henrickson loved seeing her team take another avenue — or freeway, in this case.
"We played fast," the coach said, "and Asia tried to run with 'Mari and got ahead, and it's great that 'Mari's that fast, but it's beautiful when we can get some people to try to run with her."
Creighton couldn't check Cole in transition, and Gardner could empathize.
"'Mari, she got a lot of speed on us," the forward said, "so I try my best to keep up with her, even though I'm not that fast."
Cole said she began pushing and attacking more in the second half, once she realized Creighton was sagging off of her.
"I knew I was running it right up their backs," the 5-foot-6 guard said after helping KU score 14 fast-break points.
CeCe Harper hit all three of her shots and scored eight points for Kansas. The 5-foot-8 senior drilled a three-pointer from the right corner, scored in transition and converted a spinning layup in the paint.
Guard Janning led Creighton (2-2) with 22 points.
KU will play its first road game of the season Wednesday at Minnesota.