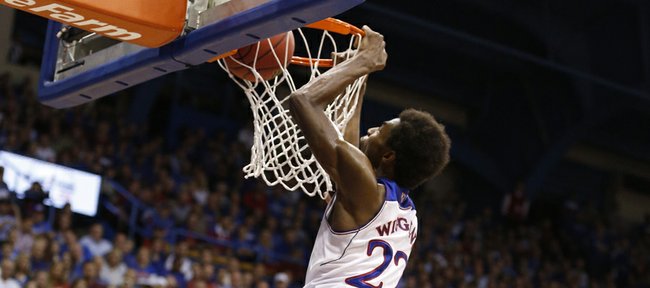 College basketball notes. ...
ESPN's current preseason power rankings, which were released on Friday, should serve as an effective way of hyping the upcoming Champions Classic, to be aired on the cable giant on Nov. 12.
ESPN has ranked Kentucky No. 1, Michigan State No. 2, Kansas University No. 3 and Duke No. 4 overall.
Coincidentally, Michigan State will play UK at 6:30 p.m., and Duke will tangle with KU at 8:30 in the one-day Classic doubleheader in Chicago's United Center.
Both the Associated Press and USA Today polls have Louisville in the top four. KU is No. 5 in the AP and No. 6 in USA Today.
No kidding: ESPN is hyping ESPN the Magazine's college preview cover story, which hit stores on Friday, with the angle that Andrew Wiggins will be playing at KU just one season.
ESPN.com posted a story on Friday afternoon titled, "Andrew Wiggins admits he's planning to enter draft next year," which has been a given since his signing with KU last May. He's been deemed the obvious No. 1 pick in the draft by various websites and unnamed NBA officials. Wiggins in the past has even been asked his take about teams possible "tanking" the season to be able to have the best chance to select him first.
Anyhow ... Wiggins was asked by ESPN what he's enjoyed most since he arrived at Kansas.
"I would say just being able to enjoy my last year of school," the 6-8 freshman one-and-done from Canada told the magazine.
Asked his goals for this season, he said: "Win another championship, a national championship. Follow in Anthony Bennett's footsteps of going No. 1 (in draft)."
CBSsports.com's Gary Parrish joked about ESPN's "breaking" news story on Friday.
"So perhaps I need to adjust my opinion of what qualifies as news, which is why I'd like to report, right here and right now, that Kentucky's Julius Randle, Arizona's Aaron Gordon and every other projected top-10 pick currently enrolled in college has a 'plan' to also enter the NBA Draft after this season. Credit CBSSports.com with the scoop, please," Parrish wrote.
Poll: ESPN the Magazine polled 87 players on a variety of topics.
Oklahoma State's Marcus Smart edged Wiggins in the "best player in the country" category. Smart received 24 percent of the vote; Wiggins 23 percent and Louisville's Russ Smith 18 percent. As far as best team, Kentucky landed 30 percent of the vote, Louisville 25 percent and KU 16 percent.
Time for Ted: Former KU hoops coach Ted Owens will host "An evening with former KU coach Ted Owens," at 7 p.m., Sunday at the Kansas Union Ballroom, level 5 of the Kansas Union (1301 Jayhawk Blvd). He will sign copies of his book "At the Hang-Up: Seeking Your Purpose, Running the Race, Finishing Strong."
Owens also will sign books on Tuesday from 3:30 to 5 p.m. at Crown Automotive, 3430 Iowa. And he'll sign books before and after Tuesday's KU-Fort Hays State game, set for a 7 p.m., tip in Allen.
For Owens' comments about his book and his life, see Sunday's Journal-World and KUsports.com.
Cliff notes continue: Cliff Alexander, a 6-9 forward from Chicago's Curie High, has eliminated Michigan State from his list of schools according to CBSsports.com. Alexander, who will announce on Nov. 15 on ESPN, has visited KU, Illinois, DePaul, Arizona and Memphis. He's Rivals.com's No. 4-rated player nationally.
"Some word behind the scenes has indicated DePaul has a shot, but it looks like the Jayhawks and Illini are in a battle," wrote Jeff Borzello of CBSsports.com.