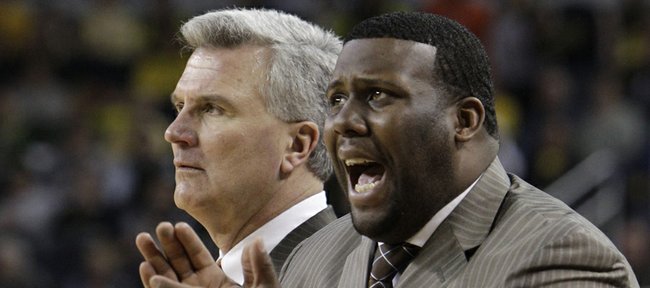 Jerrance Howard — who played college basketball at Illinois and coached at his alma mater, as well as Texas A&M;, Kentucky and SMU — has witnessed just one game in Allen Fieldhouse.
The new Kansas University assistant coach, whose hiring was announced Friday morning, sat on the A&M; bench for the Aggies' 69-66 victory over the Jayhawks on Feb. 3, 2007.
"What a crazy atmosphere that was," Howard recalled in a phone interview with the Journal-World. "I remember trying to tell Acie Law a match-up or a call. He said, 'Coach, I can't hear you. The floor is shaking.' I thought he was overhyping it.
"After the game, he said, 'Coach, it was so loud when we were shooting the free throw, the floor was shaking.' That's my experience in Allen."
KU has suffered just eight home losses in the last 10 years.
"I've been watching games the last two to three days," Howard added of a batch of KU victories on film. "To be part of this tradition and the mecca of basketball ... I'm humble about the whole situation. All I know is the work. All I can do is work hard and bring my energy, and I'll be fine."
The 33-year-old Howard, who hopes to start his new job on Monday or Tuesday after working the past season under former KU coach Larry Brown at SMU, replaces Joe Dooley, who left KU after 10 seasons to become the head coach at Florida Gulf Coast.
"Jerrance has great energy, is unbelievably positive and in a short amount of time has established himself as one of the better recruiters in college basketball," said KU coach Bill Self, who coached Howard at Illinois from 2000 to 2003. "Having worked for one of my former assistants, Billy Gillispie, and my former mentor Larry Brown, I'm totally comfortable with him coming in here, having a smooth transition and having an immediate, positive impact on our program."
A native of Peoria, Ill., Howard played point guard for the Illini, backing All-Americans Frank Williams, Dee Brown and Deron Williams.
"Jerrance is one of my all-time favorite players," Self said. "Even though he didn't play a lot, he found a way to impact our program and probably had as much to do with us winning games as anybody on our team."
Howard, known as a great recruiter with ties in Chicago as well as Texas, was tri-captain as a junior and senior and two-time winner of the Kenny Battle Award. The accolade is given to an Illini player who "earns the respect of his teammates through hard work and effort in games and practice each day."
During his career, Illinois went 104-31 overall, 48-16 in the Big Ten. The Illini won three Big Ten championships, a Big Ten tourney title and advanced to the NCAA Tournament all four years, reaching the Elite Eight in 2001 and Sweet 16 in 2002 and 2004.
"I didn't get a lot of playing time, but I did practice hard, bring something to the table," Howard told the J-W. "One day, coach Self said, 'Have you ever thought about coaching?' I said, 'Not really.' I started thinking about it. I started having a better attitude every day at practice. I always credit him. Now it's unbelievable to come back full-circle.
"I've always wanted to work for coach Self. When you talk about great coaches, coach Self's name has to be right there with the best of them. The teams I was on with him ... he demanded you played hard, demanded you were a good teammate. Those were things I took with me (into working world).
"Kansas ... the tradition, the history, all those league championships, national championships … I'm really excited and humbled to be part of that. Put Bill Self and Kansas together, what you get is unbelievable," Howard continued.
Howard spent one season at SMU under Brown after working the previous five at Illinois under Bruce Weber.
"Being around coach Brown and hearing all the great stories about when he was at Kansas, I've been overwhelmed," Howard said of becoming a KU assistant. "Coach Brown talks about the great players like Danny Manning, the tradition and the history. Kansas is the mecca. I've been excited and haven't slept in two days. It's a great feeling to be at Kansas and with my former coach.
"I am really grateful to learn and coach under coach Brown this past year at SMU," Howard said. "He's a Hall of Fame coach, and I will take a lot from my time on his staff."
Howard said after receiving Brown's "blessing, when I got that phone call and he (Self) actually thought I was interested, it was surreal. It's still surreal," he added.
Self acknowledged that Howard's recruiting ability was a major factor in the hiring. He helped the Mustangs recently land McDonald's All-American Keith Frazier of Dallas.
"I wanted someone who is loyal, a tireless worker, has great contacts and will bring something to the table recruiting-wise," Self said. "We have an unbelievable staff, and I wanted someone who fit well with Norm (Roberts) and Kurtis (Townsend), and both those guys are very excited about adding Jerrance to the mix."
Of his recruiting philosophy, Howard said: "I love to recruit. I am not patting myself on the back. To me, recruiting comes easy because I'm a people person. I enjoy developing relationships, keeping relationships and getting to know people. I have a degree in speech communications at the University of Illinois. Communication is what I've been doing all my life. I like being around people. I think that's half of recruiting."
Howard is married to the former Jessica Wordlaw, who also is a UI graduate. The Howards have a son, Jerrance Jr., and a daughter, Jaya Brooklyn-Rose.