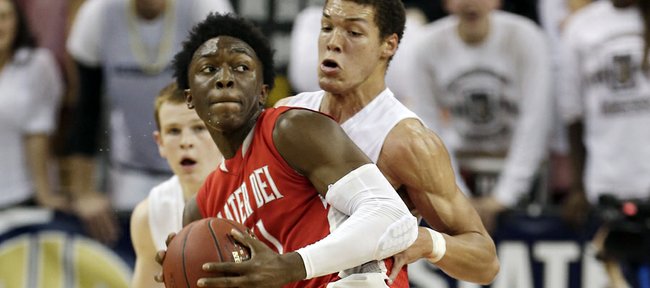 Stanley Johnson, the No. 2-rated player on the West Coast in the high school basketball recruiting Class of 2014, tells Zagsblog.com he's considering adding Kansas University to his current list of seven schools.
Johnson, a 6-foot-6, 200-pound senior-to-be from Mater Dei High in Santa Ana, Calif., said at last weekend's Minneapolis EYBL tournament that KU is now a "wild card" in his recruitment.
"I really like what coach (Bill) Self said to me on the phone. I've talked to him a couple of times," Johnson said. "They showed me how Ben McLemore was so effective in their system. They picked up another good wing in Andrew Wiggins and I'm sure they'll use him well. With Wayne Selden there and Brannen Greene, they'll have a great team and I'm excited to hear about them."
Johnson, who plays for Oakland Soldiers AAU, has a current list of Arizona, Duke, Florida, Kentucky, Oregon, USC and UCLA. He's ranked No. 12 nationally by Rivals.com. The only West Coast player ahead of him is No. 7 Malik Pope, a 6-8 forward from Laguna Creek High in Elk Grove, Calif.
Jones update: Tyus Jones, a 6-1 senior-to-be from Apple Valley (Minn.) High, has set up an official visit to Baylor at the end of August, Zagsblog reports. Rivals.com's No. 3-rated player in the Class of 2014 has a final list of KU, Kentucky, Baylor, Duke, Ohio State, Michigan State and Minnesota.
Releford impresses: Former KU guard/forward Travis Releford attended the Brooklyn Nets draft combine for NBA prospects last week.
"Most of them (scouts) say how well I improved over last year and this year and my toughness on the defensive end and my decision-making on offense," Releford told an NBA.com Nets reporter. "They say if I continue doing that and getting better at it, I could have a great chance (of making a team as second-round pick or free agent)."
Of his senior year in which he averaged 11.9 points, 3.8 rebounds and 2.6 assists a game, Releford said: "It was a different role for me. The year before we had T-Rob (Thomas Robinson) and Tyshawn (Taylor). They were our go-to guys. I had to sit back, play a role and do all the little things for our team to win. My senior year, I had to actually score and also be the guy to try to stop the offense's best player. I took pride in it," added Releford, who emerged as KU's third-leading scorer on offense and defensive stopper.
Johnson in Detroit: Former KU guard Elijah Johnson worked out for the Detroit Pistons Monday, Hoopsworld.com reports.
Jayhawks slide: KU's Ben McLemore has dropped two spots to No. 4 and Jeff Withey four slots to No. 28 in Chad Ford's latest list of top NBA prospects. Ford has Kentucky's Nerlens Noel at No. 1, followed by Indiana's Victor Oladipo and Georgetown's Otto Porter.
"McLemore has as much talent and upside as anyone in the draft. His picture-perfect jump shot and extraordinary athletic ability make him one of the few players on the board with the potential to be an All-Star. But concerns arose among NBA teams during his interviews (at Chicago combine)," Ford writes at ESPN.com. "Although everyone attests to McLemore's humility and thinks he's a great young man, his lack of aggressiveness shined through even in the interviews. 'The key question is: Do you love to win, or do you hate to lose?' one GM said. The good ones love to win. The great ones hate to lose. McLemore's a love-to-win type of prospect. Oladipo's a hate-to-lose type."
Of Withey, Ford writes: "Withey didn't do anything extraordinary at the combine, but few expected him to. His main attributes are his height and defense, and neither shows particularly well in the drills."