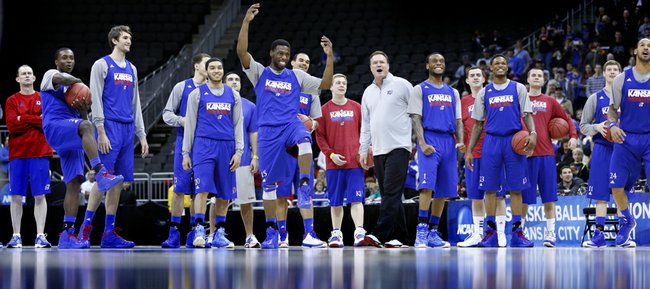 Photo Gallery
NCAA practices in Kansas City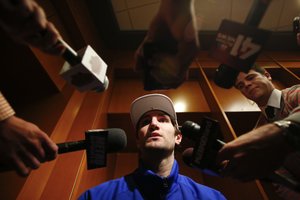 Images from Thursday's practices and press conferences on Thursday, March 22, 2013 at the Sprint Center in Kansas City, Mo.
Kansas City, Mo. — Kansas University's basketball team, which won the NCAA title in 2008 and finished runner-up in 2012, is known for its tournament excellence — as in a 23-8 record in the 10-year Bill Self era.
Of course, Self's Jayhawks also are recognized for some early stinkers, like first-round losses to Bucknell (2005) and Bradley (2006) and a second-round setback to Northern Iowa in 2010.
"It gets mentioned," KU senior center Jeff Withey said of some KU shockers in past NCAAs. "We don't want to be known as one of those teams that loses to a lesser name, you'd say. We've already lost this year to TCU. Baylor was a bad loss. We've lost badly to teams.
"I mean, we know we have to come ready every game. It's possible to lose. I don't think it's going to happen this year. I'm not going to let it happen this year. We're going to come ready every game," added Withey, who said he's raring to open the 2013 NCAA Tournament against Western Kentucky (20-15) approximately 8:50 tonight in Sprint Center.
No top-seeded team ever has lost to a 16 seed.
"I mean, we hear it every day," senior Kevin Young said of some past KU early-round losses. "We try not to buy into all the stuff about it. As players, we realize we've got to take everybody serious, focus on everybody and take it one game at a time."
The Jayhawks open the tourney with four senior starters plus red-shirt freshman standout Ben McLemore.
"We know what it takes to get to the championship game. We were there last year," noted Withey, who along with Elijah Johnson and Travis Releford started for the team that placed runner-up to Kentucky in the 2012 NCAAs. "You can't look down on your opponent at all. I think that's something in the past we didn't have four seniors to control the team and kind of take us to the promised land. I am really positive about this team. I think we are going to make a run for it. We know not to keep our guard down at all."
If No. 1 seed KU (29-5) survives Western Kentucky of the Sun Belt Conference, it would meet the winner of today's 6:20 p.m. game between North Carolina and Villanova on Sunday in a third-round tourney game.
Withey believes the Jayhawks learned a valuable lesson in this year's 62-55 loss at Big 12 cellar dweller Texas Christian on Feb. 6.
"We weren't tough at all. Our defense was horrible," Withey said. "Coach prides himself on having tough teams, tough kids. That night, we weren't us. We couldn't score for the longest time. We were stuck at two points. Everything wasn't going our way. That's in the past. Like I said, we have a lot of seniors, and we're all excited for this tournament."
Point guard Johnson entertained the media Thursday by describing what the seniors bring to the table in terms of leadership.
"It's so weird. We've got a chain reaction going," Johnson said. "I know how to calm Travis down. Kevin knows how to calm me down. Jeff knows how to calm Kevin down, and Travis knows how to calm Jeff down. But those routes don't mix. I don't go to Jeff to calm Jeff down, but it's something I expect Travis to do.
"Not many people try to calm me down. One person who has never hesitated to try is Kevin. We open our ears to each other."
Like Withey, Johnson loves the fact the seniors bring experience to the table tonight.
"You've danced on the biggest stage, no need to be nervous, no need," Johnson said.
A media member reminded Johnson his next loss would be his last in college.
"If you think like that, it's possible," Johnson said. "I don't think like that. It's the first time that has even gone through my ear."
"Sorry man," the media member responded.
"It went out the other one (ear). Don't worry about it," Johnson said with a smile.
"I respect them as a program," he added of Western Kentucky, which has double-digit scorers in 6-4 sophomore T.J. Price (15.3 ppg), 6-6 sophomore George Fant (12.9) and 6-3 senior Jamal Crook (12.0). "I don't underestimate them. They can come in here and beat us if we are not focused. I'm fully aware of that, and it keeps me focused."
KU coach Self only speaks of positive things this time of year.
"It's our most experienced starting five with three fifth-year seniors and a fourth-year senior. One thing it should do because we've seen the highs and lows of the tournament is, our guys will be well aware you can't take anything for granted, any possession, anything for granted," Self said, adding, "that sometimes is a tough lesson to learn."