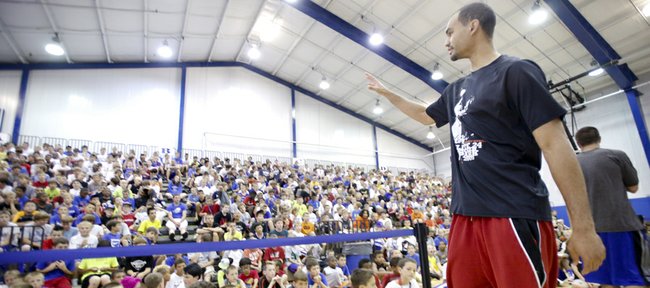 Kansas University sophomore forward Perry Ellis reminisced about his years in elementary school, Tuesday at Bill Self's Basketball Camp in Horejsi Center.
"I remember growing up trying to figure out what I wanted to do. When I was your age, I was better at track, actually," the 6-foot-8, 220-pound Wichita native said, speaking to 800 attentive campers. "I ran the 200, the 4 x 1 (relay), the long jump. Then sixth grade came along and I started getting a little taller.
"I started playing a lot of basketball. I remember in middle school getting up in the morning and going with a lot of friends to the YMCA. We'd pack lunches and play basketball all day, until our parents got off work and we got picked up," Ellis added.
The quick-developing Ellis, who first dunked the basketball in seventh grade, started to receive letters from major-college coaches in eighth grade. He wound up leading Wichita Heights to four state titles, and as the country's No. 24-rated player, made the McDonald's All-America game and accepted a scholarship offer to KU.
He didn't disappoint as a college freshman, averaging 5.8 points (off 47.5 percent shooting) and 3.9 rebounds in 13.6 minutes per game. He saved his best for the end of the season, burning Iowa State for 23 points in the Big 12 postseason tournament while being named to the all-tournament team.
"It definitely did push my confidence up at the time," Ellis said of productive late-season play. "It showed me I can do this if I put my mind to it. I really was not worrying about it like I was before.
"Practice is where I was starting to play and do a lot of things better. In practice I try to focus on playing like I do in a game. The transition wasn't too bad when I got to go in (the game)."
Ellis said he's been spending a lot of time in the gym, "working on just continuing to get my shot better, continuing on playing hard like I did last year. I want to continue doing that and getting in great shape, things like that."
KU coach Self said Ellis should be a stabilizing force his soph season.
"We're counting on him to be an upperclassman," Self said. "He will be a stud. He showed what he can do late in the season. He has a natural gift of getting the ball in the basket. He's repetition and minutes away from being an excellent player."
Ellis said he's been impressed with KU's newcomers during recent pick-up games.
"Wayne (Selden, 2-guard) and Joel (Embiid, center)," he said, asked who has caught his eye. "Right now they all are doing well. They've got to keep pushing and get through it. It's really different your freshman year. You've just got to keep working."
Of senior center Tarik Black, Ellis said: "He's good. He's strong. He's big. He's doing well out there. He has a big, strong body."
Fellow Wichita native Conner Frankamp is "shooting it well," Ellis said of the freshman combo guard out of Wichita North, who last year broke Ellis' Wichita City League all-time scoring record.
"He doesn't say anything too much. Coach likes messing with me about it (the record)," Ellis added with a smile. "I never played with him before. We're getting to talk a lot. It's great having him here. He's a good kid."
Thomas recruiting update: KU has offered a scholarship to Elijah Thomas, a 6-9 junior-to-be from Prime Prep Academy in Dallas, jayhawkslant.com reports. He's ranked No. 10 in the recruiting class of 2015.
Withey on Wiggins: Former KU center Jeff Withey, who worked out for the New York Knicks on Monday, spoke about KU newcomer Andrew Wiggins to Zagsblog.com.
"I think coach Self was more shocked just because everybody did think he was going to go to (Kentucky or Florida State)," Withey said. "And when he was on his visit to Kansas, he was really quiet so you couldn't get a good read on it. So everybody there is just really excited to have him and he's going to have a lot of pressure but hopefully he can develop into a great player and lead that team."
Withey said Wiggins made a good decision deciding to come to KU for summer school and not play for Canada's Under 19 team.
"Yeah, definitely," Withey told Zagsblog. "Coach Self's system, it's hard to learn right away, but if you go early and you put in the work, you'll learn it and get good from it."