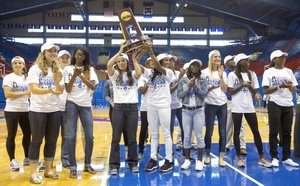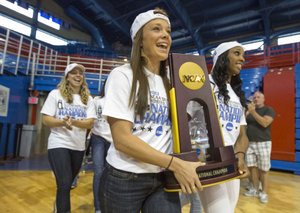 Less than 12 hours after being crowned this year's outdoor national champions, the Kansas University women's track and field team learned that school officials had set up a welcome-home celebration for Sunday afternoon at Allen Fieldhouse.
It was then that the nerves first set in.
"We were joking when we saw the tweet," said top point scorer Andrea Geubelle, a senior who contributed 16 points to the team total of 60 with second-place finishes in the long and triple jump. "We were like, 'Well, I hope it's free because nobody's gonna pay.' So when we walked in and we saw people we didn't know, that was huge. It was great that there were more than five people."
On a breezy and sunny summer Sunday, nearly 500 KU fans headed inside and filled the north end's lower level at Allen Fieldhouse, rising to their feet when Geubelle and senior sprinter Paris Daniels led the team from the southwest tunnel to the north end, the national-title trophy in tow.
Fans, family members and former teammates held up signs, waved flags and cheered as the champs made their way to the bleachers for a brief, seven-minute lovefest that celebrated KU's 11th team title and the first ever for a KU women's team in any sport. The athletes and coaches matched in just about every way possible, from their white title T-shirts and backward championship caps to the smiles on their faces and sparkles in their eyes.
It was clear that this group, motivated by an oh-so-close, second-place finish at the NCAA Indoor meet a few months ago, had become one unit during its quest to bring home the hardware.
"Nothing's ever easy," said head coach Stanley Redwine, who joked that not long ago the women's team was finishing 13th in the Big 12. "But we knew we had a team with the potential to win championships, and that was our goal. We all knew we had to come together and do it because it's not about one athlete or one coach. It was a total team effort."
After celebrating with the fans, the coaches and the team's top four point scorers met with the media to relive their triumph.
National heptathlon champion, Lindsay Vollmer, a sophomore, spoke of simply trying to score as many points as possible without worrying about where it landed her individually. That led Vollmer to personal bests in six of the heptathlon's seven events.
"I never thought I would place that high at a national meet," said Vollmer, perhaps the next face of the program. "But I just wanted to do the absolute best I could for the team."
Asked when he knew he had someone special in Vollmer, horizontal-jumps coach Wayne Pate was overcome with laughter and admitted he did not expect someone so young to be standing atop the podium last weekend.
"I'm still in shock," he said of Vollmer's victory. "We all are, really."
Geubelle shared a story from earlier in the season, when freshman Sydney Conley raved about how good the red Big 12 indoor championship banner looked hanging in Anschutz Sports Pavillion next to all those blue ones.
"We pulled the (curtain) down, and she said, 'Wow, the red looks really cool, why don't we have more?'" Geubelle remembered. "We said before Big 12 (outdoor) we were gonna put another red (women's banner) at the end of the other side, and then we said let's go all the way and put a red on the national championship side, and we've done it. The history of KU track is great. It's old. And it needed to be updated."
KU's coaches said the women's team, which led after each day of last week's outdoor meet in Oregon, had been charging toward a title for quite a while. And now that they've captured the crown, they're hoping this is just the start of a special run.
"New goals are definitely gonna have to be set," Vollmer said. "We just want to keep this new-found tradition going, and hopefully we can."
One thing Redwine said should help the cause was his future ability to walk into any home and show off his NCAA championship ring.
"KU track's back on the map," Geubelle said after thanking the athletic department for its support. "I think people know that. And I'm wearing this hat everywhere so people will recognize me."
Added vertical-jumps coach Tom Hays, a 1989 KU grad: "I was on the last Big 8 championship team, and I get calls all the time from my teammates when we're not doing well. Now I'm getting good calls. I don't have the words. It's just big time. Wow. It's time to go to the White House."