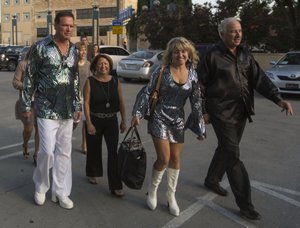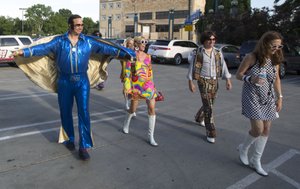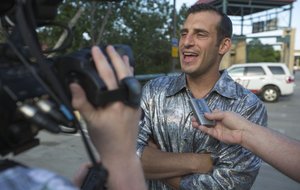 One unexpected piece of news at Bill's Basketball Boogie raised the party atmosphere to a fever pitch on Saturday night at Abe & Jake's Landing.
During introductions of his players, Kansas University coach Bill Self reported that Canadian freshman sensation Andrew Wiggins likely would be on campus for summer school Monday or Tuesday.
Wiggins, 6-foot-7 from Toronto and the United States' No. 1-rated high school player, has decided to not play for his country in international competition this summer, thus will be heading to Lawrence soon. That decision was first revealed at the Basketball Canada website on Saturday night.
Rowan Barrett, executive vice-president and assistant general manager of Canada Basketball's Senior Men's program, commented on the website that, "at 18 years old, Andrew has a long basketball career ahead of him. Andrew's decision to prepare himself this summer for the upcoming season is a decision we acknowledge. Our team will miss Andrew this summer, but we remain focused on Andrew's long-term development and our organizational goals for the Rio 2016 Olympic Games and beyond."
Wiggins, who is skipping the Under 19 championships with Canada's junior national team, conceivably still could play for the senior team later this summer.
Tight race: College basketball analyst Doug Gottlieb, who this year was co-host of the Boogie with Self, envisions a two-team race for the 2013-14 Big 12 basketball title.
The contenders?
The nine-time defending champion Kansas Jayhawks and Gottlieb and Self's alma mater, Oklahoma State, which will be led by sophomore standout Marcus Smart.
"It feels like back in the mid-'90s, where you have Oklahoma State and Kansas — two really talented clubs kind of lining up for two, maybe three match-ups to decide who is the Big 12 champion," Gottlieb said Saturday at Abe & Jake's.
Gottlieb says the big challenge for OSU is "handling expectations. It's a lot harder to do when everybody expects you to be great."
And OSU instantly became a top-10 pick nationally when freshman sensation Smart elected to return for his sophomore season.
"I was in Stillwater a month ago. Marcus Smart ... what you see on the floor is only part of what makes him special," Gottlieb said. "He is an incredible leader off the floor in getting those guys focused and working toward the higher goal. He is not afraid of competition. A blind man can see Kansas probably has a greater depth of talent especially inside talent. They (Cowboys) bring back their top seven scorers. It's going to be fun."
KU has vaulted into everybody's top ten since the signing of Wiggins.
"There isn't any question in terms of talent they'll have more talent than they had on the bench this year. I still think it comes down to a couple factors," Gottlieb said. "Will they be a 'team,' because they were a really good team the past couple years? That's what allowed them to win nine consecutive titles. Will they be a team and who is going to be the point guard and whoever the point guard is, can they get them into what they need to get them into and get everybody lined up talentwise? I think KU basketball is back at a (talent) level we haven't seen since maybe three years ago.
"You are talking about Andrew Wiggins having more God-given ability at this point in his career ... we're talking potentially how good he can be at a higher level than anyone they've had here maybe since Paul Pierce and maybe a higher ceiling than Paul Pierce."
Sir, yes, sir: On the reason he co-hosted the Boogie, Gottlieb said: "Bill called. Bill calls ... you go, 'Yes, sir.' Between my appreciation for the program and of course what he does with the foundation ... also our Oklahoma State ties.
"I feel like they are going to present me with some 'shorts on backwards' or something or there will be a chant coming tonight," Gottlieb joked of the party.
Gottieb wore his shorts backward during a KU-Okahoma State game in February of 1999 in Allen Fieldhouse during Gottlieb's days as point guard for the Cowboys. KU fans needled him by chanting, "Shorts on Backwards," during one game in Allen.
No transfer to UNLV: Former KU guard Anrio Adams told the Journal-World in a text message Saturday he is not transferring to UNLV. He said he "is open to seek all options and is waiting for the best situation and the UNLV rumor is not true." Several recruiting sites reported Adams was likely headed to UNLV in Tweets late Friday night. Also, the J-W quoted a Facebook message from Adams indicating he'd chosen UNLV. On Saturday, he said that Facebook message was fake. "I've seen a fake page of me before," Adams told the J-W in a text message. He told the J-W it is "likely" he'll attend a junior college.