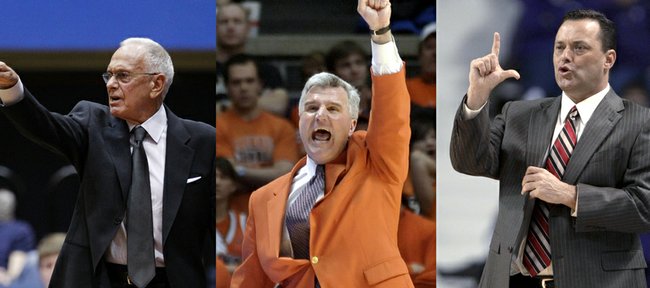 More on the hiring of SMU's Jerrance Howard as replacement for Joe Dooley as assistant coach on Kansas University's basketball staff. ...
• Howard last season worked for Hall of Fame coach Larry Brown at SMU. He's also worked for Billy Gillispie at Texas A&M; and Kentucky, Bruce Weber at Illinois and now Bill Self at KU.
"One of my close friends said, 'Jerrance do you realize who you have worked for?'" Howard said in a phone conversation with the Journal-World. "I guess I haven't realized it. I'm caught up in the moment. It's really prepared me to be a better person, assistant coach and head coach in the future. I've been blessed and fortunate to be around some great people, great coaches."
• Howard on what impressed him about former KU coach Brown: "I could give you a list of things, but probably his knowledge of the game. I look at the game of basketball totally different. He always said he was blessed to see 10 guys moving at once, to know what all 10 guys are doing on the floor.
"He is so humble in wanting to get better. He'd talk to me after games and say, 'Coach, what could I have done to get better?' That blew me away," Howard added. "Here's a Hall of Fame coach who has done it all, coached at the highest level and won championships (in college and NBA) and he's asking a young assistant coach what he could have done to get better. I thought that was cool he was that humble to visit after the game and ask that."
• Howard, who was involved in the recruitment of McDonald's All-American Keith Frazier to SMU, is known as a great recruiter.
'"Snacks' has a lot of personality. He will be very popular with Kansas fans as well as an asset in recruiting," writes national recruiting analyst Eric Bossi of Rivals.com at jayhawkslant.com.
Howard was given the nickname "Snacks" during his playing days at the University of Illinois (2000 to '04) for his love of snack food.
• Howard's tweet to the world on Saturday: "Rooock chaaaaalllkkkkkk Jayhawwwkk KU!!! Thanks to all my family and friends for the love and support. Ready to go to work!"
Haas update: Isaac Haas, a 7-foot, 275-pound senior-to-be from Hokes Bluff High in Piedmont, Ala., is considering KU, UAB, Clemson, Stanford and Texas A&M;, ESPN.com reports via scout.com. He's also heard from Purdue, Harvard and Northwestern. He's ranked No. 58 nationally by Rivals.com.
Top-ranked Shabazz criticized: A lot has changed since Shabazz Muhammad was the No. 1-ranked high school player in the Class of 2012 by Rivals.com. Not only did he not have a huge impact at UCLA his one and only season, he's drawn the wrath of analysts such as Doug Gottlieb who writes that Muhammad should not be taken in the first round of the NBA Draft.
"Reason No. 1 is his skill level," Gottlieb writes at CBSsports.com. "He's a 6-foot-5 small forward who is a very average athlete with some 'old man body' to him. ... If he's too small to play his usual position and not athletic enough to make up for the lack of size and skill, where does that leave him?
"Additionally, small forwards at the next level bring multiple skills to the table. But in his one year at UCLA Muhammad didn't defend, didn't really rebound unless it was the offensive boards, and never passed. Consider that he played in 32 games and had a total of 27 assists despite averaging 30 minutes a game. Read that sentence again. Wow.
"Muhammad also stinks as a teammate," Gottlieb writes. "We all saw the pouting on the floor after his teammate Larry Drew hit the game-winner versus Washington last season, when Shabazz was shouting for the ball. I have been told by multiple sources that such behavior was the norm. When Muhammad didn't get his touches, didn't get his numbers, he was totally disconnected from his team.
"His arrogance and lack of desire to be coached was apparent to all who watched. Shabazz was only about Shabazz. Go back and look at how he came out of (games). 'He would not walk close to Ben (Howland, coach),' one UCLA source told me. Translation: coach killer."