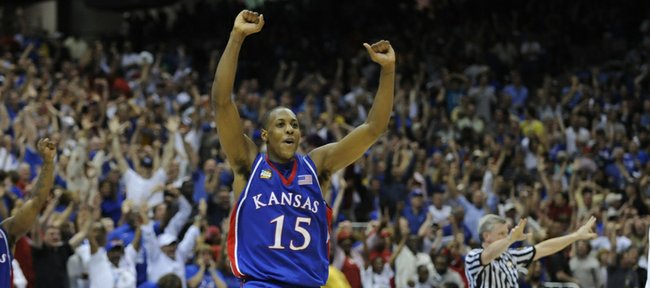 Former Kansas University basketball players Jeff Graves, Jeff Hawkins, Brady Morningstar, Russell Robinson and Conner Teahan are scheduled to play in Mario Chalmers' celebrity all-star game at 7 p.m., Thursday, at Olathe East High School. Admission is $20.
Former K-State player Rodney McGruder and Missouri's J.T. Tiller and Leo Lyons also are slated to play. Chalmers and Ronnie Brewer will be coaches, while former KU guard Ben McLemore is expected to be on hand as a special guest.
Wiggins liking Lawrence
Kansas University freshman basketball sensation Andrew Wiggins says he's enjoyed spending a good portion of the summer of 2013 in Lawrence.
"I like it a lot," Wiggins said in a question and answer with Slam Magazine conducted last week at the Gatorade Player of the Year ceremony in Los Angeles. "Lawrence is a college town. People there don't show you anything but love. The practices (two hours per week in accordance with NCAA rules) are really hard. We have the best strength and conditioning coach in the country. Every day in practice (pick-up games) we go hard. I'm a freshman so I'm trying to take someone's minutes and they're not just going to let me take their minutes. So I have to go out there and go hard and be hungry. I think we will be a special team."
The No. 1-ranked prospect in the recruiting Class of 2013, who is expected to be taken No. 1 in the 2014 NBA Draft, was asked, "who in your life reminds you to try and remain a kid through it all, to enjoy it?"
"God and my family. And my friends — the ones that treat me no different than they did 10 years ago. It's good to have," Wiggins told Slam. The Q-and-A is available at http://bit.ly/1beT22k.
Preseason No. 5
KU's basketball team is ranked No. 5 in the country in a USA Today preseason poll compiled by USA Today staff writers. Kentucky is No. 1 followed by Michigan State, Louisville, Duke, KU, Arizona, Florida, Michigan, Syracuse and Oklahoma State to complete the top 10.