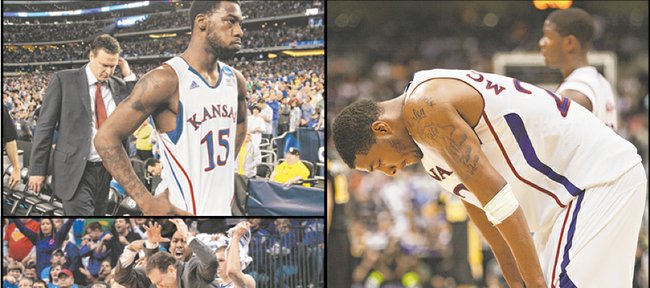 Last month, at the NBA Draft in New York City, former Kansas University forward Ben McLemore and Michigan guard Trey Burke hung out together quite a bit.
During the pre-draft media day, which included a couple of news conferences and a trip to the 9/11 Memorial at the site of the World Trade Center, McLemore and Burke could be seen talking, laughing and enjoying the once-in-a-lifetime experience together.
No anger. No animosity. No nastiness about the fact that, just three months earlier, Burke and the Wolverines ended McLemore's college career and KU's season with an improbable comeback that erased a double-digit deficit in the final few minutes and featured the shot of the NCAA Tournament, a 27-footer from Burke in the final seconds of regulation that tied the game and all but buried the Jayhawks.
While the loss and the shot no doubt hurt him at the time, McLemore's bond with Burke in the Big Apple was proof that life did go on. And even though no one likes the feeling of losing, it is a part of life, as is learning how to deal with it.
KU coach Bill Self has lost just 59 games during his first 10 years in Lawrence. His winning percentage (.836) during that time is among the best in college basketball and has surpassed the incredible standard set by his predecessor, Roy Williams.
Because of their scarcity, many of those 59 losses have been tough for fans and players to swallow. It's understandable. But if Jayhawks like McLemore can move on and actually become close friends with guys like Burke, who not long ago sent McLemore into tears, shouldn't we at least be able to rehash those losses in a series of stories that mostly remembers the good times?
Part 7 of this summer's series, which looks back at the top players and moments — and in this case some of the worst — of the Self era so far, focuses on a few of the most memorable losses during what has been a decade unmatched by nearly all other college hoops programs.
Be forewarned: If you don't think you can handle looking back on these dark days for KU basketball, you might be best served just to stop reading here and skip ahead to the next article. No sense wasting your time.
Rest assured that in the final few weeks of this summer's series, we'll get back to better topics, including best games, best comebacks and best quotes.
Here's a look at how we ranked the most memorable of those 59 losses:
Gary Bedore
The worst-loss category surely will put folks in a bad mood this morning. One thing fans do not like to do, I've learned, is re-live losses. But, hey, somebody's got to win; somebody's got to lose. That said ...
1. Michigan 87, KU 85 in 2013 Sweet 16: Trey Burke was great. Let's just say Elijah Johnson wasn't, and KU blew a big lead late in the Sweet 16.
2. VCU 71, KU 61 in 2011 Elite Eight: I know I'm over-reacting, and it probably didn't matter, but I just don't like the way KU lost the game, with the Morris twins mouthing off at center court, telling VCU players they had a nice little run and it was time to go home. At least, that's what the VCU players alleged was said. No need to fire up the opposition needlessly.
3. Northern Iowa 69, KU 67 in 2010 NCAA tournament: The second-round loss was maddening as the Jayhawks fell victim to a bunch of guys with hard-to-spell names. Northern Iowa had a nice team and played pretty well, but the final game in a KU jersey for Sherron Collins and Cole Aldrich turned out really bad.
4. Bucknell 64, KU 63 in 2005 NCAA Tournament: It was a sad way for Wayne Simien, Aaron Miles, Keith Langford, Michael Lee, et al. to go out in nearby Oklahoma City.
5. Bradley 77, KU 73 in 2006 NCAA Tournament: Bradley had a pretty good team, and KU did lose eight games that year and was mighty young, but the Jayhawks played so well down the stretch of the season it was a shocker.
Tom Keegan
1. TCU 62, Kansas 55 at Fort Worth, Feb. 6, 2013: Sure, it didn't end a season because it didn't occur in a tournament, but its sheer ugliness puts it at the top. A good team reflects the personality of its coach, and Kansas almost always does that by bringing aggressiveness, confidence and talent to the court. Bill Self never has had a team play a game at Kansas that was so different from his personality. On that bizarre night in Fort Worth, Texas, the Jayhawks were sluggish, timid, showed no confidence, no brains, no desire and lost to a really bad team.
2. Michigan 87, Kansas 85 in 2013 Sweet 16: The fact that one player, senior Elijah Johnson, was involved in so many bizarre plays that contributed to the collapse late in regulation and in overtime made this one sting so much.
3. Bucknell 64, Kansas 63 in 2005 NCAA Tournament: Bucknell was better than most knew going into the tournament — New York sports-talk radio host Mike Francessa predicted the upset with conviction — but more than the Bison were at work here. It was KU's sixth loss in nine games. Injuries and bad chemistry were at play.
4. Bradley 77, Kansas 73 in 2006 NCAA Tournament: Somehow, KU managed to tie a very talented, experienced Texas team for a share of the Big 12 title and then hammered the Longhorns in the Big 12 tournament title game. And then, at the worst possible time, the Jayhawks showed their age and for the second year in a row were bounced in the first round of the NCAA Tournament.
5. Northern Iowa 69, Kansas 67 in 2010 NCAA Tournament: UNI had tremendous difficulty with UNLV's full-court pressure, but survived and advanced. By the time Kansas stepped out of character to apply a press that brought the Jayhawks back into the game, it was too late. Ali Farokhmanesh, going against conventional wisdom, jacked a three-pointer with a one-point lead and 37 seconds left, a play that symbolized his team's bold, confident play that night. 
Matt Tait
1. VCU 71, KU 61 in 2011 Elite Eight: The VCU loss takes the cake for me because it, unlike the others, seemed to be the one that prevented KU from its next best shot at a national title. A win here would've put the Jayhawks into a weak Final Four, where they would've been the overwhelming favorite. Things just never seemed right during this one, as guys who normally knocked down shots misfired often, the top offensive options seemed to press from the start, and the bench looked tight. Add to that the fact that the 11th-seeded Rams shot nearly 50 percent from three-point land (12-of-25) and it was clear that it just wasn't KU's night.
2. Michigan 87, KU 85 in 2013 Sweet 16: Who knows if KU would have gone on to the Final Four or to a national title had it gotten past Michigan last March. But one thing is certain: The Jayhawks never should've lost this game. Up double digits with less than 3:00 to play and up eight with 1:51 left, KU fell victim to one of the worst fall-from-in-front losses in recent memory, which was made more painful by the fact that the top-seeded Jayhawks completely dominated the first 30 minutes.
3. Bucknell 64, KU 63 in 2005 NCAA Tournament: In the more than 70 years of the NCAA Tournament, KU has had plenty of tough losses. But many of them — Virginia in 1995, Arizona in 1997, Syracuse in 2003, etc. — at least came to well-known programs a little deeper in. This one, a first-round loss to the 14th-seeded Bison, will always be remembered as one of the worst because of the pure shock value associated with it.
4. Missouri 74, KU 71 at Columbia, Feb. 4, 2012: I know tournament losses sting more and linger longer, but I wanted to make my list mostly about games KU should have won. And there's no doubt the Jayhawks should have won this one. Up eight (71-63) and in control with 3:21 to play, the Jayhawks never scored again and watched Missouri rip off an 11-0 run that stole what — for now at least — was the final Border War game played in Columbia. Of course, that 19-point KU comeback a couple weeks later in Allen Fieldhouse took some of the pain out of this one.
5. TCU 62, KU 55 at Fort Worth, Feb. 6, 2013: All you need to know about this one is that even Bill Self thought it may have been the worst performance by a KU team in the more-than-100-year history of Kansas basketball. KU shot 29.5 percent and scored just 13 points in the first half, against, statistically, one of the worst teams in the history of the Big 12.
Jesse Newell
1. Bucknell 64, KU 63 in 2005 NCAA Tournament: Former KU coach Roy Williams always was able to avoid the first-round upsets, and that's why this one in Bill Self's second year came as such a shock. With only five scholarship players, the Bison took down the preseason No. 1 team in a stunner. Little-known fact: The band that filled in and played Bucknell's fight songs that day? Northern Iowa.
2. Northern Iowa 69, KU 67 in 2010 NCAA Tournament: Another preseason No. 1 whose season ended abruptly. With only two losses all season, this Jayhawks team also was the consensus top team at the end of the season and the favorite to win it all. A pair of unexpected threes from 7-footer Jordan Eglseder, though, started the game unexpectedly, and Ali Farokhmanesh's gutsy late three provided one of the NCAA Tournament's most memorable shots.
3. VCU 71, KU 61 in 2011 Elite Eight: This one stung KU fans most because of the circumstances. After a flurry of upsets, the Jayhawks were easily the best team left in the tourney, only needing wins over mid-majors VCU and Butler to advance to the national title game. VCU's run-and-gun style bothered KU, though, and the Rams used a 39-15 first-half run to take the lead for good.
4. Michigan 87, KU 85 in 2013 Sweet 16: This is the type of game that Self teams usually don't lose. Holding a 72-62 lead with the ball and 2:30 left, KU had a 99.4-percent of winning, according to Ken Pomeroy's statistical formula. Turnovers, defensive breakdowns and an unbelievably deep three from Michigan's Trey Burke all contributed to the Jayhawks giving up the lead.
5. Bradley 77, KU 73 in 2006 NCAA Tournament: Though the Braves were underseeded as a No. 13, this was Self's second straight first-round loss and led to many questions about his postseason-coaching ability. Though that KU team was young (and won an NCAA title two years later), the loss led to some panic, as Self was just 3-3 in NCAA Tournament games at KU with two more first-round losses than Williams had in 15 seasons.