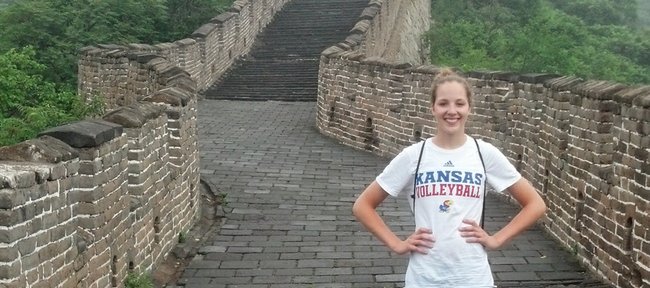 For two weeks in late June, Kansas University junior Sara McClinton, an outside hitter on KU's up-and-coming volleyball team, did her offseason conditioning in China playing against some of the best players in the world.
The quiet giant from Omaha, Neb., was invited to join the USA Developmental team on a tour of China that provided as much in the way of culture as it did growth on the volleyball court. Both proved to be productive for the 6-foot-2 McClinton, a first-team All-Big 12 selection in 2012 who was instrumental in helping KU reach the NCAA Tournament a season ago, even if the adventure was unlike anything she had ever done.
"I could do without the sickness from traveling and not being used to the food," McClinton said. "But the experiences over there were just incredible. I'm so glad I got to see the things that I saw: Tiananmen Square, the Forbidden City, the Great Wall. The people there were amazing. I fell in love with China, but it's good to be back in the United States, too. I felt so much pride when we landed in L.A. I was singing the 'Star-Spangled Banner.' I missed being here and was ready to get back to the team."
KU coach Ray Bechard, who in August will begin his 16th season at KU, said he was thrilled for one of his top players to get such an opportunity. Not only did the experience push McClinton out of her comfort zone, but it also put KU volleyball on the international map.
"Any time you saw her smiling in any of the pictures, it was with a Kansas volleyball shirt or a Jayhawk on her shirt," Bechard said. "First and foremost, it was great for her development. But any time we get the opportunity for someone to play at a high level like that in the offseason is also great for the program."
NCAA rules dictate that college coaches cannot work with their players during the summer months. That does not stop the athletes from working on their games, but it does keep the coaches from playing much of a role in offseason development. That McClinton received high-level instruction from other college coaches and the chance to sharpen her all-around game made Bechard even more excited than he already was for her upcoming junior season.
"It was perfect for her," Bechard said. "Because in international play, they make 'em play six rotations, so she had an opportunity to do more than just hit across the front row. She got an opportunity to pass, serve, play back row and do some of those other things. We can't watch them much in the summer at all, but you can tell that the whole experience gave her some confidence. She knows now that she competed at a high level with some other really good collegiate players and against some pros."
As for her thoughts on becoming more than just an offensive powerhouse, McClinton said she cherished the chance to do more than swing away at the net.
"I loved the opportunity to play and train with the head coaches there," McClinton said of Team USA coaches Jeff Nelson (New Mexico), Shawn Garus (South Carolina) and Debbie Hendricks (Metro State). "I had the opportunity to play defense, so that gave me a head start on something that I want to accomplish in my junior season."
Bechard and the Jayhawks will report to campus on Aug. 9 and begin training camp on Aug. 10. When they do, he expects the confidence McClinton gained from her overseas experience to make her a more vital part of the team than ever.
"It just put her in an environment where she was pretty uncomfortable," Bechard said. "And I think the more we can do that, the more you can transition that into next fall. When you look at any of the past national champions and Final Four teams, everybody's got great players, but those teams, when they needed to go to somebody, they had somebody on the outside."
Almost encore time
In 2012, the KU volleyball team advanced to the NCAA Tournament for the first time in seven years. The experience, which included hosting a pair of postseason matches at Allen Fieldhouse, gave the Jayhawks a ton of confidence and a taste of something the returning group hopes to make more of a regular thing in the future.
But while talking about McClinton's trip to China, Bechard pointed out that staying at the top of the mountain would be a lot harder than it was to get there.
"We were successful, and now we talk about how can we be significant," Bechard said. "It's great that they understand what it's like to play at that elite level, but I think it's more important that they remember what it took to get to that level. It would be a lot easier to take five steps backward this year than it would be to take one step forward."
Proud papa
Bechard's son, Brennan, recently was promoted to director of basketball operations for coach Bill Self's men's basketball team.
Bechard, who rarely misses a KU basketball game, said he was overjoyed about his son's new opportunity.
"It's a cool deal," Bechard said. "I have a pretty good understanding of the role he's played the last few years and how hard he's worked. He's been a team guy and done whatever he's been asked to do. He loves Kansas basketball, and I know how grateful he is to coach Self not only to give him a role as a walk-on (2005-06) but also to keep him around. I think he'll do a great job."
Bechard, who began his coaching career in basketball more than 30 years ago, said he knew Brennan always felt fortunate to learn from some of the best.
"It's in the family," Bechard said of coaching. "But the people he surrounded himself with from high school and beyond had as much as anything to do with it. He has had the opportunity to surround himself with some of the most unbelievable minds in the profession. He knows that he's been blessed with that, and he's humbled by that, and he'll continue to try to do the best job he can."