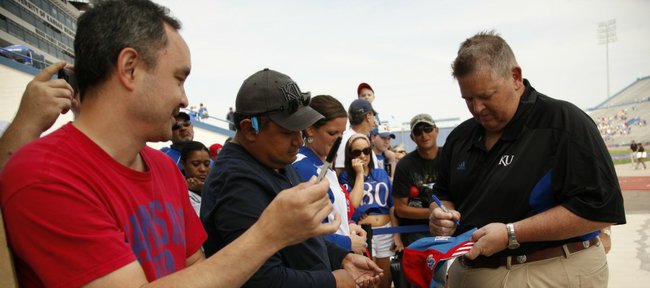 Kansas University football coach Charlie Weis will waste no time in moving on to his second season in charge of the rebuilding program.
Instead of kicking off spring practice in the last days of March, as KU has done for the past several years, Weis is moving up the Jayhawks from one of the latest starts in college football to one of the earliest.
KU will begin spring drills on March 5 and will practice five times before taking a week off for spring break. Following the break, the team will return to the practice fields for three straight weeks of drills which will wrap with the annual spring game, which is slated for a 1 p.m. kickoff on April 13 at Memorial Stadium.
NCAA rules allow teams to have 15 practices during the spring session, with the spring game counting as one of them. As a safety precaution, players are required to go through two days of helmets and shorts and a third day of helmets and shoulder pads before suiting up in full pads.
KU will enter spring football with 35 returning letterwinners, including 12 starters, from the 2012 season. In addition, the team is expected to welcome 11 mid-year transfers, 10 junior-college players and one early high school graduate. Those players are planning to report to campus throughout this week and should be in Lawrence in time for the beginning of the spring semester next Tuesday.
Other spring dates announced Tuesday were: Hannah and Friends Football Clinic with Charlie Weis and the Kansas Football Team (March 9), Kansas Football Coaches Clinic (April 5-6) and the Train Like a Jayhawk Kids Clinic (April 13). Times and locations for these events will be provided at a later date.
KU pro day on March 15
With spring practice on a one-week hiatus, a handful of former KU football standouts will get the spotlight all to themselves on March 15, when NFL scouts descend upon Lawrence for KU's annual pro timing day.
Any former Jayhawks hoping to catch on with an NFL team will go through a series of tests and drills similar to those the prospects experience at the NFL combine in late February.
This year's event figures to attract more attention and more participants than any in recent memory. Eight different Jayhawks have been invited to participate in postseason all-star games, safety Bradley McDougald and offensive lineman Tanner Hawkinson have been invited to the NFL combine and five to seven others have pro aspirations.
In addition, the NFL backgrounds of KU coach Charlie Weis and defensive coordinator Dave Campo may attract a larger number of scouts than normal.
Koehler update
Four-star offensive line prospect Reeve Koehler, of St. Louis High in Honolulu, offered his reaction about a recent in-home visit with Arkansas coaches with Danny West of HawgSports.com.
Koehler, an offensive guard who remains at the top of KU's wish list to round out the Class of 2013, said his family made a strong connection with Razorbacks coach Bret Bielema and offensive line coach Sam Pittman.
Koehler plans to visit the Arkansas campus this weekend but told West that the Jayhawks remain in the mix.
"It's still KU and Arkansas, yes," Koehler told West. "I will know my decision after the Arkansas trip, after I get home and talk to everybody about it."