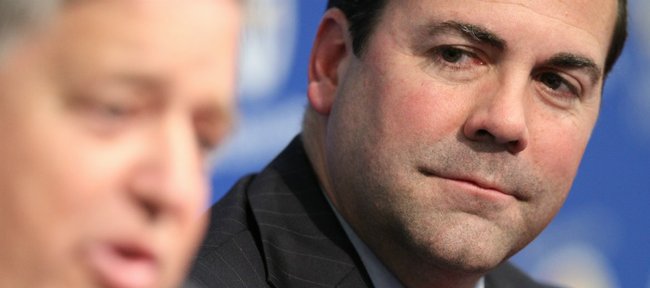 If all goes well during tonight's vote by the Lawrence City Commission regarding land usage and zoning specifications — as is expected — the Kansas University athletic department could begin construction on what has come to be known as "Rock Chalk Park" within weeks.
Speaking publicly for the first time about the potential new complex that would be located in northwest Lawrence, KU athletic director Sheahon Zenger on Monday shared with the Journal-World the many reasons behind the university's eagerness to begin construction on a $50 million project that will deliver a new home for KU's soccer, softball and track and field programs.
Those reasons include everything from financial and competitive advantages to important aesthetic and long-range visions for the department. Most critical, however, is the benefit such a move figures to have on KU's status within college athletics.
"Kansas Athletics, for over a decade, has been searching for a way to address the needs of track and field, soccer and softball," Zenger said. "Without this opportunity, we would spend the next five to seven, and maybe 10 years, trying to raise $50 million to build these three structures, all the while putting the completion of the renovations to Allen Fieldhouse on hold and, even further, putting on hold the renovations to Memorial Stadium. In light of what we've witnessed with BCS-conference realignment over the past several years, that would be the most foolish action that we could ever take."
Cost advantage
Perhaps the best part, at least through the eyes of the university, is that the $50 million project will cost just $39 million, thanks to the Bliss Sports Foundation, headed by Lawrence developer Thomas Fritzel, which has offered to take the project at a cost of $39 million spread over 30 years.
"We've had no one else approach us with that kind of offer," said Zenger, who added that, as a parent and member of the Lawrence community, he would love nothing more than to see the city's plans for a rec center at the same location become a part of this project. The two concepts, however, remain completely separate and will be governed by each party.
"They invited us to walk alongside their project about a year ago, so when we found land that fit our needs, we simply invited them to walk alongside us should they so choose," Zenger said. "From where we sit, we believe that all of these facilities being in one location makes it a more vibrant entity and, more importantly for the city of Lawrence, a bigger economic engine."
As far as the "Rock Chalk Park" aspect goes, KU Endowment will own the land, Bliss Sports will own the facilities and lease them to KU for 30 years, and, at the end of the contract, all three facilities will belong to KU. Zenger said such a setup is mutually beneficial and the $11 million savings would allow KU to turn its attention to men's basketball and football, which are the financial lifeblood of most athletic departments across the country.
"As we continue to watch BCS realignment unfold, there is nothing more critical for our future in that equation than addressing the needs of Memorial Stadium," said Zenger, who added that none of KU's early blueprints regarding Memorial Stadium renovations included a track around the football field. "Let me make it really clear: This project, whatever we want to call it, allows us to open the door to address the needs of Allen Fieldhouse and Memorial Stadium immediately."
There also exists the issue of Title IX compliance. Zenger said the mere start of such a project would put KU in good standing in that area, but emphasized that getting a gold star in the annual review of equality between men's and women's sports was not the motivation behind the project.
"These young women deserve competition facilities that are equal to their peers in the Big 12 Conference," Zenger said. "And even if there were no such thing as Title IX they'd still deserve this."
Would KU still be going forward with the project?
"Absolutely," he added. "If we're gonna have a sport and it's worth having, it's worth doing well."
Staying on track
Although upgrades at both Allen Fieldhouse and Memorial Stadium offer tremendous revenue potential, Zenger was careful to point out that putting track, soccer and softball first was not simply a get-this-out-of-the-way-so-we-can-get-to-that scenario.
As it stands now, KU is not eligible to host any conference, regional or national track meets because the existing track at Memorial Stadium is not a true 400-meter track. If and when the new track is built, it will be a state-of-the-art IAAF track, of which there are only a handful in the country. Zenger said would return the luster to KU's historic track programs.
"This will allow the Kansas Relays to become once again what they used to be," Zenger said.
Moving forward with the current setup is the equivalent of the men's basketball program playing its home games at the Horejsi Family Athletics Center.
"So many people think that we need and want to get that track out of Memorial Stadium because of football," Zenger said. "And they are absolutely correct; we need it out of there. But first and foremost we need it out of there for track and field. It's been too long, and, when it comes to competition sites, this project is our greatest undertaking since the building of Allen Fieldhouse, preceded by the building of Memorial Stadium."