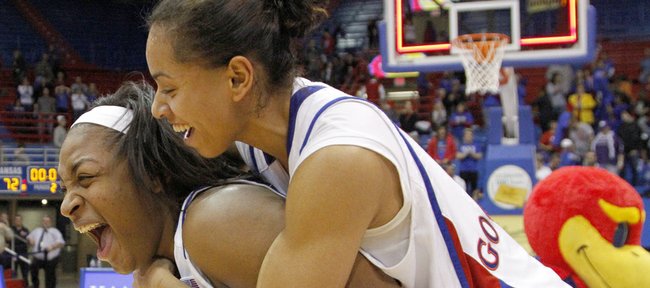 Photo Gallery
KU women vs. Kansas State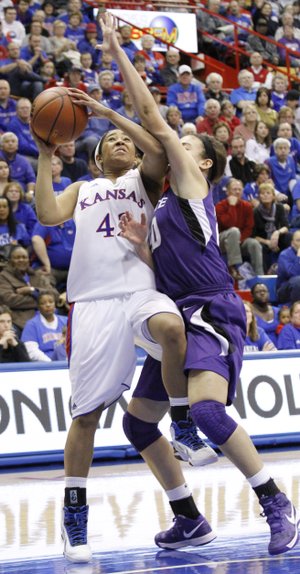 The Kansas Jayhawks women's basketball team played the Wildcats from Kansas State, Wed., Jan. 2, at Allen Fieldhouse.
Document
For the first 15 minutes of Wednesday night's 72-63 victory over visiting Kansas State at Allen Fieldhouse, Kansas University's women's basketball team got just about everything it wanted and looked good doing it.
But after opening a 31-19 lead that forced KSU coach Deb Patterson to call a timeout, the Jayhawks fell victim to a 17-3 KSU run that put the visitors up by two at halftime and put a little doubt in the minds of the Jayhawks.
Not to worry, at least not for this Kansas team, which pushed its record to 10-2 overall and 1-0 in Big 12 play.
Unlike some KU teams in the past — including last year's squad, which lost twice to K-State — this team seems better equipped to take a shot and swing back. And that's exactly what the Jayhawks did in the second half, ripping off an 18-6 run that gave them a cushion and allowed the home team to cruise to victory in front of a crowd of 3,727 fans.
"They jumped on us and gave us a monster punch in the face," said senior Monica Engelman, who, with 10 points, became the 25th player in Kansas history to reach the 1,000-point career milestone. "But coach (Bonnie Henrickson) said it was important that we did the same thing to them after that. We were all on the same page, we were hungry, and we came out aggressive in the second half."
After building a 52-42 lead early in the second half behind transition buckets and timely three-point shooting, the Jayhawks led the rest of the way. KSU clawed close a couple of times, but KU, which had five players reach double figures in scoring, responded each time with a spurt that kept the undersized Wildcats (9-4, 0-1) at bay.
"It will come down to your willingness to compete, your willingness to bring great energy and enough to share it with somebody and an attention to detail from a discipline and scouting standpoint," said Henrickson, who beat K-State for just the third time in her KU career. "And then be relentless in all three of those. In years past, I thought they got us on those three areas."
Not Wednesday. During the four-minute stretch that closed the first half, the Wildcats were tougher than Kansas.
But that was the only time. And a lot of that had to do with KU's defense. Sophomore Natalie Knight (16 points) and junior CeCe Harper (10) did a wonderful job on K-State stud Brittany Chambers (15 points on 6-of-14 shooting), and senior point guard Angel Goodrich stepped up to the challenge of staying with K-State freshman Haley Texada, who lit up KU for 13 first-half points but finished with 21.
"The first thing Angel said to me was, 'I want Texada; I want No. 1,'" Henrickson recalled.
Asked why she asked for the tougher defensive assignment, Goodrich, who led Kansas with 17 points, nine assists and two steals, spoke of a personal challenge.
"I know I haven't been the person I used to be in terms up stepping up and guarding the defender that they need me to guard, and I want to change that," Goodrich said.
KU's victory snapped a four-game losing streak to the Wildcats.
"It feels great," Goodrich said. "They're a great team. Brittany Chambers is a great player. They play well together, and it feels great to finally get this win. I've been waiting for this for a while."
Added Engelman: "For the seniors, this was the last time we were gonna play them here at home, and, of course, it was very exciting, and we're really amped up but we want to put it in our pocket for momentum for the next game."