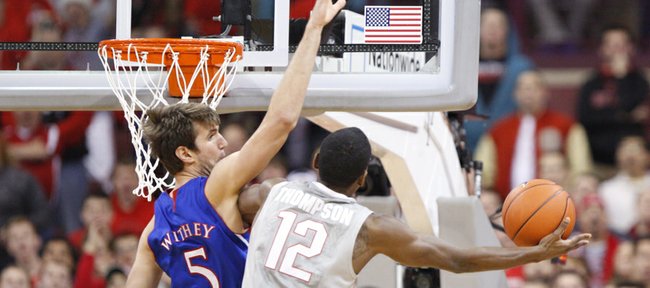 Kansas University's basketball defense, which received rave reviews for holding Ohio State to 30.8 percent shooting in a 74-66 road victory on Dec. 22, might be a tad overrated at this point, coach Bill Self says.
"I've watched us play (on film). People are saying too much about our defense. It's not that good. It's not," Self said Wednesday on his weekly "Hawk Talk" radio show. "Of all the possessions we have defensively in a game, I guarantee you, 50 percent are bad possessions compared to 50 percent good possessions. The result may end up good because they may miss a shot or they may fumble the ball or make a bad pass or something that doesn't have much to do with us. I think the biggest area of improvement for us would have to be the defensive end."
KU, which takes an 11-1 record into Sunday's 3:30 p.m. home game against Temple (10-2), has allowed 59.0 points a game, which ranks 40th nationally. KU's field-goal-percentage defense (34.7 percent) ranks No. 5 overall. KU ranks second in blocks per game (8.1), 94th in three-point field-goal-percentage defense (30.9 percent) and 151st in steals per game (7.3).
"We make a lot of mistakes (on defense)," Self said. "We have had some teams miss open looks. Sometimes we get a false sense that we are guarding people. That is one area and rebounding where our team can make the biggest jump."
KU ranks 59th nationally in rebound margin (5.8).
Offensively, the Jayhawks rank 26th in scoring offense (78.4 ppg), 10th in field-goal percentage (50.4), 39th in three-point field-goal percentage (37.8) and 10th in assists per game (17.4).
"Offensively, we run quite a few sets," Self said. "Last year, at the end of the season, our play card had 74 plays we could call that night. Right now we are up to about 42 that we may tweak or add to. We don't run near as much stuff as we used to.
"A lot (of KU's offense) is off freelance, a lot is off dribble penetration or feeding the post. I used to be a big 'set play' guy. I am not anymore. I'd rather guys learn how to score by ball-and-body movement within the confines of what we are trying to do. It may look bad sometimes, but believe it or not, there's a strategy."
Owls next on tap: KU's next opponent, Temple, has lost to Duke, 90-67, in East Rutherford, N.J., and at home to Canisius, 72-62. Temple defeated Syracuse, 83-79, on Dec. 22, in Madison Square Garden. The Owls have also beaten Kent State (80-66), Rice (77-63), Delaware (80-75), Buffalo (54-39), Wagner (70-62), Villanova (76-61), Towson (62-61), Alcorn State (63-46) and Bowling Green (75-57).
Smith to Georgetown: Former UCLA center Josh Smith has decided to transfer to Georgetown, according to CBSsports.com and other outlets.
Smith, who stands 6-foot-10, and is reportedly well over 300 pounds, also considered KU and Washington. The Kent, Wash., native will be eligible to play in games in December of 2013. He will have one semester of eligibility remaining.
Smith averaged 5.2 points and 4.2 rebounds while logging 13.5 minutes a game in limited duty this season.
This week's slate: Self, who has been holding two practices a day since the return from Christmas break, today will have the players look at film, but not hit the court.
"Bodies are tired. We'll try to get their legs back under them then practice Friday and Saturday and get ready to play Sunday," Self said. "We'll give them tomorrow (today) off from a fatigue standpoint, get bodies rested. Then we play four games in eight days. We need to be fresh going into the Temple game."