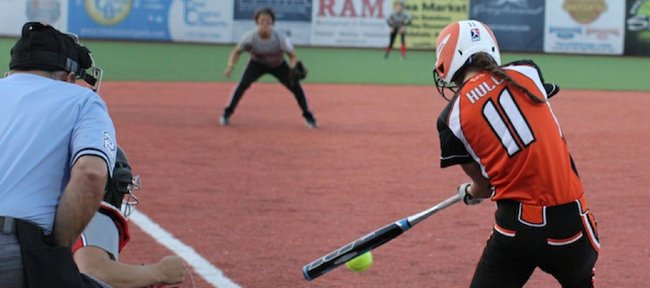 Where, exactly, is beyond our wildest dreams?
For Maggie Hull-Tietz, a product of Free State High and Kansas University, it's a patch of dirt and turf in the middle of Chicagoland, close by O'Hare Airport.
"It's funny," said Hull-Tietz, a product of Free State High and Kansas University in her first season as an outfielder for the Chicago Bandits of National Pro Fastpitch. "When I was first asked if this is a dream come true, I said my dream was to play softball at Kansas. I didn't even know this was a possibility. So this … this is beyond a dream."
Since Hull-Tietz played her last softball game for KU a couple of months back, she joined the elite ranks of professional softball players, added a husband and a hyphen, took a quick two-week honeymoon, then reported back to her Bandits team, where she and her teammates found themselves title-hunting in the NPF.
"It's been a whirlwind summer," Hull-Tietz said. "That's for sure."
Hull-Tietz (she was just Maggie Hull back then), played her last home game for KU on May 5, a 2-0 victory over Oklahoma, the team that went on to win the NCAA championship a few weeks later. Her last game in a Jayhawk uniform came May 12 at Iowa State.
Hull-Tietz left KU with a laundry list of school records, including career batting average (.368) and career RBIs (140).
A third-round draft pick (11th overall; the NPF has just four teams) of the Bandits in April, Hull-Tietz didn't have long to dwell on the disappointment of a snub by the NCAA Tournament selection committee: The Bandits' season began June 5.
"I think I definitely had a lot to learn after I got drafted," Hull-Tietz said. "I did a lot of researching about the Bandits and the other teams. There are only four teams in the league, but, on the other hand, that means there are only 80 players in the league — some of the best players, the big names I looked up to in my softball career.
"It was definitely an adjustment for me. All of my teammates were record-breakers and All-Americans at their schools. But it has been an inspiration to work with this group. It's inspiring as a rookie to see these girls who have been playing the last eight or nine years. It's cool to get to learn from them. A lot of them are coaches in the offseason, and that gives you a different perspective of the game.
"And the other adjustment is, it's just a lot more laid-back than in college," she added. "You just do what you love and have a good time doing it. And it's nice not to have to worry about school."
Perhaps the biggest adjustment was the reduced role. A starter for all 210 games of her KU career, Hull-Tietz found herself on the Bandits' bench.
"It was a huge adjustment for me not playing a lot," she said. "At Kansas, I started every game of my career. Now it's a different perspective. But I help do charts in the dugouts. Maybe I pinch hit. I'm learning a different perspective and try to help my teammates out. Obviously, I'd love to play, but I'm literally playing with the best hitters in the world who have played a long time."
Hull-Tietz has played in 20 games. Only twice has she had more than a single at-bat in a game.
Still, she's hitting .250, with two RBIs, just one striketout and two stolen bases.
All that after having taken a two-week sabbatical midseason.
Hull-Tietz married Kevin Tietz on July 5 in Lawrence, then took a two-week honeymoon in Niagara Falls.
The nuptials — in the works for a year beforehand — were the first thing on her mind when the Bandits drafted her.
"At the time we planned the wedding, I was an outfielder in Kansas. What are the chances I'd get drafted? This is when I want to get married," Hull-Tietz recalled. "Then, lo and behold, I was drafted. I went to coach (Kansas' Megan Smith) and said, 'Is it even possible?' Because the wedding was my first priority, I wasn't going to push the wedding back. She said, 'Yeah, just, when you make your contract, tell them that's what you want to do.' The league is very understanding when you need to take time off for personal things."
Kevin Tietz is similarly understanding about the demands of his new wife's job.
Though the newlyweds don't see each other often, Kevin, a personal trainer at The Summit in downtown Lawrence, has made it to Chicago for the majority of the Bandits' home series.
"It is hard," Maggie said, "but we know it will go by fast. It's definitely worth it. We're hanging in there."
The league-leading Bandits and USSSA Pride are separated by percentage points in the chase for the league title.
The league championship will run Aug. 22-24, and the title series will air on a tape-delayed basis on ESPN2.
Regardless of where the Bandits finish, Hull-Tietz is having a ball.
"These are the best pitchers in the world facing off against each other, and the best hitters in the world are trying to scrape some runs together," she said. "It's fun and intense. It's really the most elite softball in the world. It's definitely a dream come true."