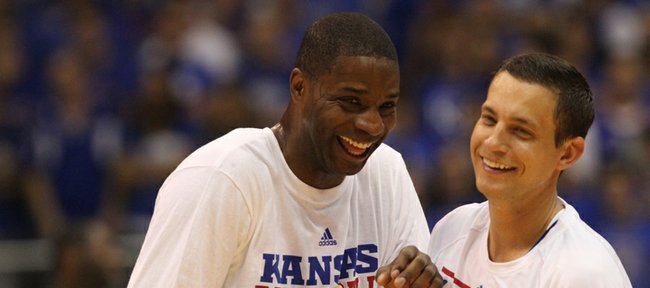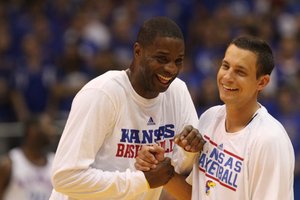 Nick Bradford started seriously to consider a career in coaching during his basketball playing days at Kansas University.
"It was when I was recruiting guys my sophomore and junior year in college. I was always a host when coach (Roy) Williams brought guys in. I was the guy who reeled them in — Kenny (Gregory), Drew (Gooden), Nick (Collison) and Kirk (Hinrich), even (Jeff) Boschee," said Bradford, campus host for several prime KU prospects during his Jayhawk career that ran from 1997-2000.
"That's not bad. I missed out on (Shane) Battier and (Dan) Gadzuric, but we got enough in there to keep it running," Bradford added.
The 6-foot-7 guard/forward, who worked the past two years as an assistant coach at Labette Community College in Parsons, this week was named assistant at Missouri Southern State University, joining KU teammate/fourth-year Lion aide Jeff Boschee at the NCAA Div. II school in Joplin, Mo.
"I'm really excited. I get to coach with one of my best friends in Boschee and work for coach (Robert) Corn, who I've gotten to know a little bit with him recruiting one of our players (at Labette)," added the 34-year-old Bradford.
Corn, who is beginning his 25th season at MSSU, is elated he'll be surrounded by Jayhawks on the Lions' bench.
"We're excited to add Nick to our staff. Obviously, he and Jeff know each other really well, having played together at Kansas, and he has a lot of experience," Corn said. "Nick has played overseas (France, Iceland, Finland, England and Romania) and brings that to the team, and he's been coaching at the junior-college level, as well, and we're just glad to have him here to work with our big guys."
Bradford, a 2000 KU graduate, helped lead Labette to back-to-back winning seasons and back-to-back 10-win conference seasons. Last season, Labette finished third in the Jayhawk Eastern Division, the highest finish for Labette in over two decades. Bradford helped recruit and coached three All-Jayhawk Conference players and two All-Region VI performers and has helped send seven players to four-year schools.
"I'm excited to work with a former teammate of mine," said Boschee, a 2002 KU graduate. "Nick has been a great friend of mine ever since college, and I've watched him at practices at Labette and in game situations, as well. He does a great job with the big guys and does an excellent job with in-game coaching."
Bradford during his time at Labette also worked as assistant coach for the Kansas City Run GMC AAU team. With Run GMC, he tutored KU's Conner Frankamp, Alabama's Trevor Releford and Georgia Tech's Travis Jorgenson.
A native of Fayetteville, Ark., Bradford was part of three Big 12 championship teams (1997-99). He arrived at Labette after completing an eight-year professional basketball career. He played for the 2002 ABA champion Kansas City Knights before heading overseas. He was 2005 MVP of the Finals in a pro league in Iceland.
Bradford, who has a 2-year-old son, Isaiah, this week became engaged to girlfriend Brittani Bond.
"She left to go out of the country yesterday. She went with her best friend. I wanted to do it before she left," Bradford said of proposing marriage.
Bradford said he'd definitely like to be a head coach someday.
"I think it's in the future," he said. "Right now, I'm still learning and grinding, trying to get to that. This is a good step. Boschee and coach Corn have done a great job with the program. I'll see what I can bring. One step at a time."
Jayhawks at Adidas camp: KU's Perry Ellis, Joel Embiid and Wayne Selden are working as camp counselors at the Adidas Nations camp for top high school basketball players this weekend in Garden Grove, Calif.
The three will work as instructors during practice sessions with the prep players and participate in camp counselor games with the other college players.
Other camp counselors are: Jordan Adams, Kyle Anderson, Tony Parker, Norman Powell, David Wear, Travis Wear, UCLA; Montrezi Harrell, Chris Jones, Louisville; Isaiah Austin, Cory Jefferson, Baylor; Ryan Boatright, UConn; Alec Brown, Wisconsin-Green Bay; Jahii Carson, Arizona State; Spencer Dinwiddie, Colorado; Fuquan Edwin, Seton Hall; Jerian Grant, Notre Dame; Andre Hollins, Minnesota; Sean Kilpatrick, Cincinnati; Javon MCrea, Buffalo; LeBryan Nash, Oklahoma State; Cameron Ridley, Texas; Will Sheehey, Indiana; Kaleb Tarczewski, Arizona; Bernard Thompson, Florida Gulf Coast; T.J. Warren, N.C. State; Chaz Williams, UMass; and Jamil Wilson, Marquette.
Some top prep players who will attend who have KU on their lists: No. 1-ranked Jahlil Okafor, 6-10, Chicago Whitney Young High; No. 3 Emmanuel Mudiay, 6-3, Prime Prep, Dallas; No. 6 Myles Turner, 6-11, Trinity High, Euless, Texas; No. 8 Stanley Johnson, 6-6 Mater Dei, Santa Ana, Calif.; and No. 16 Justise Winslow, 6-5, St. John's, Houston.